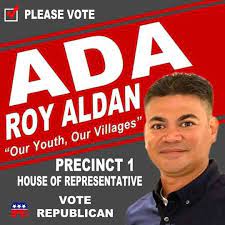 The Torres administration entered into a $50,000 sole-source contract with the father of Rep. Roy Ada the day before Mr. Ada voted against the impeachment of Gov. Ralph Torres.
Secretary of Finance David Atalig, Jr. on January 11, 2022, attempted to procure the so-called professional services of Martin B. Ada. According to the contract, which was rejected January 27 by Attorney General Edward Manibusan, Martin Ada was to "provide technical assistance and services to the Division of Procurement and Supply, Department of Finance on procurement matters; to assist the Director in reviewing business contracts, bids, ITB's, RFP's, RFQ's; to perform and deliver any and all services as requested by the Director of Procurement and Supply and all other services as requested by the Department of Finance, Secretary."
Mr. Torres himself began the series of contractual signatures as the expenditure authority on December 14, 2021. Director of procurement and supply Francisco C. Aguon certified that the contract was in compliance with CNMI procurement regulations and that it met the public purpose test on December 20, 2021.
Had the contract been enacted, Martin Ada would have received $4,166.67 every month this year. And according to a January 5, 2022 "Sole Source Justification for Consulting Services" memo from Mr. Torres, Martin Ada "is highly qualified and best suited for the task at hand." According to the governor, local regulation allows for the sole source procurement of Ada's services at NMIAC § 70-30.3-225(a)(7), "[a] contract may be awarded for a supply, service, or construction without a competition… [to] procure policy consultants of the Governor, Lt. Governor, or presiding officers of the Legislature."
"Neither the proposal nor the contract actually provides that Mr. Ada will serve as a policy consultant to any  of the officials under NMIAC § 70-30.3-225(a)(7)," Mr. Manibusan wrote in his letter to Mr. Aguon returning the contract unapproved. "Furthermore, it is questionable whether procuring assistance to review the contracts and solicitations fits the purpose of procuring 'policy consultants' under the regulation."
The CNMI House of Representatives voted on January 12, 2022 (the day after Atalig tried to get the contract through) to impeach the governor. Rep. Roy Ada was one of only five members of the 20-seat House to vote against the impeachment. He did not participate in any debate, nor did he give any reason for his votes on the record.