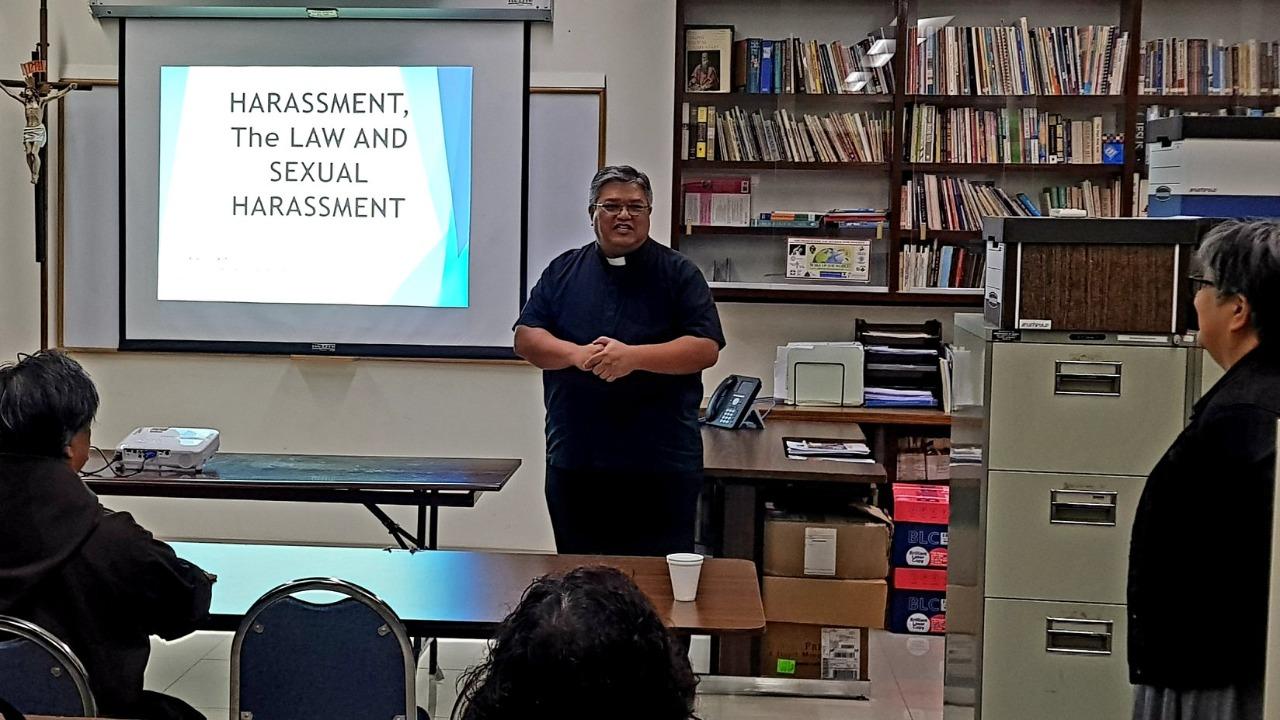 Several parents of Bishop Baumgartner Memorial School students are outraged at the school's principal for allegedly dismissing their concerns of bullying at the school. The Archdiocese of Agana's Superintendent of Catholic Schools, Fr. Jeff San Nicolas, responded with assurances his schools are implementing an anti-bullying campaign.
The Bishop parents's concerns stem from the recent treatment of a boy, who allegedly posted the picture of a gun on his Instagram profile one week ago. The picture had no words or message. The boy is a student there. Bishop's administrators treated the matter as a potential threat of an active shooter event. They acted quickly, reporting the matter to police, shutting the school down for a few days, and engaging parents with information and status updates.
The response to the middle school student is in stark contrast to the way another Catholic school – Academy of Our Lady of Guam – treated a student who allegedly posted two Instagram stories describing her hatred of the school, and her prayer for a school shooter. The Archdiocese of Agana, responding to the incident for AOLG, said the school "has taken steps to address the situation and ensure the safety of our students and the school community."
The postings were discovered by school officials on a Tuesday. The first read, "I wanna fuckin k*** all of them rn." The next message read, "Really praying for a school sh**yer rn." The school did not contact police until three days later, and only after parents found out about the postings and demanded the school do better. The student in that case also was allowed to return to school during those three days. The Academy student was not arrested.
Kandit emailed Bishop's principal, David Duenas, and Fr. Jeff to ask why the Catholic School System had treated the students differently, especially when it appears the older student made actual threats of violence, while the Bishop child only reposted the picture of guns, pictures he reportedly found on the internet.
Mr. Duenas did not respond to Kandit's questions.
"Because of student privacy requirements, my ability to respond to your email is limited," Fr. Jeff replied. "I can share with you that I am working with all our Catholic school administrators to appropriately respond to any and all safety threats to our school communities, mindful of the unique circumstances of each situation."
While Bishop's parents are pleased school administrators handled a perceived threat to the safety of their children more appropriately than the Academy's administrators did, they also wanted Bishop and the archdiocese to address a separate, but related issue: bullying.
"It's just the worst," one parent told Kandit on condition of anonymity. "The bullying problem at Bishop is the worst. There's bullying, and then there's this, and when we raised this issue to the principal, he just dismissed our concerns."
"Is it also true that you, Mr. Duenas, have dismissed concerns by parents recently about the bullying issue," Kandit asked the school principal by email. "If so, why would you dismiss their concerns? Otherwise, is it your contention this simply is a misunderstanding?"
He has not replied.
According to several parents, the boy who was punished has been the victim of continuous abuse and bullying by classmates because he was adopted by gay parents.
"The school has known about this, and they do nothing," a parent of one of the boy's classmates said. "It's horrible the way this boy has been treated by some of the other kids, and even by the school. They have to address this because this is the kind of thing that leads to kids shooting up schools!"
According to separate accounts from parents that all corroborate the story, the boy is constantly targeted by some classmates with profanities about his adoption and about his parents in the presence of teachers and staff.
"One of them told him, 'at least my parents want me,' and another bully said his parents were better because they aren't gay like the boy's dads," another parent told Kandit. "There's bullying, and then there's Bishop bullying. It's just the worst."
When the boy finally stood up to his bullies, the other parents told Kandit, the school punished him.
"We knew about these things because our kids told us, and so when this incident happened, we asked Mr. Duenas what he's doing to address the bullying problem at Bishop, because it isn't just this boy who is bullied," one of the parents said. "He just dismissed us and our concerns. It was unbelievable."
"How is it fair to this boy that he would be punished for standing up for himself, but his bullies would not," Kandit asked Mr. Duenas. He did not respond.
We asked Fr. Jeff, the head of Catholic schools on Guam, whether the archdiocese is concerned about liability issues stemming from the accusation several parents are making that one of its school principals knows about the problem and is ignoring it.
"What is the Archdiocese doing to address the issue of bullying in its schools," we asked the superintendent.
"While the Office of Catholic Schools does not currently promote any specific program for the prevention of bullying, each of our schools have policies against bullying that are fitting to the needs of their particular school," Fr. Jeff responded. "These school policies prohibiting bullying would be accompanied with progressive disciplinary measures.  Each of our schools have unique "cultures" and each school strives to form a caring and trusting environment through growing in our faith, encouraging prayer, mediation when differences inevitably arise, as well as, teacher-student mentoring and peer mentoring.  Some of our school's also have a big brother or big sister program where the upper grades support the lower grades."
Fr. Jeff also gave a list of examples of actions individual schools are taking to address the problem of bullying in Catholic schools.
Among the list are invitations to Guam Homeland Security to speak to students about cyber bullying and safety, and to Guam Behavioral Health and Wellness Center for its peace officers to speak with elementary and middle school students about bullying. According to Fr. Jeff, some Catholic school administrators are implementing counseling programs that include individual- and small-group sessions.
It is noteworthy that the day after Kandit emailed the questions about bullying to Mr. Duenas, he sent his own email to the Bishop school community assuring parents he was concerned about bullying as well. No concrete steps or follow ups have been reported.