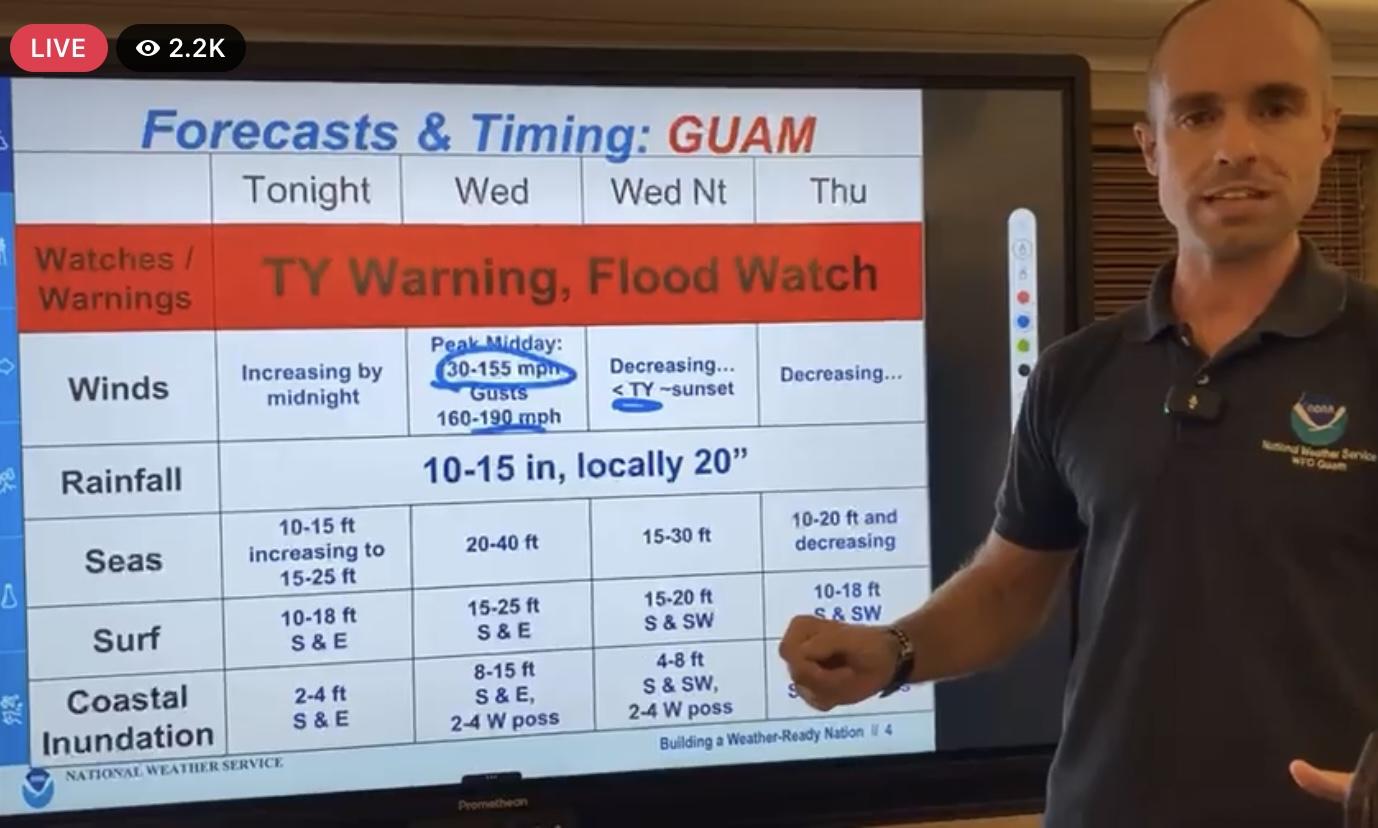 "If you are not in a completely concrete structure, you're taking a risk," National Weather Service meteorologist Brandon Aydlett said in a 7 p.m., Tuesday, May 23, 2023 presentation about Super Typhoon Mawar, which at latest is packing 150 mile-per-hour maximum sustained winds.
"We're looking at a possible Category-5 event," he said of the current forecast, which favors a storm that has the potential of reaching 160 mph maximum sustained winds by the time Mawar gets to Guam. "Get to a shelter now if you are not in a fully concrete structure."
Category-5 is the strongest classification for a tropical cyclone.
According to the National Weather Service, a Category-5 typhoon is one with sustained winds of greater than 157 miles per hour.
"For Rota, there is still potential for typhoon-force winds," Mr. Aydlett said.
The brunt of the destructive winds will be felt tomorrow, Wednesday.
"We are looking at a significant typhoon that has not been seen on Guam for decades," Mr. Aydlett said. He compared the potential for Mawar against 1976's Super Typhoon Pamela, which was a Category-4 typhoon.
According to NWS, the following is what can be expected during a Category-5 typhoon:
People, Livestock, and Pets
People, livestock, and pets are at very high risk of injury or death from flying or falling debris, even if indoors in mobile homes or framed homes.Mobile HomesAlmost complete destruction of all mobile homes will occur, regardless of age or construction.
Frame Homes
A high percentage of frame homes will be destroyed, with total roof failure and wall collapse. Extensive damage to roof covers, windows, and doors will occur. Large amounts of windborne debris will be lofted into the air. Windborne debris damage will occur to nearly all unprotected windows and many protected windows.
Apartments, Shopping Centers, and Industrial Buildings
Significant damage to wood roof commercial buildings will occur due to loss of roof sheathing. Complete collapse of many older metal buildings can occur. Most unreinforced masonry walls will fail which can lead to the collapse of the buildings. A high percentage of industrial buildings and low-rise apartment buildings will be destroyed.
High-Rise Windows and Glass
Nearly all windows will be blown out of high-rise buildings resulting in falling glass, which will pose a threat for days to weeks after the storm.Signage, Fences, and CanopiesNearly all commercial signage, fences, and canopies will be destroyed.
Trees
Nearly all trees will be snapped or uprooted and power poles downed. Fallen trees and power poles will isolate residential areas.
Power and Water
Power outages will last for weeks to possibly months. Long-term water shortages will increase human suffering. Most of the area will be uninhabitable for weeks or months.
Mr. Aydlett said "recovery will take time after this situation." He projected more favorable conditions starting Thursday, but with significant destruction to infrastructure. He emphasized there will be a need for government responders to clear roads and make extensive repairs. Do not be on the road if you do not need to be on the road, he said, as emergency vehicles and first responders will need access to roadways.