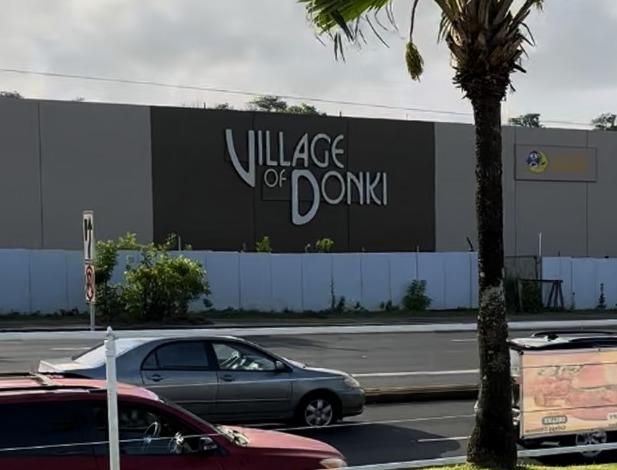 A growing number of business owners are calling on Gov. Lou Leon Guerrero and her administration to reject the application by a nearly-completed Tamuning mall to skip out on taxes for the next 20 years.
Hawaii-based company Pan Pacific Retail Management (PPRM) on November 21, 2022, submitted an application to the Guam Economic Development Authority for a qualifying certificate on the taxes that its Don Don Donki mall will pay once in operation. The company is requesting the full abatement of taxes allowable by Guam law under the QC program: a 100 percent waiver of real property taxes, a rebate of 75 percent of corporate income tax for 20 years, and a 75 rebate on individual shareholders's income taxes for five years.
PPRM, according to its QC application, stated the mall's development will – by the time of completion – be an investment of about $100 million. The company also said, when the mall opens, it will create 300 new jobs.
The QC program's tax breaks for tourism-related companies were designed to attract investors to build tourism-industry companies on Guam who otherwise would not have invested.
"There is no need to attract a Don Don Donki store," local businessman John Ko wrote to GEDA administrator Melanie Mendiola last month in opposition to GEDA approving the QC application. "It is already here."
The mall has been under construction since before the pandemic started, and is scheduled to open in July, meaning the investors made the decision to build the mall years before the QC application.
$1B in lost revenue to Guam
Mr. Ko estimates, based on PPRM's financial estimates disclosed in their QC application, that GovGuam will collect close to a billion dollars in tax revenue if Donki is required to pay taxes as every other mall and shopping center on Guam does over the next 2o years. If GEDA approves the QC, and the governor and the attorney general sign it, "close to a billion dollars in lost revenue will be realized by the people of Guam," Mr. Ko wrote.
And PPRM isn't some financially strapped company, either. It falls under a global conglomerate, Pacific International Holdings Corporation (PPIH), which operates 697 stores throughout the world, including in Japan, Hawaii, California, Singapore, Hong Kong, Thailand, Malaysia, and Taiwan under a variety of brand names. The multi-billion dollar annual grossing multi-national company has economic power dwarfing that – not just of small retail stores on Guam – but of the other shopping centers that do pay taxes.
Providing PPRM tax breaks will give the behemoth company an unfair advantage over long-standing retail establishments, according to scores of companies that have signed onto petitions opposing the QC. Among those petitions are a February 10, 2023 submission by Guam Premier Outlets general manager Monte Mesa.
"This request [by PPRM] is unfair to local businesses, such as our tenants, who have made significant investments in Guam," Mr. Mesa wrote to GEDA's Ms. Mendiola. "We feel that this would be a travesty to our already ailing economy if this is approved. We have retail and restaurant tenants who are still struggling as a result of COVID, yet they are paying their taxes to the government of Guam.
Among the petition's signers are managers and owners of ABC Stores, Twinkles, Eco Inventions, AB Sports, Levi's Outlet Stores, Guess Outlet Store, Denim Outlet Store, Pink House, Quantake Import and Export, and Cinnabon.
"Most of our tenants at GPO are nationally recognized tenants and tourists look forward to shopping or dining in their establishments," Mr. Mesa wrote. "Wouldn't they be considered a 'tourist attraction' as well? If this is the case, shouldn't they also qualify for a QC? We humbly ask that this request be denied."
And it isn't just national brand stores opposed to the QC application. Another petition signed by the owners of locally-founded small businesses also was submitted. These include Seven Day Supermarket, UR Market, Good Day Market, H&R Mart, Bello Mart, Village Pantry, Health City, La Familia Mart, and California Mart.
Connecting the dots to major players
Mr. Ko is suspicious about the politics behind the application, noting to Ms. Mendiola his observation that PPRM's QC application "is moving in record time compared to other Qualifying Certificate requests. I hope that this fast track is due to a more efficient review process."
The application was notarized on November 21, 2022, or just under five months ago, and already is slated for approval or rejection by the GEDA board of directors before the final two signatories: Attorney General Douglas Moylan and Gov. Lou Leon Guerrero.
It was signed by PPRM's duly authorized representative, Michael Pangelinan, a partner in the law firm Calvo Fisher & Jacob LLP. The principal partner of that law firm is attorney Eduardo J. "Champ" Calvo, who was a contributor to Ms. Leon Guerrero's re-election campaign, which she won only days prior to the application.
Under Article 9 of the application, PPRM lists three business references. The first is John Limtiaco, president of Pacific Unlimited Inc.
The second is Ambros Inc. Export Manager Frank Shimizu, Jr., who is connected by marriage to Ms. Leon Guerrero's son, Bank of Guam CEO Joaquin Cook.
The third reference is Champ Calvo's brother, Calvo Enterprises president Leonard Calvo.
According to the application, the address and number of PPRM's principal office are 134 W. Soledad Ave., Suite 401, Hagatna, and (671) 646-9355. That phone number also is the phone number to the law offices of Calvo Fisher & Jacob.
The address, however, is a bit more complicated. 134 W. Soledad is the Bank of Hawaii building in Hagatna, near the intersection of Marine Corps Drive and Route 4. Kandit went to the building to see what office occupied Suite 401.
It is empty, except for leftover furniture, and a ladder visible from the locked glass door.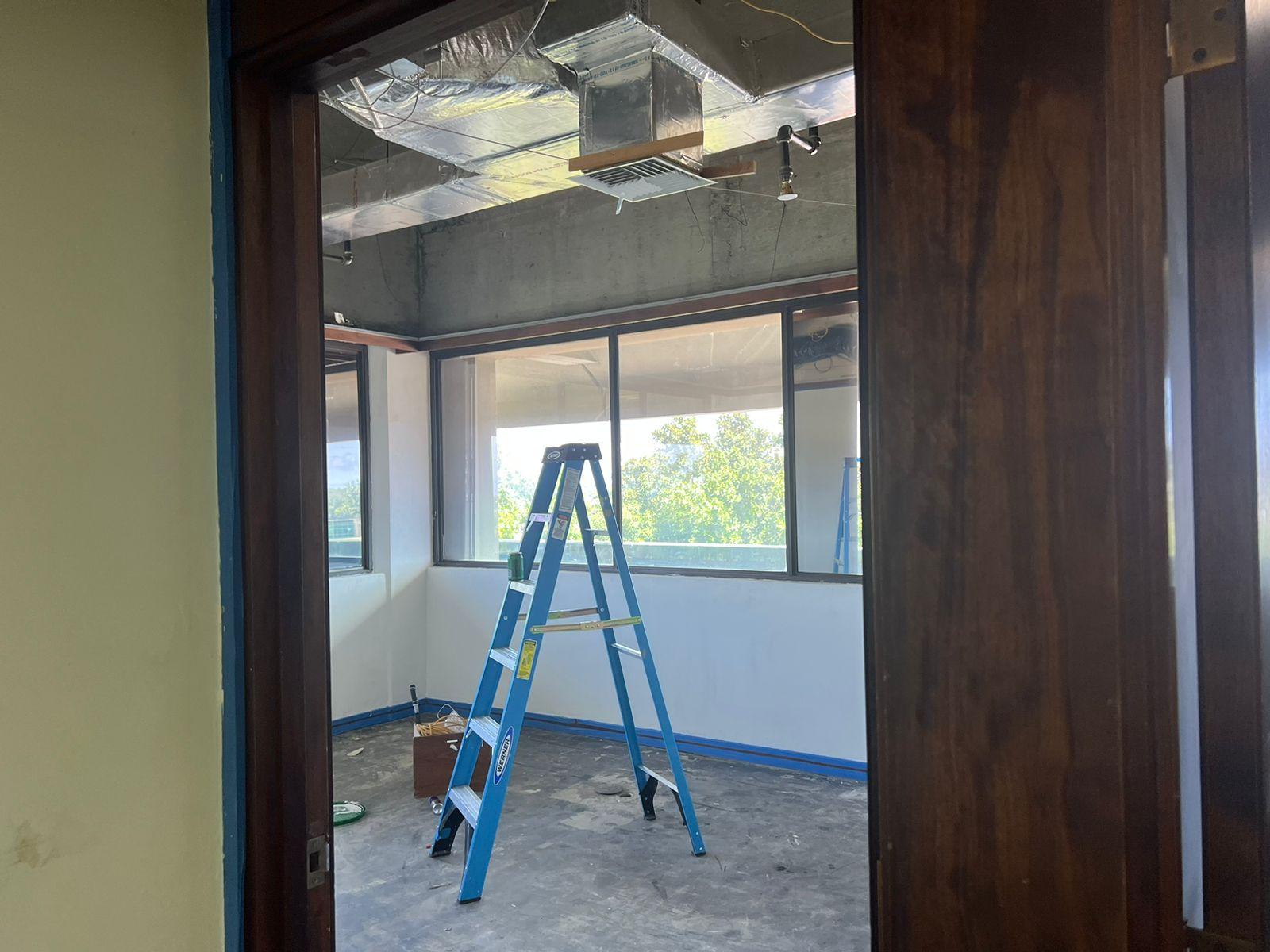 According to Bank of Hawaii employees, the building was purchased by the owners of the ITC Building.
Kandit spoke with Charles McJohn from the ITC Building's management, who confirmed the space has not been occupied in years, and that it is available for lease. That address has no current tenant, according to Mr. McJohn.
The owner of the ITC Building is IP&E.
Mr. Cook is on the board of directors of IP&E.
Ms. Mendiola, the GEDA administrator, said the GEDA board does not have to approve the maximum allowable abatements and waivers in each of the tax categories. She added that unlike other national retailers on island, PPRM will be filing taxes locally, and not sending those taxes away.