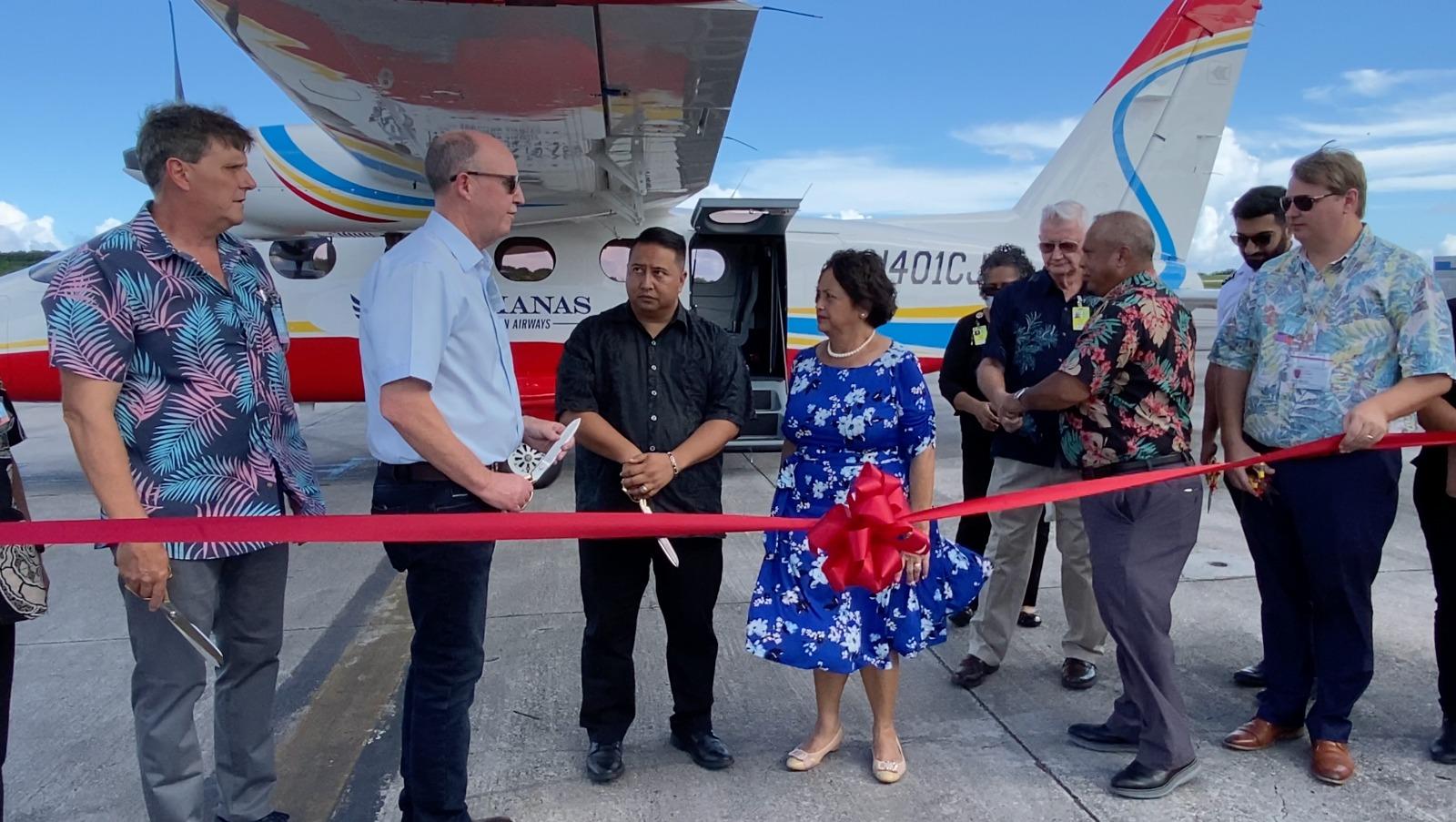 An article in Hawaii News Now published March 27 makes reference to a sister company of Marianas Southern Airways bringing aircraft "across the ocean" to fill demand for air service throughout the Hawaiian islands. The article published a day before MSA announced it would cease operations.
According to the article, a shortage of planes at Mokulele Airways has left passengers stranded, leading its parent company, Southern Airways, to bring in more planes to Hawaii. MSA was affiliated with Southern Airways.
"We're bringing our third large aircraft across the ocean in June," Southern Airways chief of staff Keith Sisson is quoted as saying in the Hawaii News Now article.
The story goes on to state: "That aircraft is a 28-seater Saab 340. In addition, they have three nine-senator Tecnams. The first Tecnam will arrive in April."
Tecnam is the name of an Italian plane manufacturer. MSA has been operating three 9-seater Tecnams out of Saipan since last year.
In fact, a graphic prominently posted on Southern Airways's website shows MSA's operations under the Southern Airways umbrella; and the fact that MSA was the only operator of Southern planes 'across the ocean.'
MSA president Keith Stewart said his company does not have a 28-seater Saab 340 on Saipan that will be going to Hawaii, but he refused to answer whether the three 9-seater Tecnams will be going to Hawaii.
"Southern is a different company and I have no involvement with them other than a partnership in MSA, which is stopping service," Mr. Stewart told Kandit. Asked specifically about the three 9-seater planes, he replied, "Would need to ask Southern. Sorry."
Kandit did reach out to Southern's Mr. Sisson Thursday, asking him to confirm whether the three planes he referred to in the Hawaii News Now article were being imported to Hawaii from Saipan.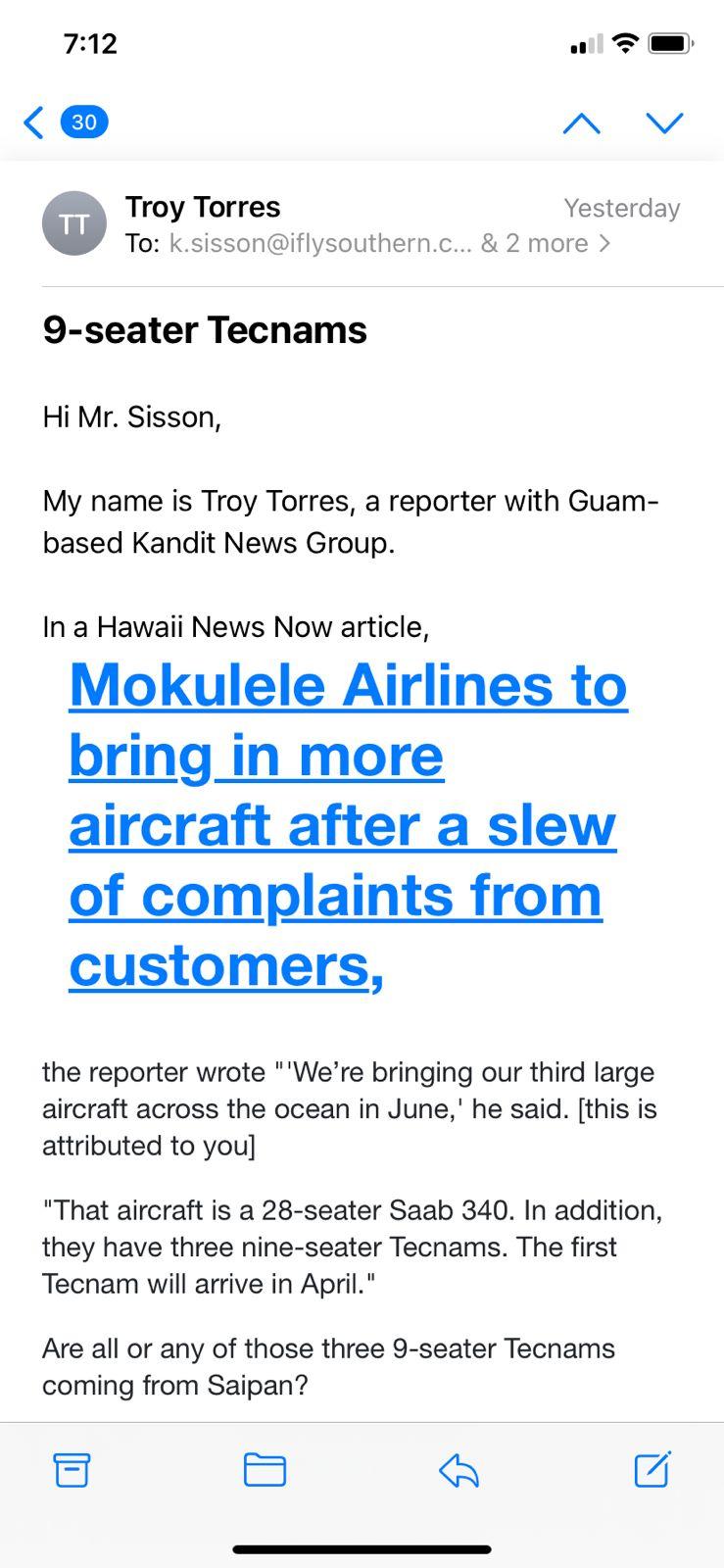 Mr. Sisson has not replied.
Documents Kandit received from the CNMI Department of Finance from an Open Government Act disclosure reveal that at least two of those 9-seater MSA planes is connected to money the CNMI government under the Ralph Torres administration gave to MSA.
On March 21, 2022, former Secretary of FInance David Atalig, Jr. Issued a notice to proceed for a sole source contract between the Commonwealth and MSA that would have given MSA $8 million in federal pandemic funds for the operation of their airline and a so-called air incentive program. That program was designed to subsidize the vast majority of MSA's charges for passenger air travel over a six-month period in exchange for charging customers lower rates.
The following day, March 22, 2022, CNMI Treasurer Asunción Agulto wire transferred $1.5 million from the Commonwealth government's Bank of Guam account to MSA's account, according to an online wire transfer voucher that was disclosed in the OGA documents.
According to a July 7, 2022 letter from Mr. Stewart to Mr. Atalig, that money was used to purchase two planes in Italy.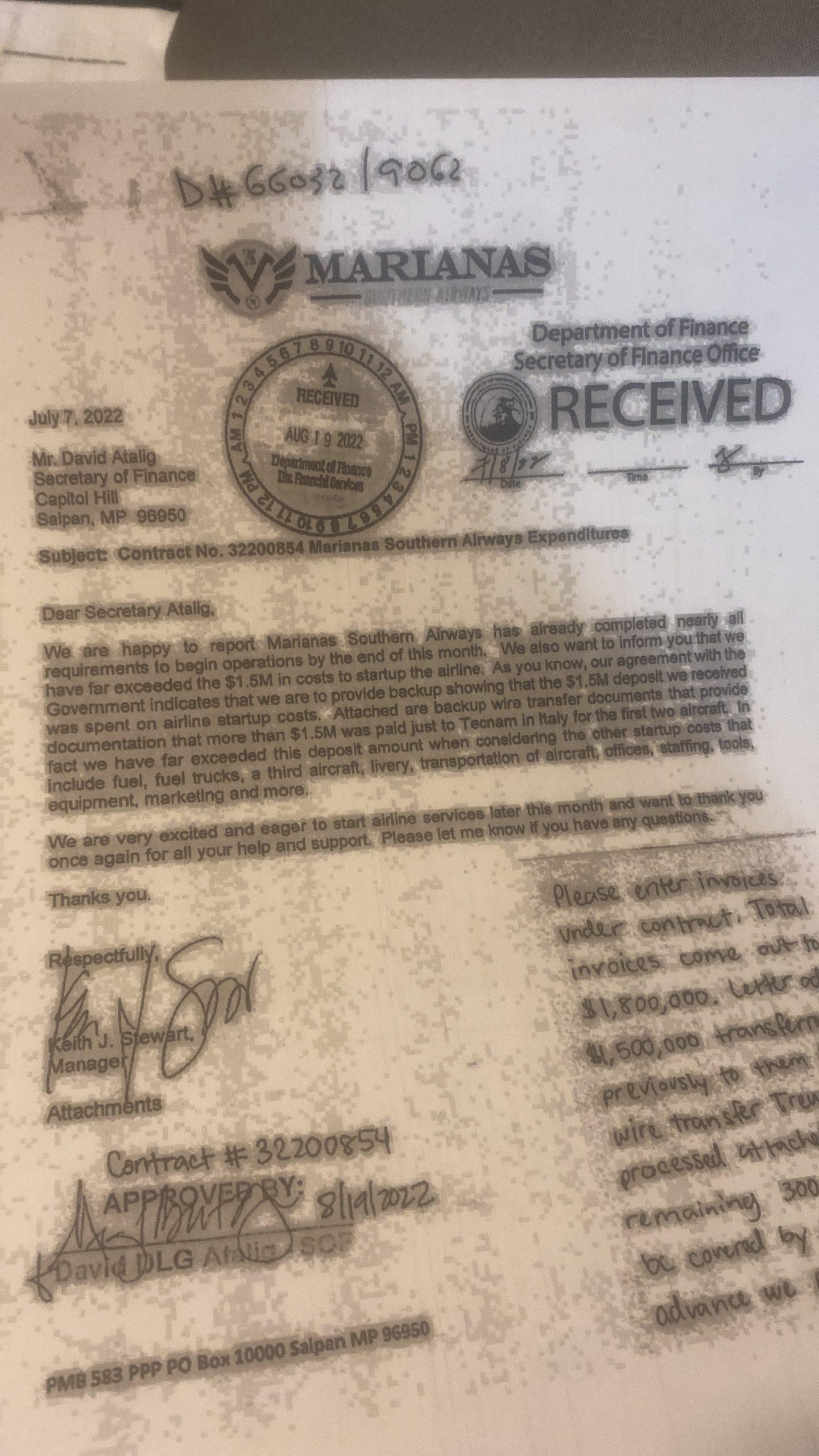 "As you know, our agreement with the Government indicates that we are to provide backup showing that the $1.5M deposit we received was spent on airline startup costs," Mr. Stewart wrote to Mr. Atalig that day. "Attached are backup wire transfer documents that provide documentation that more than $1.5 million was paid just to Tecnam in Italy for the first two aircraft."
A stamp of approval on the July letter from Stewart bares the signature of Mr. Atalig with a hand-written date of August 19, 2022.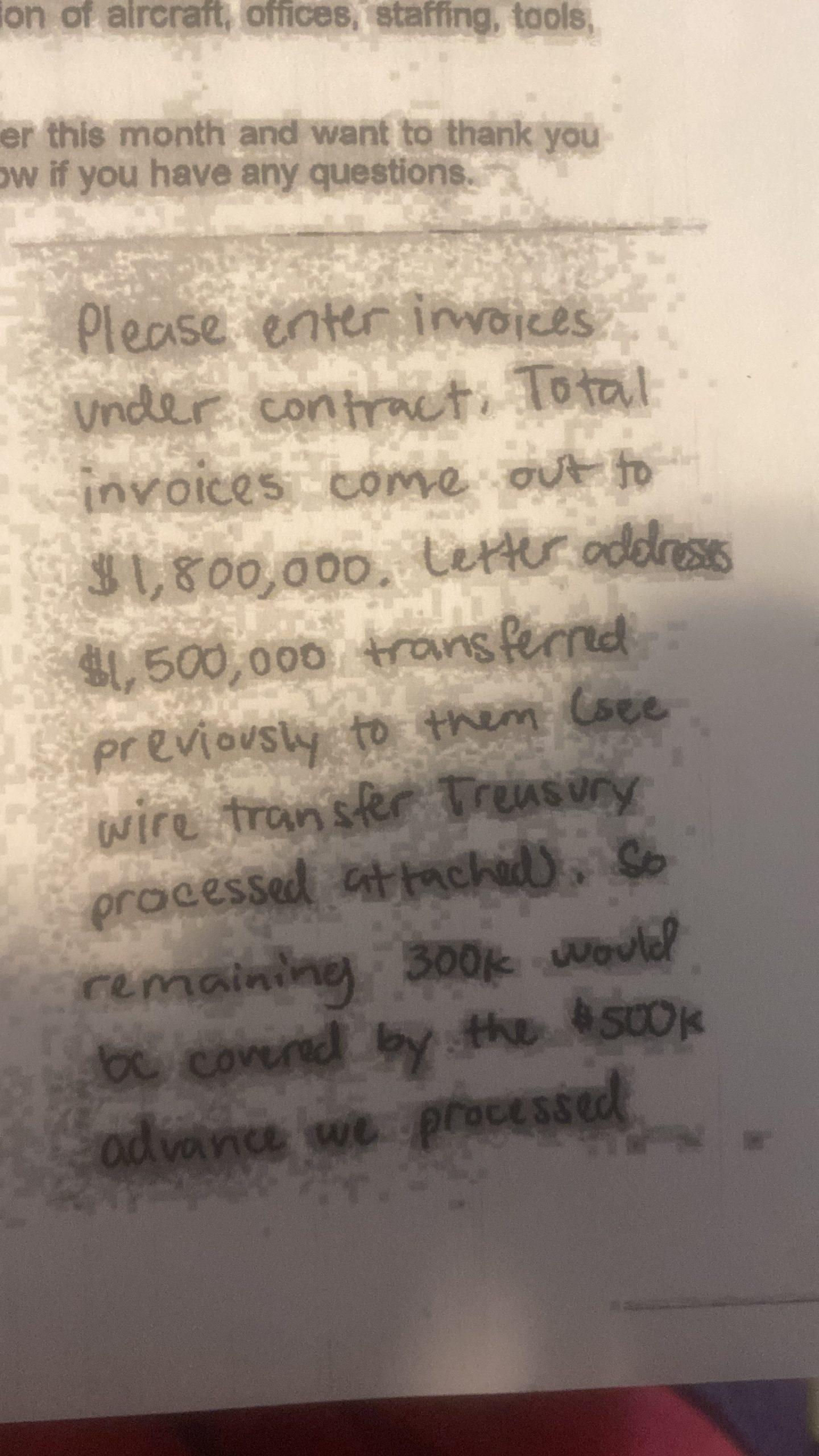 A hand-written note on the letter states: "Please enter invoices under contract. Total invoices come out to $1,800,000. Letter addresses $1,500,000 transferred previously to them (see wire transfer Treasury processed attached). So remaining 300k would be covered by the $500k advance we processed."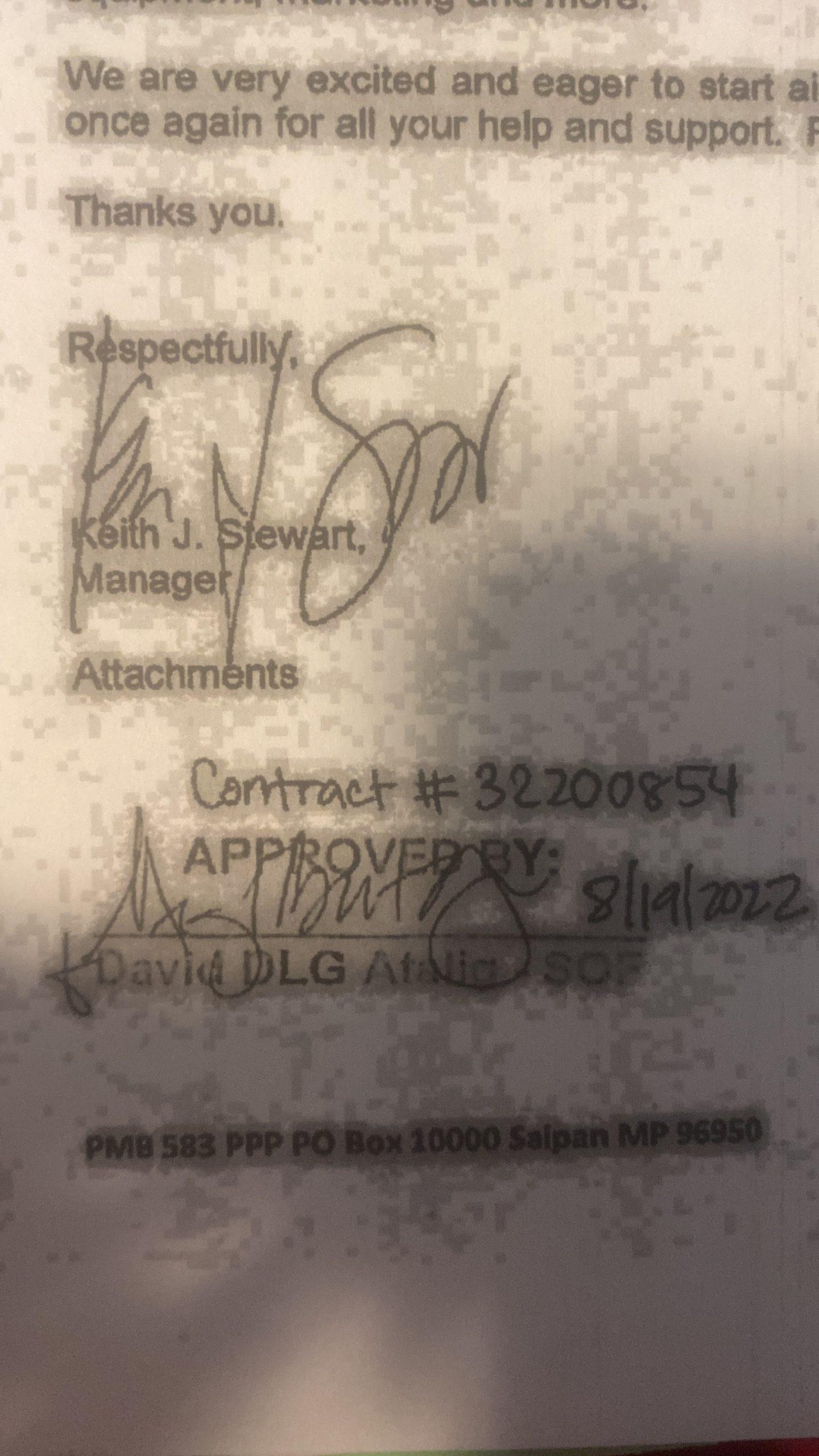 That advance payment indeed was made, according to a Treasury wire transfer voucher. It was for $500,000 and dated the same day as Atalig's approval: August 19.
The "backup wire transfer documents" Mr. Stewart referred to in his July letter.
All of the documents are either invoices from aircraft manufacturer Tecnam in Italy, or receipts of wire transfers to Tecnam.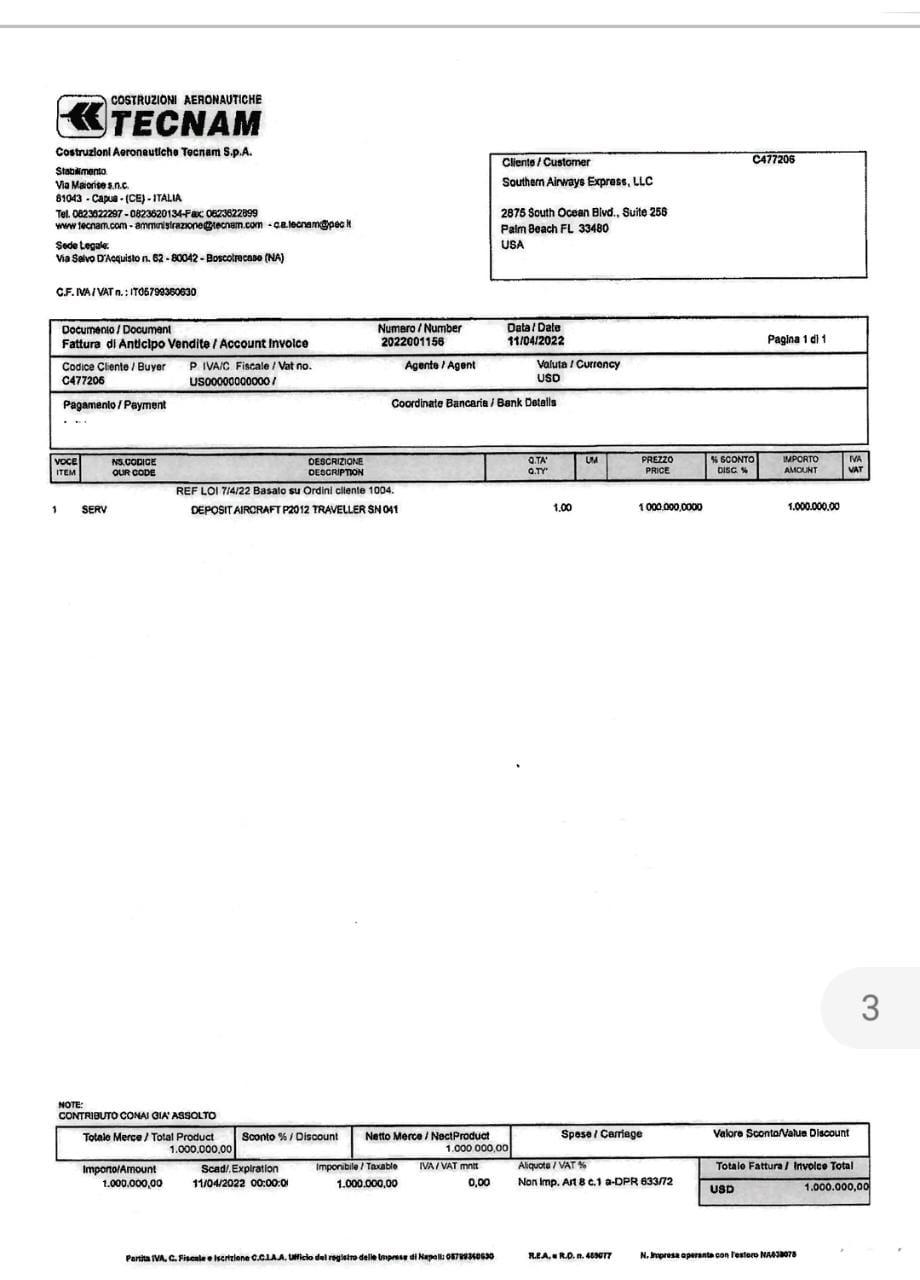 Were those payments to Tecnam for the purchase of any of the three 9-seater Tecnam planes MSA was using?
Are any of those planes now being prepared to be sent to Mokulele in Hawaii?
If the answer to those two questions is 'yes,' then the people of the Commonwealth paid for, at least a portion of the cost, of those planes that soon will benefit the people of Hawaii.