Sen. Chris Duenas has filed a criminal complaint against the person or people who impersonated an elected public official, fabricated a document, and falsified information under false pretenses. A fabricated document made to look like an official floor amendment to legislation in the Guam Legislature began circulating on social media, and was published by the Progressive Democrats of Guam Tuesday. The fabrication spreads the false narrative that Sen. Chris Duenas is trying to transfer funds away from teacher pay raises.
Mr. Duenas, visibly upset at the lie, exclaimed a point of personal privilege when he received the fabricated document while speaking on the floor of the legislature.
"This is a lie!" the senator exclaimed. "This evil doer, whoever put this information out there to try to gaslight and get people up in arms and angry and lie to the people of Guam!"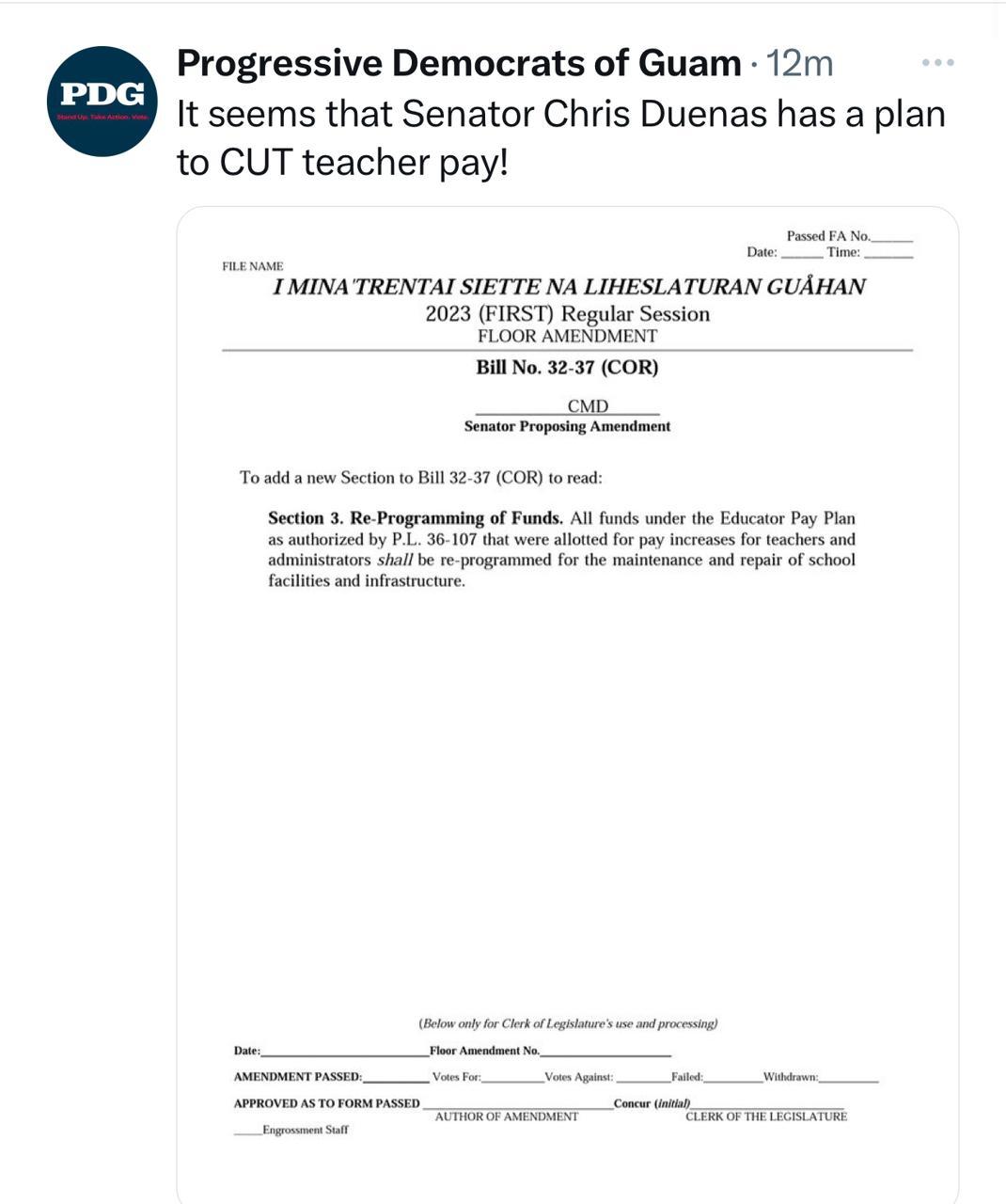 Sen. Chris Barnett came to Mr. Duenas's defense, and also accused Adelup and the Progressive Democrats fringe group of fabricating stories at his expense and for the political benefit of Adelup.
"I was also attacked by this group, which is headed, I believe, by a staffer at Adelup," Mr. Barnett said. "And I didn't appreciate being attacked. I was called out for being 'hypocritical.' They said I didn't support the pay raises, which clearly I said I do. This is par for the course. While… I don't know what to say. I'm disappointed. This administration is willing to, at all costs, push this agenda and for whatever reason. They really should just back off, because we're clearly going to address this issue of the pay raises. I don't appreciate these fabricated attacks."
Both Mr. Duenas and Mr. Barnett have been the target of Gov. Lou Leon Guerrero and her administration since the two senators took up the cause of prioritizing school funding before addressing GovGuam pay raises. Mr. Duenas has publicly spoken out against taxpayers footing the bill for 22 percent pay raises for employees earning six-figure salaries under the General Pay Plan.
Both senators have publicly stated their support of pay increases for the rank and file employees of the General Pay Plan.
The Progressive Democrats of Guam is headed by an Adelup staffer. This staffer is under the General Pay Plan, and currently is paid more than $50,000 per year. He and the Progressive Democrats have been most aggressive in their attacks against Mr. Duenas and Mr. Barnett, and for the GPP pay raises to include high-paid staffers. If senators fund the GPP raises, this staffer will see a more-than $11,000 pay raise. That does not include corresponding increases to his retirement and other benefits.
This same organization and staffer were active during last year's gubernatorial campaign, when they ferociously attacked both of Ms. Leon Guerrero's political opponents: former Congressman Michael San Nicolas, and former Gov. Felix Camacho.
Governor's director of communications Krystal Paco-San Agustin said the accusation of Adelup involvement in the fabrication "is completely false. The administration was not involved in the drafting of this amendment."
The Progressive Democrats of Guam, after the floor speeches by Duenas and Barnett, posted a retraction and apology on its Facebook page.