Governor Ralph Torres item vetoed language in the Fiscal Year 2022 budget act that would have restricted the use of local funds to pay for his private home's utilities.
The veto of the Section 601 rider occurred as the CNMI House Judiciary and Governmental Operations Committee was exposing Mr. Torres's abuse of more than $100,000 annually in taxpayer funds to pay for his consumption of power and water at his As Teo estate. The Commonwealth Legislature attempted to prohibit the governor's abuse of the authorization contained in 1 CMC §8222, which is the statute that allows the payment of the utilities of the governor and lieutenant governor. A rider, in legislative terms, is a provision attached to an appropriations bill that is unrelated to the appropriations contained therein.
In the governor's message explaining the item veto, he wrote of the Section 601 rider, "This provision appropriates funds for the payment of utilities for the Legislature and Judicial branches, while the payment of utilities for the Executive branch is allocated under the American Rescue Plan under government utilities, Business Unit MI210167."
The Section 601 rider, however, contains no appropriation, and no such appropriation for either the legislative or judicial branches, as the governor wrote in his message. The full rider reads:
"The amount appropriated for the payment of utilities shall not be reprogrammed, nor shall other appropriations be reprogrammed for the payment of utilities, except for the purpose of covering increased utility costs due to rate increases. Notwithstanding any provision of law to the contrary, funds that are appropriated by this Act or any subsequent amendments shall not be used or reprogrammed to pay for the utilities of any elected officials, including but not limited to any utility expenses incurred at a private or official residence. For purposes of this section, 'utilities' does not include the expenses of elected officials incurred by reason of traveling or working on official business outside their respective home senatorial district."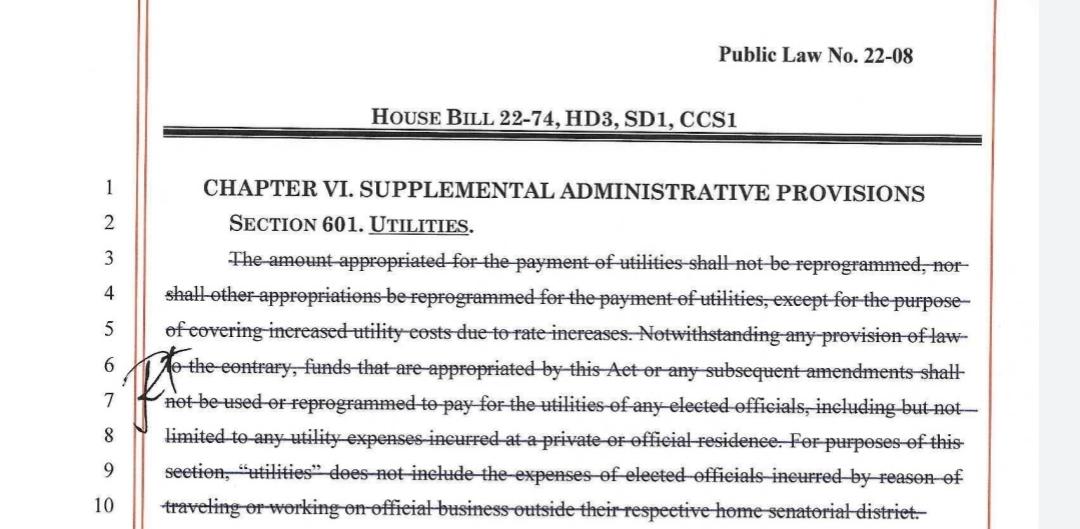 He vetoed it.
This means – if the veto withstands a potential legal challenge as to the validity of his use of item veto power on Section 601 (a whole other story on its own) – he may continue to expend public funds to pay his exorbitant personal utilities cost.
The Commonwealth Legislature may override his veto by a vote of two thirds of each house of the bicameral body.