Earlier in the year my dad died we had our first and only argument. I know I had made mistakes as a son, and in that sense, disrespected my father growing up. But this time, it was different. I outwardly disrespected him by challenging his affiliation with the Neocatechumenal Way, a sect of the Roman Catholic Church.
I actually never had a problem with his membership in 'The Way,' before that. Like many in the so-called cult, he seemed happy. His relationship with God truly blossomed from the time he joined the second community of The Way in Agana. It was through that community that he developed a friendship with many in the church, including Anthony Apuron, the disgraced former bishop.
Our argument happened in early May 2019. It began with something stupid and completely unrelated to how it ended up. The relevant part of it (to this story) is I asked him – rhetorically yelling profanities – how he could associate himself with the very people who had hurt me, his son.
As I explained in a previous story, Apuron was the archbishop, who covered up my rape by my St. Anthony School teacher, Ray Caluag, between 1993 and 1994. In 2017, I found out he was connected to a false report that I had sexually assaulted his nephew in 1996, when I was 16. It was a double victimization, and while I did well to keep these attacks off my mind, I couldn't hold myself back, when I was yelling at my dad about it.
He defended his association with The Way, and I lost my mind about it. I accused him of choosing his cult over his children, and of accepting the depravity of this cult; its menacing ways of bringing predators into this island, and protecting them.
I didn't talk to him after that, until June 2, 2019, his seventy-second birthday. I called him to apologize and to wish him happy birthday, and he ended up telling me he was sorry, and that he never wanted me to think he chose anything in the world above his children. I digress from the point of this story, but I just want you, the reader, to know that I regretted disrespecting my dad. Ultimately, I was so very happy we spoke on his birthday. That led me to visit more often and spend more time with him over the next few months than I had in the years prior combined. My dad died October 13 that year.
The issue of The Way bringing in and protecting child predators never came up again in our talks, but it is the one part of the argument I never regretted imparting. I get it; I get that among the main tenets of our Christianity is forgiveness. But, I can't find it in my heart to tolerate or forgive the predation and victimization of children, or the coverup of these crimes.
And by 2019 – the year we had that argument – several members of The Way on Guam had already been accused of either raping children, or covering up that rape; Apuron included.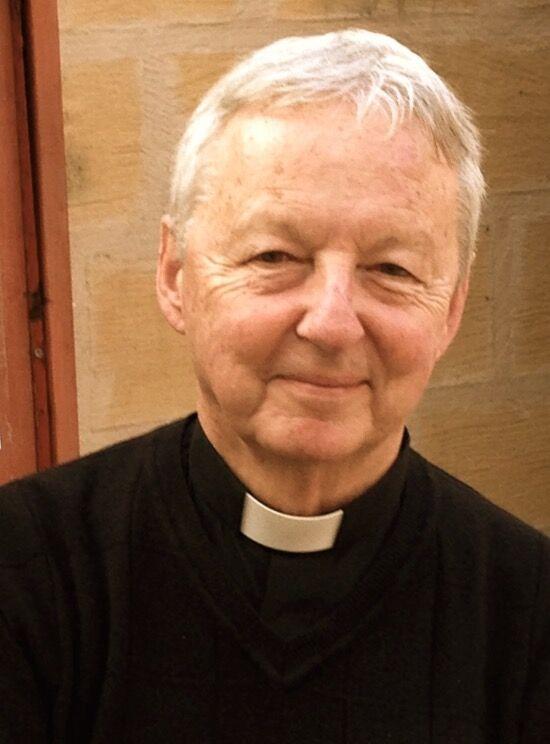 Imagine my disgust, when a source of information leaked to me a February 27, 2015 letter from the Archbishop of Brisbane, Mark Coleridge, to then-Archbishop Anthony Apuron about a certain priest, Fr. John Howard Wadeson.
Wadeson was the subject of local news reports in 2014 and 2015 after the Survivors Network of those Abused by Priests (SNAP) exposed unsettled allegations Wadeson had molested children within the Archdiocese of Los Angeles from the 1970s to the 1990s. Apuron then incardinated him as a priest on Guam in 2000. The Archdiocese of Agana later admitted under pressure it was aware of the allegations against Wadeson at the time he was accepted into the Guam churches to be around children.
When the SNAP news hit in 2014, Apuron's archdiocese sent Wadeson away to San Francisco, according to several news reports.
"The Archdiocese of Agana has a policy regarding sexual misconduct and sexual harassment and takes these matters very seriously," archdiocese spokesman Tony Diaz said in July 2014.
Despite Mr. Diaz's rhetoric (and by the way, Diaz remains the mouthpiece for the Archdiocese of Agana), some time after July 2014 and before February 27, 2015, the Archdiocese of Agana continued to cover for Wadeson.
According to Archbishop Coleridge of Brisbane, Apuron's Vicar General at the time – Monsignor David C. Quitugua (the tall one, who also is in The Way), guaranteed that Wadeson was a "priest in good standing in the Archdiocese of Guam."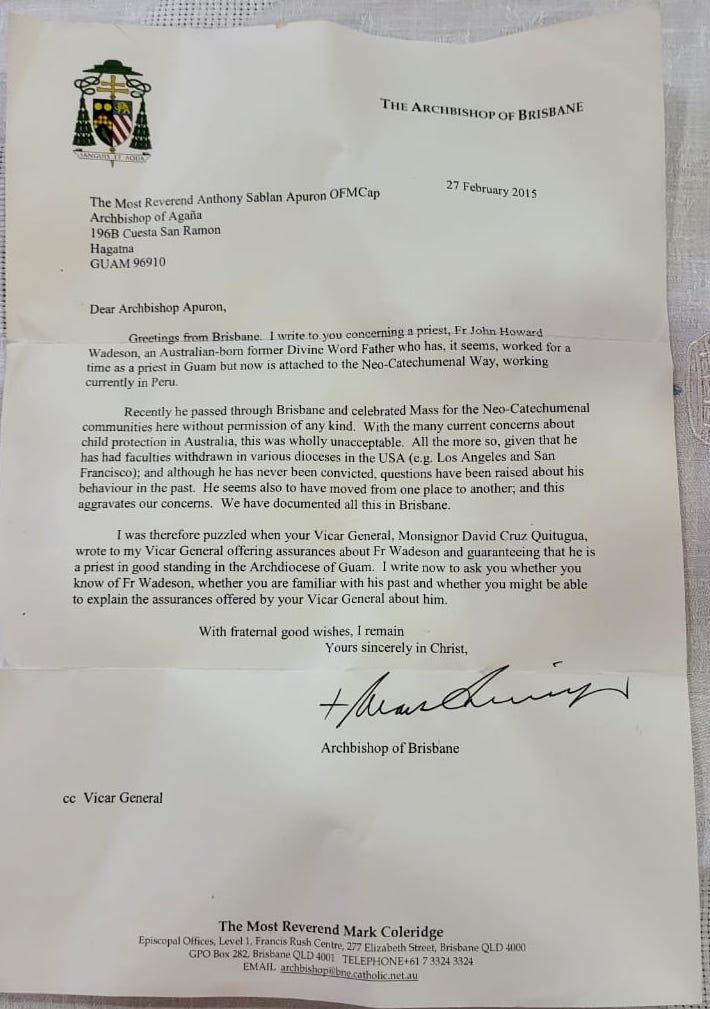 Here is the text of the letter:
Dear Archbishop Apuron,

Greetings from Brisbane. I write to you concerning a priest, Fr. John Howard Wadeson, and Australian-born former Divine Word Father who has, it seems, worked for a time as a priest in Guam but now is attached to the Neo-Catechumenal Way, working currently in Peru.

Recently he passed through Brisbane and celebrated Mass for the Neo-Catechumenal communities here without permission of any kind. With the many current concerns about child protection in Australia, this was wholly unacceptable. All the more so, given that he has had faculties withdrawn in various dioceses in the USA (e.g. Los Angeles and San Francisco); and although he has never been convicted, questions have been raised about his behaviour in the past. He seems also to have moved from one place to another, and this aggravates our concerns. We have documented all this in Brisbane.

I was therefore puzzled when your Vicar General, Monsignor David Cruz Quitugua, wrote to my Vicar General offering assurances about Fr. Wadeson and guaranteeing that he is a priest in good standing in the Archdiocese of Guam. I write now to ask you whether you know of Fr. Wadeson, whether you are familiar with his past and whether you might be able to explain the assurances offered by your Vicar General about him.

With fraternal good wishes, I remain Yours sincerely in Christ, Archbishop of Brisbane
The signed letter provides further proof of yet another accused predator receiving refuge in Apuron's court, and political cover by The Way to move about throughout the world to continue to have access to innocent children. Wadeson certainly was not the first or last from The Way to receive such courtesy at the expense of a parent's worse fears about their children.
And despite Mr. Diaz's July 2014 comments that the Archdiocese of Agana has a policy regarding sexual misconduct and takes these matters seriously, he ended up confirming in April the following year that Wadeson had been restored back to Guam as a priest. According to the Archdiocese of Agana website, Wadeson remains under the archdiocese as a retired priest who lives off island. It is unknown whether Guam's Catholic community continues to pay Wadeson a salary.
A video produced by the law firm Jeff Anderson & Associates states the Archdiocese of Los Angeles in 2018 named Wadeson in an annual report disclosing the names of priests with credible accusation of sexual abuse against them. The law firm was seeking out any potential victims of Wadeson in the New Jersey area, where he also was a priest.
Reports state Wadeson's current whereabouts are unknown. This is a common them among members of The Way on Guam, who are accused of sexually assaulting and raping children. Among these alleged predators are ex-priest Adrian Cristobal, and Fr. Luis Camacho, both of whom fled Guam following public accusations against them.