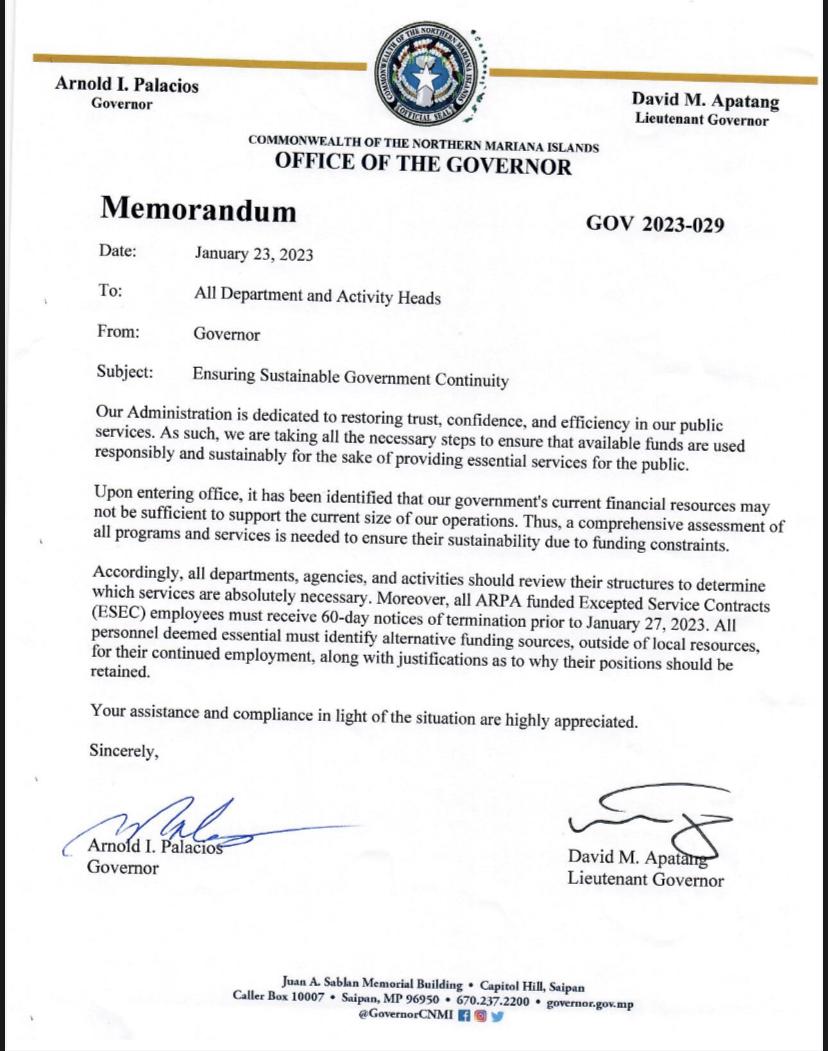 When will a local or federal authority arrest Ralph Torres, his financial people, and everyone who had anything to do with the plundering of the people's Commonwealth? Frankly, it is taking too long. Criminal justice for murderers have been known to occur from arrest to conviction in less time and with less evidence.
Tonight we learn of the disastrous news to federally-funded Excepted Service Contracts employees of the Commonwealth government that they must be notified of their termination by January 27. From the date of their notification, they will have 60 days to find a new job or be unemployed. Unless, of course, the governor uses those 60 days to miraculously discover a solution to prevent the unemployment.
The 60-day notice is according to Memorandum GOV 2023-029 issued by Gov. Arnold Palacios and Lt. Gov. David Apatang and dated January 23.
"Upon entering office, it has been identified that our government's current financial resources may not be sufficient to support the current size of our operations," Mr. Palacios and Mr. Apatang penned in their memo to their cabinet.
They are directing all department and agency heads to prioritize which of their functions and services are core and essential versus what exists and consumes resources at a lower standard.
And the first cuts have been identified and ordered:
"All ARPA funded Excepted Service Contracts (ESEC) employees must receive 60-day notices of termination prior to January 27, 2023," the memo further directs. "All personnel deemed essential must identify alternative funding sources, outside of local resources, for their continued employment, along with justification as to why their positions should be retained."
This is the catastrophe former Gov. Ralph Torres and his cronies (some who linger in the Senate and the House) left behind. Seven years of deficit spending for a cumulative $314 million deficit and no return on investment or anything to show for it but an additional $83 million deficit in federal free money (who on earth makes a debt out of free money?!). All those raises to cronies. All those contracts to cronies. All those steak dinners and foie gras. All that first class illegal travel. All those federally-funded bribes. All those new cars and those boat trips. Those hundreds of thousands to pay for his personal power and water bill.
All of that money Ralph Torres and his cronies in the government squandered could have prevented any cuts. They could have fixed more roads. They could have invested more in public school education. They could have given across-the-board raises to employees. They could have funded college scholarships. Additional pension through cost of living adjustments. A new power plant that would lower bills. Improved water system. More medical equipment. A new hospital. Ambulances. Paychecks.
Instead, all of that money is gone. Enriched cronies. And a public expenditure as fundamental as paychecks actually are in danger.
"We are taking all the necessary steps to ensure that available funds are used responsibly and sustainably for the sake of providing essential services for the public," Mr. Palacios and Mr. Apatang's memo states.