Broke for Christmas? Can't afford to take your loved ones to Spain, Ireland, or California for holiday? Well have we got good news for you. All you have to do is be a senator, work for the legislature, or become the governor's deputy director of a small agriculture agency, and you can travel using everyone else's money.
That's right. That dream can be yours for the price of your conscience.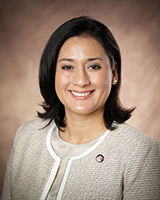 For Sen. Telena Nelson, that came up to $3,340.50 of your money. According to travel documents released to Kandit by the Guam Legislature, Guam's taxpayers forked out $2,175.70 for Ms. Nelson's roundtrip ticket to Dublin, Ireland on a four-day business trip to attend the Legislative Leaders International Symposium of the National Council of State Legislatures.
"Enjoy your first evening in Dublin with a classic Irish experience: a reception at the world-famous Guinness Storehouse," the official agenda of the symposium begins in its lone agenda item for the first day. "Here you'll have a chance to visit this historic building, learn about the history of one of Ireland's most famous brands, and sample their flagship product. Heavy hors d'oevures will be served in their beautiful Arrol Suite."
The second day of the junket, according to the agenda, included breakfast at the hotel, welcome and introductions, lunch, a field trip to Silicon Docks, and a session with the description: "Join a panel of brave staffers and lobbyists to hear, from their perspective, what makes a great legislative leader. Hear experiences from a staff and government relations perspective that will make you a more effective leader and strengthen the institution you lead."
Two sessions – as haughty-sounding as the first – took place on the third day, according to the agenda. She was welcome to a tour and visit of the Leinster House, along with a state dinner there.
Ms. Nelson got a tour of the General Post Office Museum on the fourth and final day.
Guam's taxpayers paid Ms. Nelson an allowance for two of the four days of that conference in Dublin. According to her travel authorization, she was paid a per diem of $490.10, or $980.20 in total per diem, and a food allowance of $92.30 a day, or $184.60.
Her travel itinerary also indicates, that while she left Dublin en route to Los Angeles on October 16, 2021, she did not leave LA until one week later.
Kandit previously reported Guam Department of Agriculture deputy director Adrian Cruz's publicly-funded trip to a museum in Madrid, Spain.
We continue our coverage into government-paid travel Monday, with a trip to Sacramento that cost taxpayers more than $6,000.