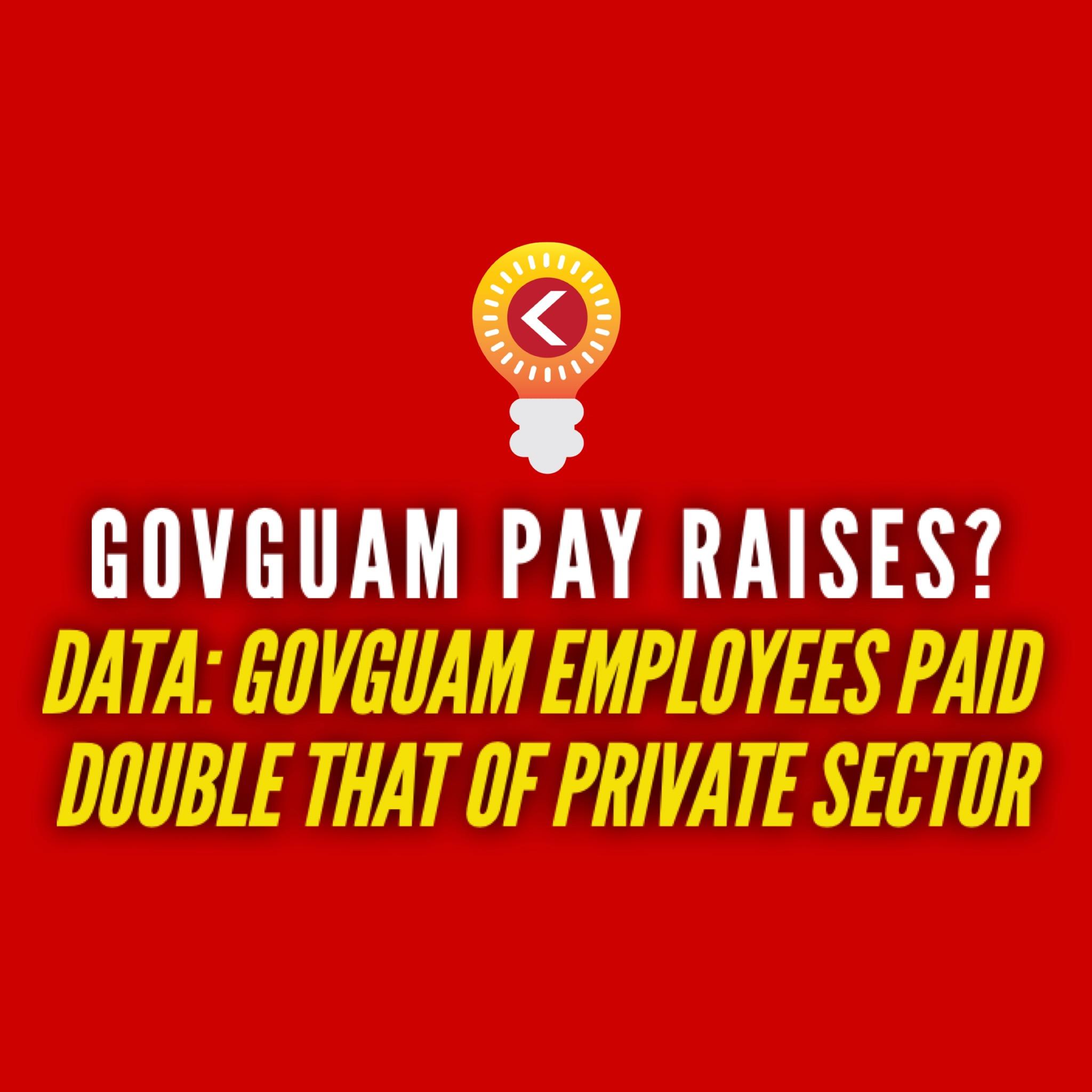 The average GovGuam employee already is paid twice the wage their private sector counterparts earn, according to data that directly contradicts the governor's statements to the contrary.
"[T]he career professionals we relied on for years are either moving on or retiring," Gov. Lou Leon Guerrero said in her pitch during the state of the island address for an across-the-board pay raise of 22 percent for executive branch employees under the General Pay Plan. The increase will cost $24 million for the remainder of this fiscal year, and $50 million (compounded by increment increases) next year and the years after.
"[A]s the public sector transitions to a new generation of employees, we must also contend with the realities of a post-COVID world," she said. Public sector wages, the governor has argued, are no longer competitive with that of the private sector.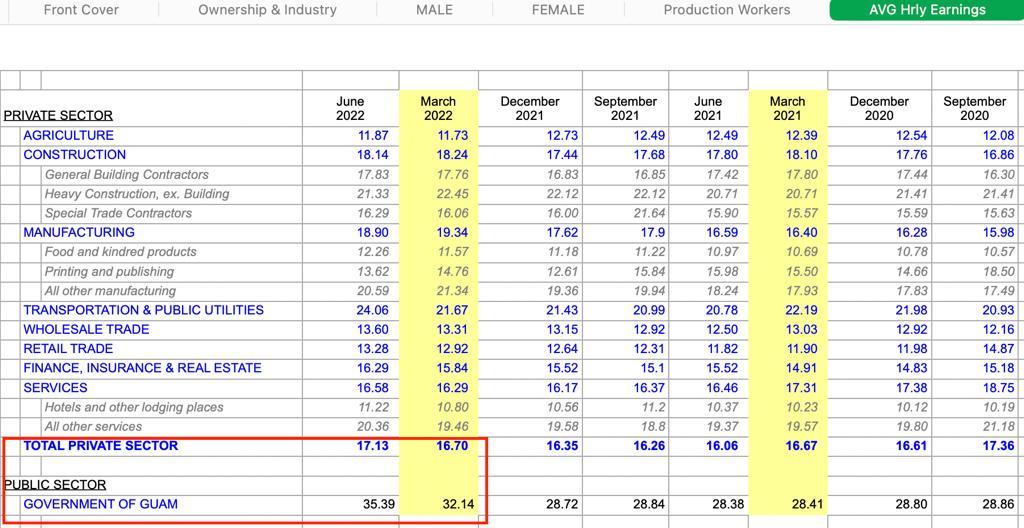 But the numbers tell a different story from the governor's. According to the March 2022 employment report from the Guam Department of Labor, the average GovGuam employee made $32.14 an hour, while the average private sector employee made half that: $16.70 an hour. And while GovGuam employees are nearly guaranteed to work a full 40 hours a week, it is not so in the private sector, making annual salaries in GovGuam that much more attractive than in private employment.
In fact, a comparison of employment data between December 2019 and December 2022 shows that while private sector employment dropped by 5.3 percent, GovGuam employment grew by 4.4 percent.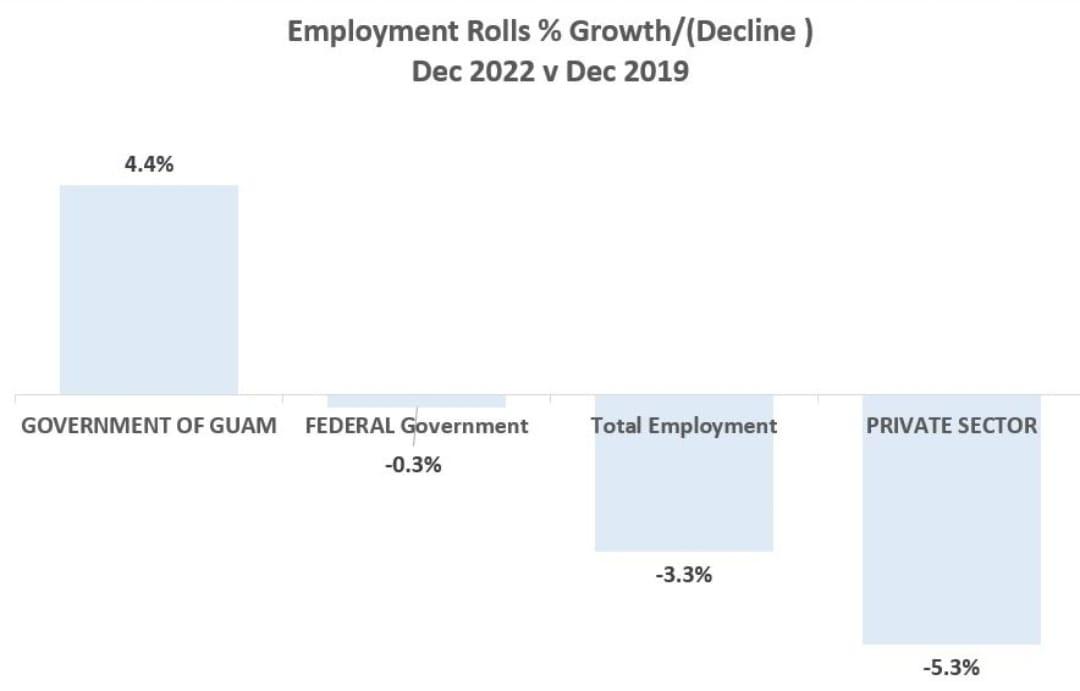 "A fair wage is justified, and the government can only benefit from retaining the best workers in the service of the people of Guam," director of administration Ed Birn told Kandit. But if those workers are unsatisfied with their GovGuam pay, they're not going to find better wages in the private sector, according to industry data.
The private sector already is bleeding professional employees to the government of Guam, and will be crippled by a 22 percent General Pay Plan raise in GovGuam, according to actual employment and wage data.
If the 22 percent wage hike happens, General Pay Plan employees will make an average of $43.18 an hour, according to employment data. That will compare to average wages of retail workers making only $13.28 an hour; bank workers making $16.29 an hour; construction workers making $18.14 an hour; and utilities and transportation workers making $24.06 an hour.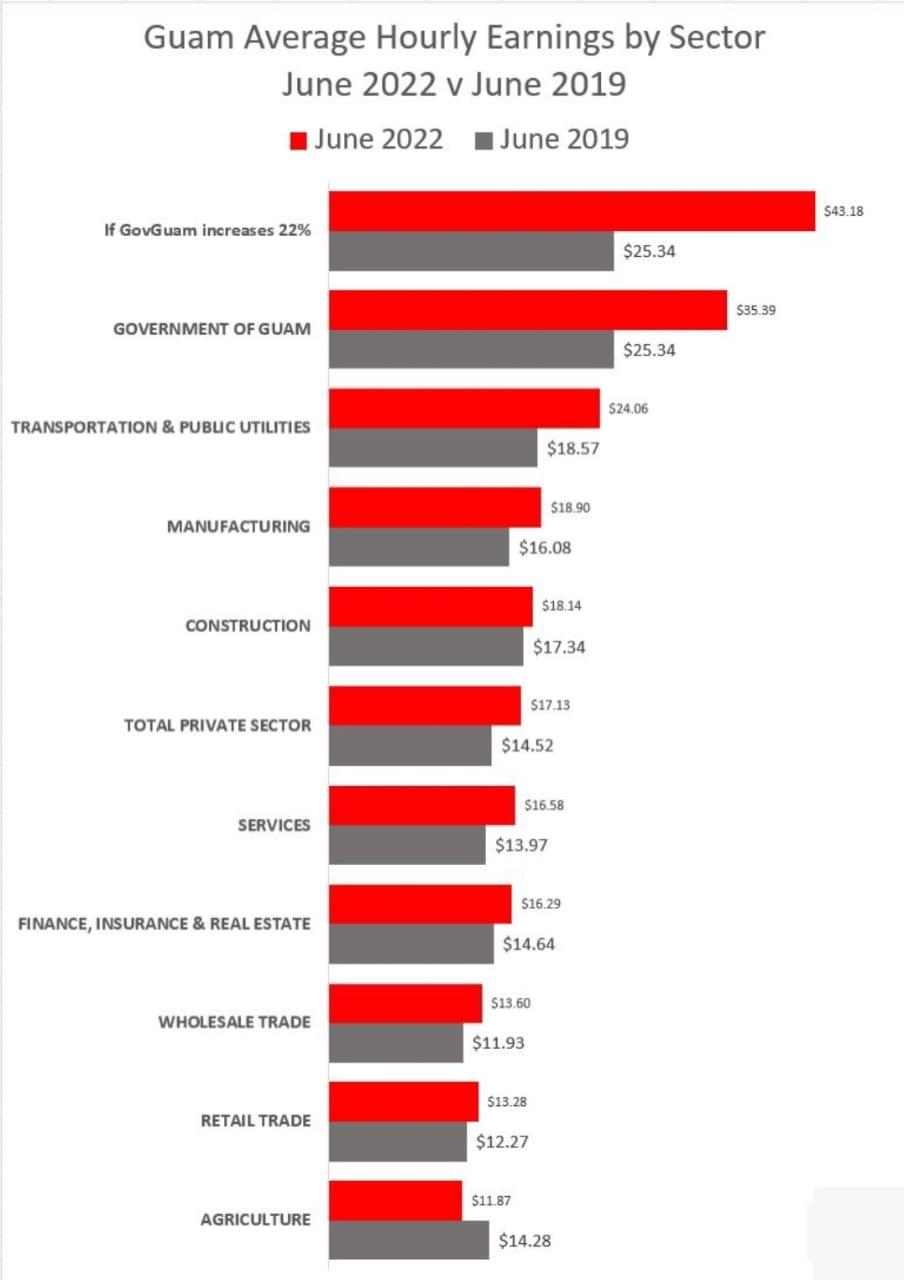 Senators are in session now debating whether all public employees under the General Pay Plan should receive the 22 percent pay hike. For employees already making $50,000 a year (as many of the governor's political supporters are paid), that is an automatic $11,000 pay raise. An employee making $80,000 a year will see an increase of $17,600. Employees making $100,000 a year will receive a pay raise equivalent to the annual salary of a police recruit: $22,000. And the General Pay Plan is packed with employees making more than $100,000. None of these increases include the corresponding increases to benefits pay.
"[N]ow is not the time for government pay raises when there are issues that impact the entire community that is in dire need of the government of Guam's attention," Guam Chamber of Commerce president Catherine Castro wrote last week in opposition to the pay raises.
"We are asking the Guam Legislature to consider these options as the first priority before appropriating taxpayer dollars to fund government pay raises:
Support our small businesses and companies in our devastated tourism industry to keep local jobs and doors open.
Fix our schools and build new facilities for our students and teachers who deserve environments conducive to promoting and motivating teaching and learning.
Fix our only public hospital. Our community and healthcare professionals deserve better.
Address the rise in crime against our businesses, residents and visitors.
Repair and maintain our public roads, parks, and community facilities.
Repair and maintain our garbage trucks, public safety response vehicles, and public infrastructure to support the needs 

of

 our community.
"The list goes on: support our mayor's offices, take care
of
 our homeless and public health issues, drug interdiction measures to get drugs off our streets, our schools and homes, and businesses; employ beautification efforts to get rid 
of
abandoned vehicles, white trash, mattresses, and other unsightly debris." – Catherine Castro