The agency mandated to prepare for and respond to emergencies went on a shopping spree for more vehicles than its number of employees, racked up tens of millions in deficit, used federal funds to ship private vehicles to Rota, hired grants section employees without grant experience, and has no inventory of fixed assets. This is according to Gov. Arnold Palacios's transition committee report for the CNMI Homeland Security and Emergency Management (HSEM) agency.
Among the recommendations the committee made to the governor are to request Attorney General Edward Manibusan to launch an investigation into the misuse of federal and local funds, including a finding by the committee that points to a Rota senator's alleged authorization of the use of federal resources to transport at least one private vehicle there. Sen. Dennis Mendiola, a republican from Rota, was the HSEM special assistant at the time the transition report was submitted to the then-governor elect.
"1 Pathfinder and 2 Tacoma Pick-up Trucks were shipped to Rota under HSEM expense, though all three vehicles are not HSEM property," the report states. According to a Kandit source, Sen. Mendiola authorized HSEM staff to include in a container of PPEs for the people of Rota a private vehicles to be transported at public expense. This expenditures utilized HSEM funds that originated from a federal grant.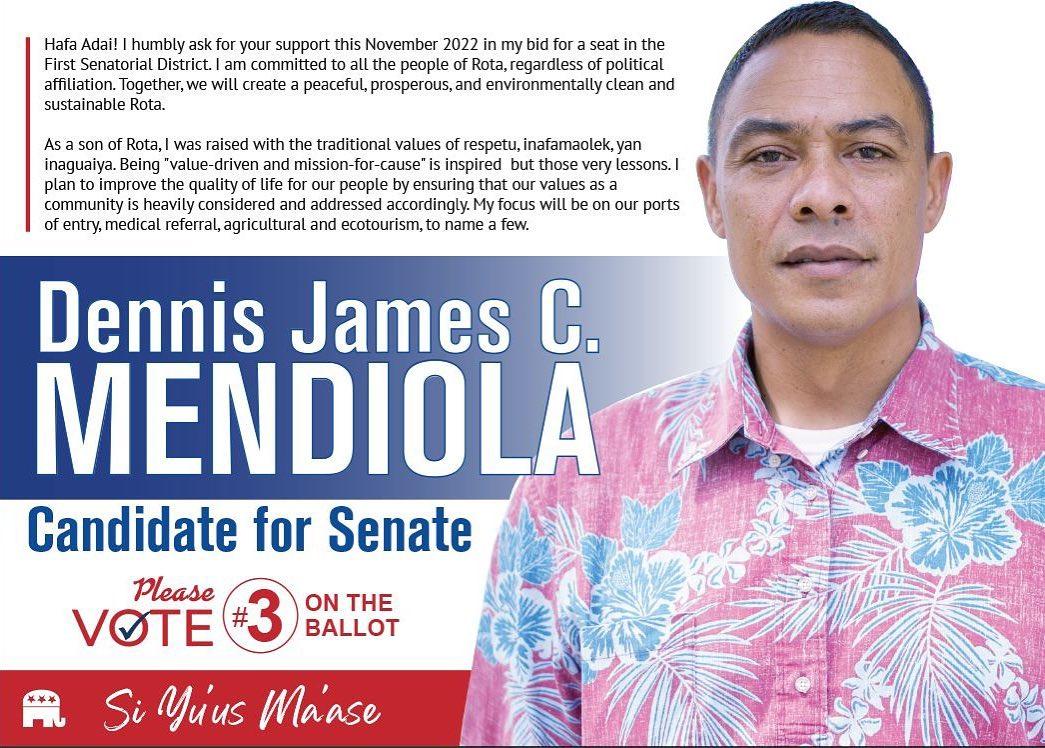 But that is not the totality of the questionable use of federal resources involving vehicles at HSEM.
According to this report, "HSEM has 74 procured vehicles," and "During the pandemic there were over 40 vehicles rented under HSEM expense." As of January 4, 2023, HSEM had 43 employees, and 114 vehicles, or nearly three times more automobiles than staff to drive them. The report notes that most of the 74 purchased vehicles were assigned to other government agencies. However, the section that manages the grants used to fund these vehicles did not keep an inventory of these assets.
"When we asked her if grants section maintains an inventory of all fixed assets purchased using grant funds, Naomi said grants section does not keep an inventory of fixed assets and it would be HSEM Logistics section that should keep the inventory," the report states. "Naomi" references Naomi Ada Tagabuel, who heads the HSEM Grants section, and who told the committee that the incumbent program coordinator for the National Tsunami Hazard Mitigation Program grant "was unfamiliar with grants and had no experience handling or working with grants."
The report's significant findings of disorder and chaos in the management of public assets and federal grants, especially during the pandemic, underscores an even bigger problem created under Mr. Mendiola's leadership of the agency: HSEM, which has an authorized budget of $254,531 for the current fiscal year, managed to rack up a $49,726,090.87 deficit last fiscal year 2022, according to the agency's unaudited financials.
According to the report, in FY2022, Mr. Mendiola's agency spent $1.2 million on regular salaries and 150 percent more on overtime costs. In what appears to have been the dumping ground for political hires during 2022 and before the election, HSEM contracted rather than hired employees at a cost of more than 400 percent the regular personnel expenditure. According to the report, in 2022, HSEM used $5.1 million in funds under Account No. 1699J for personnel contracts. HSEM used another $6.1 million for other professional services contracts, nearly $8 million for rentals, and an astounding $9.1 million in an accounting catch all termed "Other."
"Approximately 28% of total expenditures was charged to the "Other" subaccount," the report states. That was the largest expense category of the FY2022 budget pie, and no qualification provided as to what 'other' expenditures these may entail. "The extensive spending resulted in an ending balance and deficit of negative forty-nine million seven hundred twenty-six thousand ninety and 87/100 dollars (-$49,726,090.87)."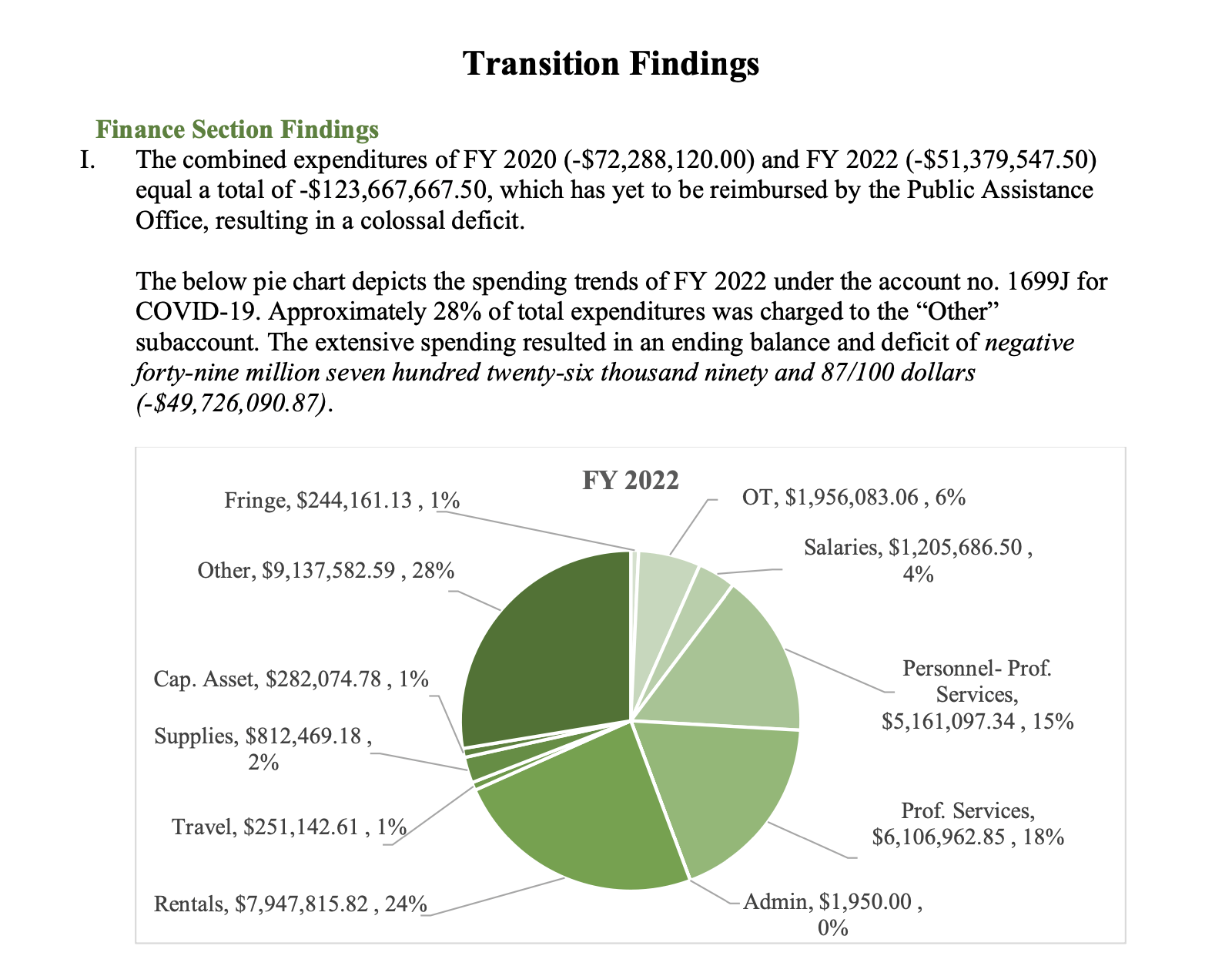 If you thought that budget deficit was egregious, you haven't read the worst of it yet: HSEM managed to rack up a cash deficit of $123,667,667.50, according to the report.
"The combined expenditures of FY 2020 (-$72,288,120.00) and FY 2022 (-$51,379,547.50) equal a total of -$123,667,667.50, which has yet to be reimbursed by the Public Assistance Office, resulting in a colossal deficit," the report states.
While one member of the Commonwealth Legislature has expressed hope that a pending reimbursement will help the government to manage the mess former Gov. Ralph Torres left behind, another member is worried the delay in reimbursement is a red flag the federal government has placed on grants given to the Commonwealth due to abuse and corruption.
Aside from an investigation by the OAG, the transition team has recommended a "deep-dive" audit into HSEM, the identification and inventory of fixed assets, rules and regulations for a variety of functions within the agency, and random drug testing for staff.
"Given the short timeframe under which our transition team had to work, the size of HSEM, and the complicated nature of the Agency's financials and inventory documentation, we believe our investigation and review work should continue beyond the administration transition period," the report states. "We recommend that the new administration continue a deep dive audit of the agency and/or request the Attorney General to investigate. We have documented a number of irregularities in our report which could be uncovered given additional time."