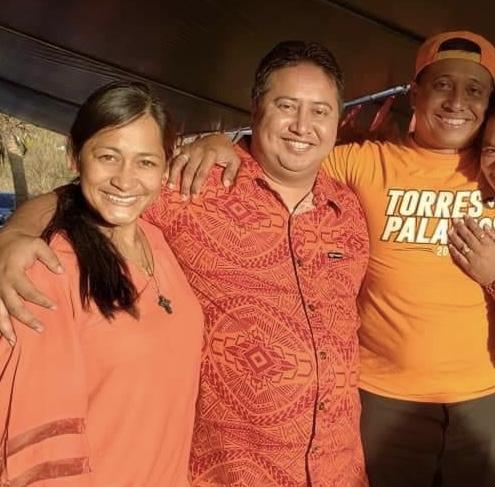 Documents registered with the Commonwealth Recorder show former Gov. Ralph Torres's brother, Vincent Deleon Guerrero Torres, sold $771,000 in land leases to Keith Stewart shortly after Mr. Stewart's Marianas Southern Airways received $1.5 million from the Torres administration.
Vincent Torres signed the three purchase agreements March 3, 2022, or 13 days before his brother executed a sole source contract promising MSA $8 million in federal pandemic funds. Among the promised payments was an initial $1.5 million for so-called start-up costs for MSA invoiced and paid to MSA the same day the contract was executed.
Mr. Stewart signed all three purchase agreements on the same date: May 12, 2022, after both the contract and the $1.5 million payment.
According to Mr. Stewart, the properties are unrelated to MSA. "I don't have any properties for MSA and have not purchased or leased any for it," he replied to a series of questions Kandit messaged to him. The airline executive said he was late for an event, and unable to answer the questions until a later time.
In a previous interview, Mr. Stewart dispelled rumors any of the Torres brothers had any vested interest in MSA or Mango Resort, which Mr. Stewart also purchased in 2019, according to a purchase agreement.
That previous interview centered on Secretary of Finance Tracy Norita's decision to terminate the Torres-era contract affording MSA the subsidy. Gov. Arnold Palacios has backed Ms. Norita's decision, proclaiming the Commonwealth government simply does not have the money to make any more payments to MSA beyond the $2.4 million already paid under the Torres administration.
"There was no back room deal or anything else," Mr. Stewart said of the contract. "None of the Torreses have a vested interest in this venture."
Rufina's Tropicals Land sold
According to one of the purchase agreements, among the properties sold to Mr. Stewart is in Lower Dan Dan, adjacent to the international airport, where Vincent Torres's ex-wife, Rowina Ogo, operated the plant nursery Rufina's Tropicals, LLC.
The property, along with a Saipan property known as E.A. 683, and a Capitol Hill property, was sold to Mr. Stewart as land leases for $771,000.
Ms. Ogo said she had no idea her ex-husband had sold the land. The leasehold is for 55 years.
"He was allowing me to enter when he himself didn't own it anymore," she realized and told Kandit, adding, "not realizing I am actually trespassing."
Asked if she is aware what is being done with the land, she replied, "Nothing because I go there regularly to harvest plants. Only a greenskeeper that watches the place."
Mr. Stewart, according to an assignment of lease, purchased the leasehold to a Capitol Hill property – Tract 21721 New-3 – just shy of two acres, for $257,000. According to the assignment's recitals, the land is owned in fee simple by Jesus V. Guerrero, who leased it in 1988 to Niizeki International Saipan Co. Ltd. Niizeki assigned the lease to Vincent Torres on April 4, 2021.
The last piece, a nearly-three-acre parcel called E.A. 683, which is owned in fee simple by Mr. Torres, also was leased to Mr. Stewart for 55 years for $257,000.