The National Weather Service – Guam Office has released its prediction of the number of storms in our region this year. And unlike the past two years, NWS's outlook shows a greater likelihood for storm activity.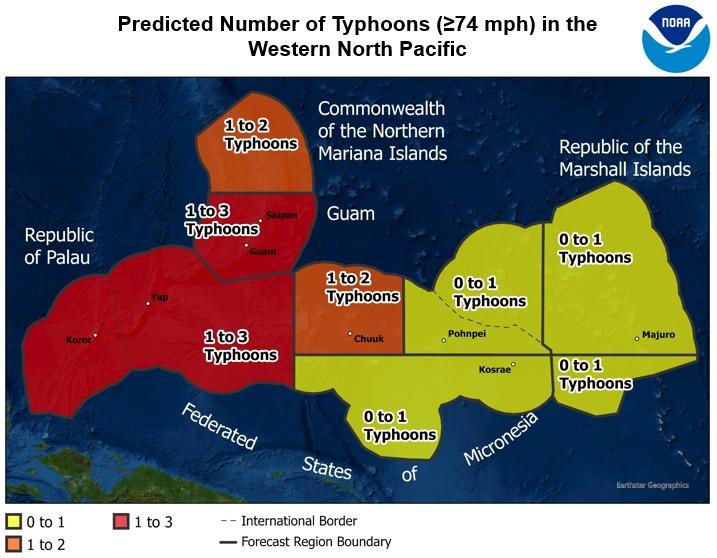 According to two charts it released today, Guam, Rota, Tinian, Saipan, Palau, and Yap can expect to see three to six tropical cyclones (storms with sustained winds at or above 39 mph) this year. Of those three to six cyclones, those islands may be hit by one to three typhoons each. A typhoon is a tropical cyclone with sustained winds of 74 mph or greater.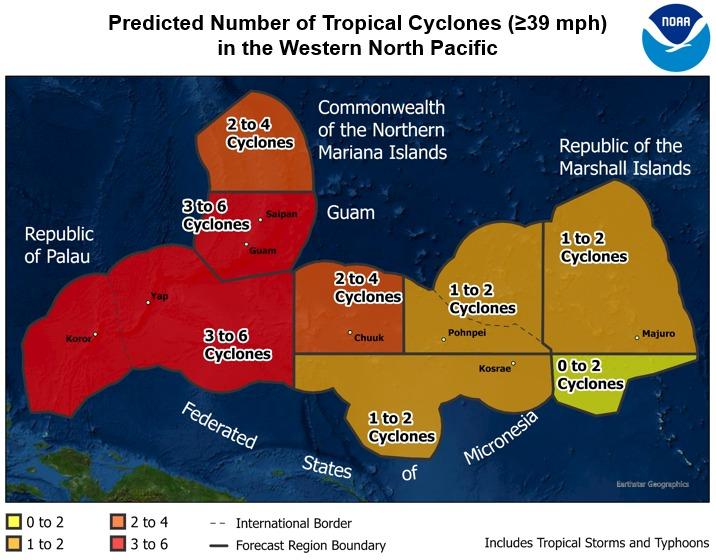 NWS predicts Chuuk and the northern islands of the Commonwealth of the Northern Mariana Islands will be hit by two to four tropical cyclones. One or two of those will become typhoons, according to the NWS charts.
Pohnpei, Majuro, and Kosrae likely will fare better than the rest of the region. According to the charts, those islands may face one or two cyclones, with none or one of them becoming typhoons.
NWS meteorologist Landon Aydlett stated the following:
WFO Guam released the NOAA's 2022 Western North Pacific Tropical Cyclone Outlook today during its 2nd Annual Regional Climate Conference.
The attached images show:
1. Predicted number of named storms by region (tropical storm and typhoon) and
2. Predicted number of typhoons by region
This outlook calls for near-normal activity, meaning a slightly busier year is predicted as compared to 2020 and 2021, both of which seeing below-average activity.
This outlook weighs heavily on the ongoing La Nina cycle, with the possibility of a shift back to ENSO-Neutral later in the year. An update will be released in August to reflect any significant changes based on the climate status.
Keep in mind: This outlook is a prediction of activity by region and is not a landfall forecast for any specific island. Also; a single island does not have to take a direct hit by a tropical cyclone to receive major impacts, as the effects of a tropical cyclone can reach well beyond the center. Significant impacts can also be felt by a developing tropical cyclone that has yet been named or numbered.