The jury in the case dubiously known to the public as the Red Jeep or the Jerry's Kitchen case learned today that police officers never interviewed the lone eye witness to the actual crash.
Nakita Aguon, who was one of the four occupants of the notorious red Jeep that crashed into Jerry's Kitchen in February 2021, is fighting the attorney general's charges against her in trial. She, according to her attorney – David Lujan – maintains her innocence. The defense's theory of the case is simple: Ms. Aguon was not the driver of the red Jeep that night. She's the patsy. And thanks to police corruption, according to the defense's theory of the case, the Guam Police Department and the Office of the Attorney General have allowed the true culprit in the case – a police officer – to avoid facing the law.
One of the other occupants of the red Jeep during that infamous crash was Guam Police officer Joneen Terlaje. Ms. Terlaje is the granddaughter of Sen. Jose "Pedo" Terlaje. In the wake of the crash, Mr. Terlaje's office lied to Kandit, telling Kandit Ms. Terlaje was not involved in the crash at all. GPD police chief Stephen Ignacio later confirmed Ms. Terlaje was an occupant in the Jeep during the incident.
The original police response by patrol officers yielded nothing more than a traffic ticket issued to Ms. Aguon, with no investigation or even so much as a breathalizer test being administered to whoever the driver was. The public outcry after the public learned of GPD's mishandling of the case led to a second investigation, ordered by Mr. Ignacio himself. That was when GPD officer Scott Arceo was assigned to lead the investigation.
Mr. Arceo was called as a witness by prosecutor Grant Olan in the trial today. During Mr. Lujan's cross examination of Mr. Arceo, the police officer admitted to a glaring omission in his investigation of the case: no police officer ever interviewed the lone witness to the crash.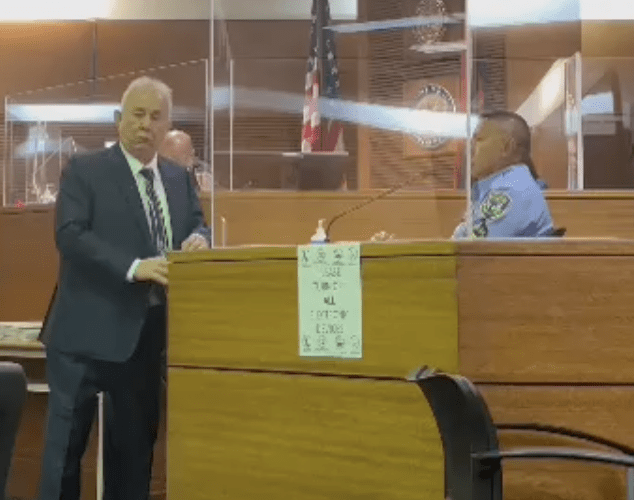 In surveillance footage Kandit exclusively released in the weeks after the crash, one man is seen approaching the building, where the crash occurred. That man was a G4S security guard assigned to the compound that night: Ruthy Pachemwai.
Asked by Mr. Lujan why police – who were ordered to conduct a second investigation to help GPD wash the stain of corruption from itself – failed to interview the only eye witness to the crash, Mr. Arceo responded, "I wasn't instructed to."
"You folks were instructed to find out the truth of this matter, isn't that correct?" Mr. Lujan asked Mr. Arceo. "That's correct," Arceo responded.
"So one of the most important thing that you and your group should ascertain and find out is, 'who is the driver that evening,' isn't that the most important thing, sir?" Mr. Lujan continued in his cross examination. "That's correct, sir," Arceo responded.
"That G4S security guard was the only person present when that damn car came flying into Jerry's Kitchen," Mr. Lujan then stated, continuing, "that the most important person who can tell the jury about this case, about who was driving, is Ruthy?"
You may watch this portion of the cross examination here: