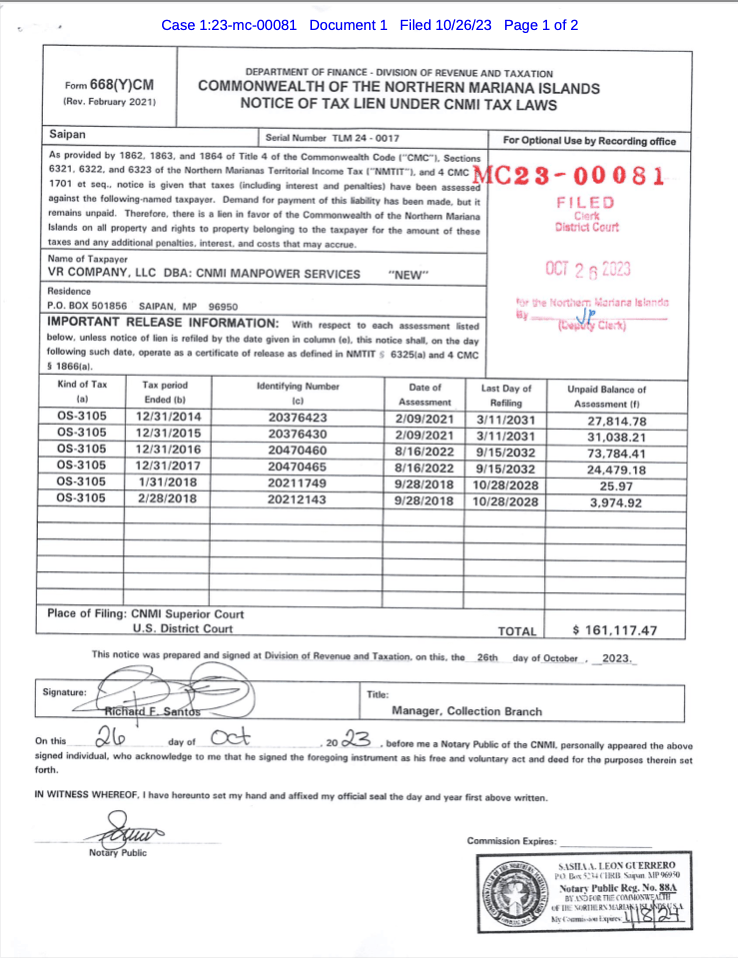 Another federal tax lien has been filed against a company whose records show Vincent Torres is the principal manager.
VR Company, LLC, which was doing business as CNMI Manpower Services, owes $161,117.47 in taxes to the Commonwealth according to federal case number MC23-00081, filed in the U.S. District Court of the CNMI October 26.
Mr. Torres is listed as the managing partner of VR Company LLC among company documents publicly available. It was established in 2015, but then terminated on November 29, 2022, days after his brother lost reelection to Arnold Palacios in the gubernatorial race.
Its office was in the same building as Mr. Torres' law practice, Torres Brothers LLC.
While the company's articles of organization were not signed until February 2015, it was assessed $27,814.78 in taxes for the tax period ending December 31, 2014. The assessment was made six years later, on February 9, 2021. That was the same date the government assessed taxes for the period ending December 31, 2015, the unpaid balance of which is $31,038.21, according to the lien.
Taxes for earnings in 2016 and 2017 were assessed years later on August 16, 2022 for nearly $100,000 combined.
This is the third known federal tax lien on a company involving Mr. Torres this year. On April 4, the Commonwealth government filed a tax lien against Torres Brothers LLC in federal court for nearly a quarter million dollars in taxes assessed and unpaid for tax years 2014 through 2019.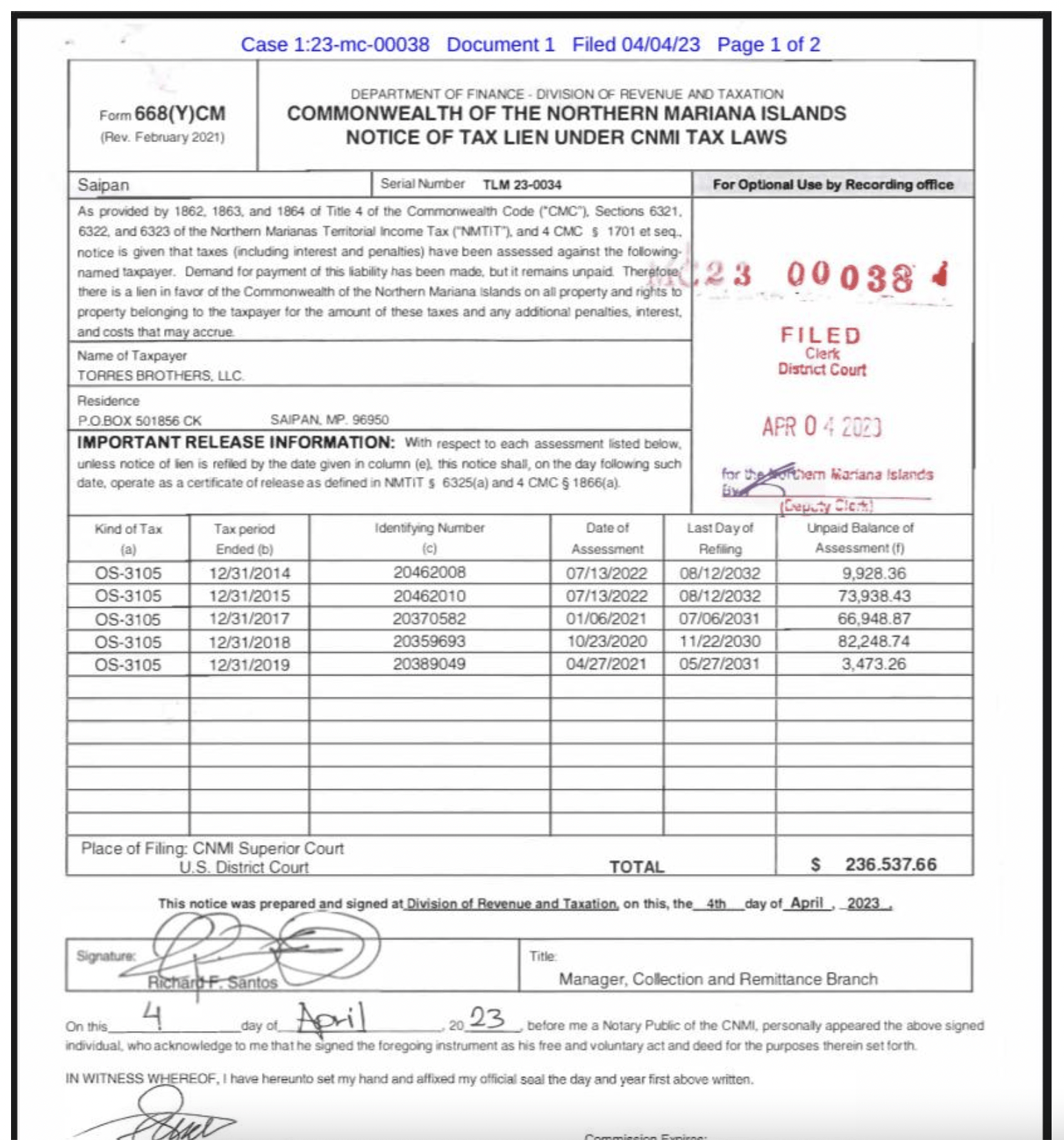 On February 9 in federal court, a tax lien was placed on Mr. Torres' assets for $1,175,096.64 in unpaid taxes dating back to the tax period ending December 31, 2014.
According to the lien, Mr. Torres's unpaid tax balance for tax year 2014 is $73,537.68. The tax return for that year would have been filed in 2015, the year Ralph Torres became the governor upon the untimely death of the late Gov. Eloy Inos.
The alleged tax debt leaped to $564,156.23 the following year, followed by successive amounts of alleged unpaid taxes through the tax period ending December 31, 2020.
To place the lien amount into perspective, if those taxes were collected, the Commonwealth government would be able to save the jobs of 60 low-paid government workers. Put another way, the amount would be near enough to cover the deficit Ralph Torres left behind in the governor's office alone.
According to the document, which also was filed in the Superior Court of the CNMI, "If any person liable to pay any tax neglects or refuses to pay the same after demand, the amount shall be a lien in favor of the CNMI upon all property and rights to property, whether real or personal, belonging to such person."
It is unclear whether Vince Torres previously has contested the assessments.