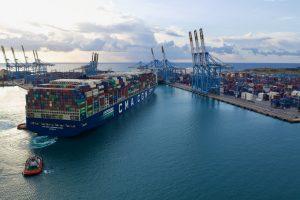 APL Guam's parent company has suspended shipping spot rates throughout the world until February 2022.
In a news release out of its global headquarters in Paris, CMA CGM, said global shipping costs are expected to continue climbing during the pandemic primarily due to market-driven forces from port congestion. However, and according to the conglomerate's news release, "Although these market-driven rate increases are expected to continue in the coming months, the Group has decided to put any further increases in spot freight rates on hold for all services operated under its brands (CMA CGM, CNC, Containerships, Mercosul, ANL, APL)."
Matson, APL Guam's competitor in the region, recently increased its fuel surcharge on containers shipping in and out of Guam, the Northern Mariana Islands, and greater Micronesia.
Matson has entangled the U.S. Maritime Administration for the past several years in lawsuits to effectively kick APL out of the shipping route (known as the Guam trade) servicing this region. Such an action, if it prevails in federal court in Washington, D.C., will result in Matson once again having a monopoly on shipping in the region.
APL's entry into this market led to a major reduction of rates. The company, in a lawsuit it filed against Matson this past summer, alleges Matson has violated the Sherman Antitrust Act by, among other things, threatening and following through on threats against companies that do business with APL.
The Office of the Attorney General of Guam has stated its interest in the case, and its outcome. Guam has a local antitrust statute nearly identical to its federal counterpart. The statute grants the attorney general broad powers of enforcement.
Among Matson's latest grievances against U.S. MarAd was the entry of another ship by APL into the Guam trade.
"CMA CGM is also investing heavily to strengthen its service offering. The Group has increased the capacity of its operated fleet by 11% since December 31, 2019, through the addition of new vessels and the purchase of second-hand vessels," the news release from APL's parent company states. "Over the last 15 months, the Group has also increased its container fleet by 780,000 TEUs. Through these measures, CMA CGM aims at strengthening its valuable customer relationships and providing support as they navigate today's difficult supply chain challenges."