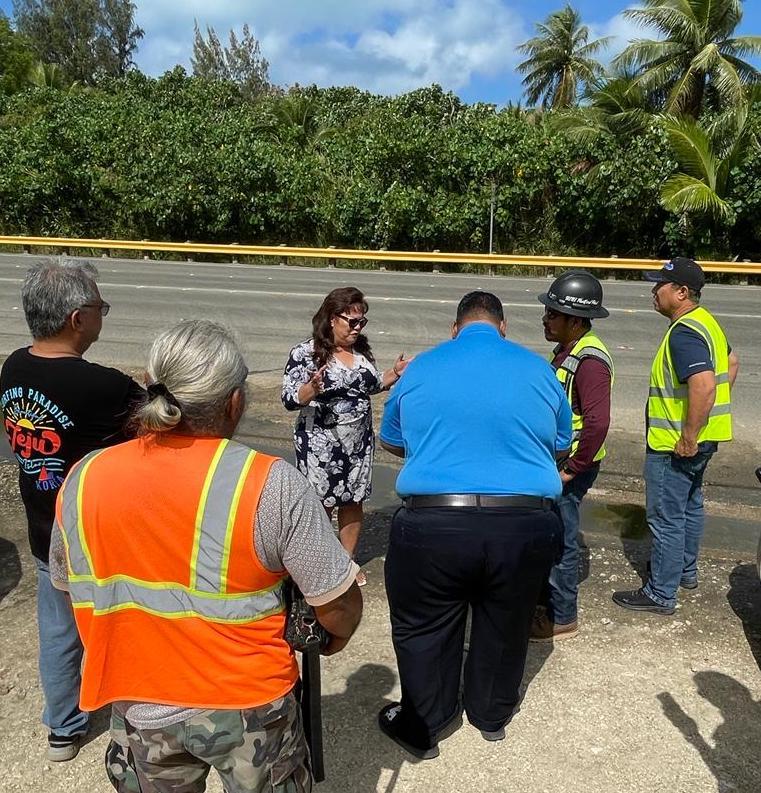 The following is news from the Office of Sen. Celina Roberto Babauta
On Friday, February 24, 2023, Senator Celina R. Babauta (D) met with officials from the CNMI Department of Public Works, Technical Services Division (DPW-TSD) and Commonwealth Utilities Corporation (CUC) to discuss concerns over the roadside flooding along Route 30 in Tanapag, adjacent to the location of Pacific Marine and Industrial Corporation.  This area of Route 30 is a known road hazard to those living in the northern villages of Saipan and especially during periods of inclement weather. 
"Just last week as I was driving to the north, this small stretch of road along the main thoroughfare was coned off because of the safety of motorists.  This area has become, not only a health hazard due to stagnant water but also a motorist hazard," said Babauta.
According to DPW's staff, the persistent flooding in this area is known to occur even during the dry summer months.  CUC's staff were on site to conduct a field water-chlorine test and determined that the source of the pooling water was not from a leak in CUC's water supply.  Rather, it was determined that the cause of the flooding is from a naturally-occurring water spring located just north of the flood zone, which sits at a grade above the road level, causing the pooling of water along this stretch of road.  
Senator Babauta further said, "My office will be coordinating with DPW's engineers and staff to develop a flood mitigation plan for this area and work towards a permanent solution this safety hazard along Route 30."