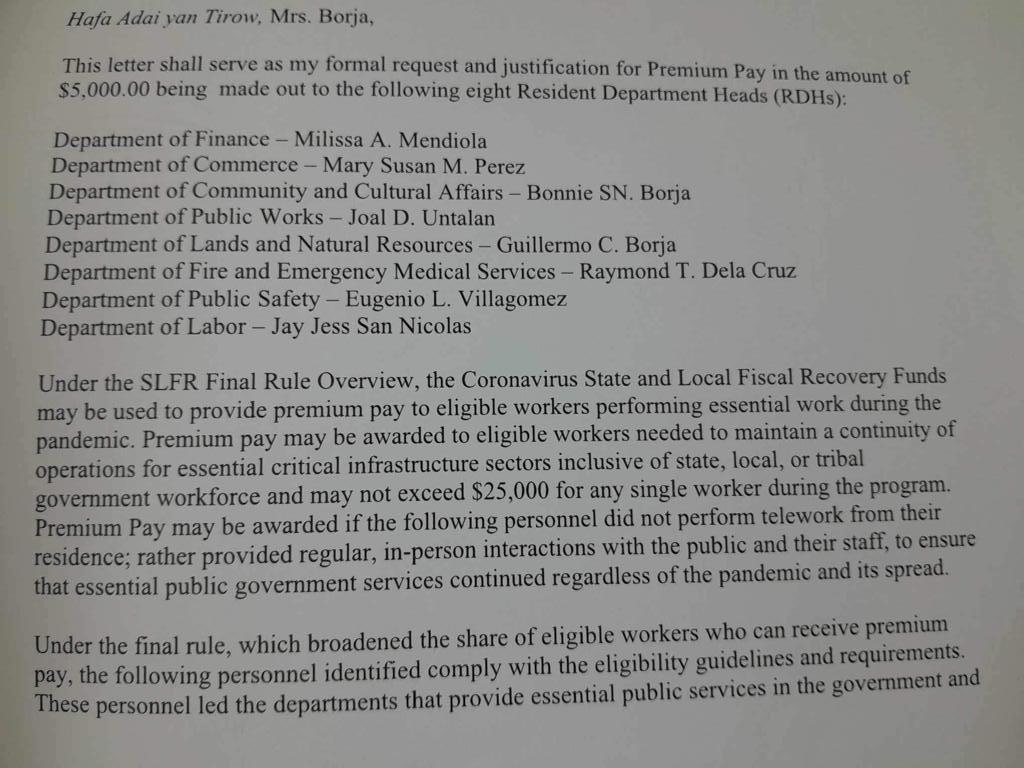 The mayor of Tinian provided premium pay to eight residential department heads not even one month after threatening the central government he would layoff employees in Tinian if he didn't get the budget he demanded from the Palacios administration and the Commonwealth legislature.
The Senate managed to include a multi-million dollar appropriation to the Tinian Municipal Government for Fiscal Year 2024, but Arnold Palacios line item vetoed the appropriation. The governor reasoned that Edwin Aldan's government received more than $5 million in American Rescue Plan Act funds last fiscal year from the former Torres administration. Mr. Aldan refused to disclose financial documents proving how that money had been spent, or whether it had been exhausted.
A recently-revealed ledger from the CNMI Department of Finance shows that in Fiscal Year 2022 alone, the Tinian Municipal Government had received $5.8 million from the central government.
According to an October 20, 2023 letter from Mr. Aldan, eight residential department heads are slated to receive premium pay of $5,000. The fund source is he Coronavirus State and Local Fiscal Recovery Funds. The mayor's justification is that the premium pay is "needed to maintain a continuity of operations for essential critical infrastructure sectors inclusive of state, local, or tribal government workforce."
The United States ended its pandemic response on May 11.
Cabrera now makes $100k; Guerrero gets $12k raise
The governor also has handed out pay raises to two already-highly paid officials of the central government, according to two separate letters dated Monday.
Grants administrator Epiphanio Cabrera now is being paid $100,000 per year in base salary, a more-than-50 percent pay raise from the salary cap of $65,175.
Public assistance officer Patrick Guerrero, who also previously was being paid $65,175 a year, now is being paid $77,000 a year.
Their pay, however, is funded by federal grants funds.