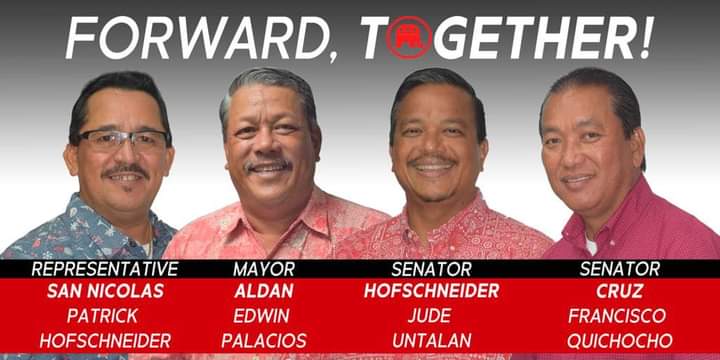 By Vickilyn Manglona Teregeyo
On October 5, 2022, Tinian company K-Town LLC was among the first awardees of the Building Optimism and Opportunities for Stability Together (BOOST) program grant. The company received $50,000 that day.
Unsatisfied with their fortunes, K-Town put in another application. And though thousands of politically unconnected legitimate small businesses in the CNMI got nothing, K-Town on October 21 – just 16 days later – received another $75,000.
This $125,000-richer company is owned by Eric Kwon, according to the Commonwealth's business license office. Mr. Kwon is Tinian Sen. Jude Hofschneider's son in law. Mr. Hofschneider is the Senate president, who put up every roadblock to prevent the removal of Gov. Ralph Torres from office earlier this year despite thousands of pages of documented evidence of corruption.
But the insanity doesn't stop there.
Mr. Hofschneider's son in law isn't the only family member to benefit from the Torres administration's misuse of federal funds.
Less than a month after K-Town received its second grant award, the company John R. Santos and Corrine H. Santos – Isla Rental received a $20,000 BOOST award.  Ms. Santos is the senator's sister.
Not to be outdone in the cronyism category, Tinian Sen. Francisco Cruz's wife's company, Jess Jade S. Cruz, received a $20,000 grant, according to the Bank of Saipan list of awards.
Honorable mention? According to the Bank of Saipan list, Tinian Rep. Patrick Hofschneider San Nicolas's sister, Ana H. San Nicolas, received a $50,000 BOOST grant on October 5. The nature of her business is unknown.
Sources report documented evidence has been submitted to the Federal Bureau of Investigation allegedly evidencing Hofschneider, Cruz, and San Nicolas's involvement in conspiracy to influence BOOST awards to Tinian families in exchange for support in the 2022 general election. Both senators handily won re-election against Thomasa Palacios Mendiola, the sister of Gov.-elect Arnold I. Palacios. Mr. Palacios received several hundred votes more than his sister in Tinian, which raised suspicions, when the vote was tallied and reported. Mr. San Nicolas also defeated his opponent, Frederick Dela Cruz, to win re-election.
Sources also report to Kandit that witnesses to the alleged corruption by the two senators and the congressman already have been interviewed by the FBI.
That investigation extends as well, according to sources, to the mayor of Tinian, Edwin Aldan. Kandit previously reported that the mayor's wife, Rosita King Aldan, received a $20,000 – according to the Bank of Saipan – for the company Fern B&B. According to Commonwealth public records, Fern B&B only became a company on November 15 this year. Stay tuned for more in this series regarding Mr. Aldan and many others connected to Gov. Ralph Torres and his cronies.
#bibaFBI #bibaJointInvestigativeCommittee #bibaSubpoenaCelina #bibaDonaldManglona