Curious how more than $1 billion in federal pandemic funds has vanished in the Commonwealth of the Northern Mariana Islands, and why – after years of former Gov. Ralph Torres swearing he was stewarding government finances excellently – the General Fund is more than $300 million in deficit? Break out a calculator for the next round of investigative reports from Kandit. We are continuing our coverage of the infamous BOOST scandal, the misuse of public money for legislative allowances, the sole source contracts and who in the Commonwealth and Guam benefitted from money that was supposed to go to the people, and more. The only function you'll need to use on the calculator is the subtract button. Because that's all Mr. Torres and his cronies did with the public's treasury.
Here is the first in this series, which we paused in January after our Guam audience began complaining we weren't paying enough attention to Guam corruption.
_____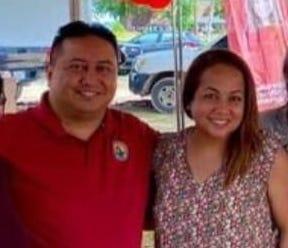 The Ralph Torres administration paid two non profit organizations associated with republican politician and Torres advocate Grace "Pitu" Sablan Vaiague $250,000 in public money last year.
This is according to documents from the Commonwealth Registrar of Corporations, and from a list of Building Optimism and Opportunities for Stability Together (BOOST) grant recipients. Bank of Saipan submitted that list to the last CNMI House of Representatives, which led a legislative investigation into the corruption of the federally-funded BOOST program. That inquiry was led by then-Rep. Donald Manglona and then-Rep. Celina Roberto Babauta. Both now are senators.
Ms. Babauta's successor, Rep. Marissa Flores, has said she will not reopen the BOOST investigation. It is rumored Ms. Babauta and Mr. Manglona may open an investigation in the Senate, and that House Floor Leader Rep. Edwin Propst may open a full blown corruption investigation.
According to the list, a non profit organization (NPO) named Second Wind was BOOSTed twice: once on October 5, 2022 with $100,000, then again two weeks later on October 21, 2022 for another $100,000.
According to Second Wind's incorporation documents submitted to the legislature, Ms. Vaiague is the NPO's secretary.
She also is the president of another NPO, Women of Destiny, which received a $50,000 BOOST grant on November 3, 2022, according to the Bank of Saipan.
Both organizations supposedly were started in mid-2021, based on articles of incorporation received by the legislature. Each document for each NPO is numbered pages one through six, with the fifth page missing in the files with the legislature. For both NPOs, that fifth page appears to be that of the notary public's attestation.
According to Second Wind's stated purpose for existence, the NPO is supposed to use its resources to assist residents in need of "substance abuse or addition" recovery services. Women of Destiny's stated purpose also is to help people suffering from substance abuse and addiction issues, though it has added purposes of assisting victims of sexual assault, domestic violence, and human trafficking. Women of Destiny also stated it exists to prevent homelessness, and to provide "intervention services to individuals, families, care givers, and groups in the community."
And while both NPOs received a combined $250,000, according to the Bank of Saipan, in public funds, government agencies providing social services now face funding shortages. Indeed, the new Palacios administration has had to issue layoff notices to some employees, and reportedly is preparing to announce greater austerity measures after Mr. Torres depleted the Commonwealth's resources.
Ms. Vaiague began her NPOs at the same time she was a declared candidate for a Precinct 3 seat in the House of Representatives vacated by the sudden death of the late Rep. Ivan Blanco. Mr. Torres and the republican establishment pushed her candidacy; though she lost by a landslide to now-Sen. Corina Magofna, according to the official results certified by the Commonwealth Election Commission on October 16, 2021.
The vanquished Torres stalwart went on to lead a campaign against Rep. Ed Propst, resulting in an ethics complaint she filed against him, accusing him of the sexual assault of a woman two decades prior and without any evidence to substantiate her claim. Mr. Propst for years had been then-Gov. Torres's most vocal critic, prior to the election of his colleague, Ms. Babauta, who increased the volume of the anti-corruption choir in the legislature.
Ms. Vaiague eventually sought a Precinct 3 seat in the House in the 2022 election, but again was defeated in a landslide loss.
Class action lawsuit planned
Kandit has examined a reported list of more than 520 Commonwealth residents and businesses who allegedly have agreed to join in a class action lawsuit against Torres, the Bank of Saipan, its owners (the Calvo family of Guam), and against some of the recipients of BOOST grant funds and administrative funds.
The organizers's proposed qui tam action, which they desire to file in the U.S. District Court of the NMI, is based on the results of the Babauta-Manglona legislative investigation, and their research indicating the BOOST program was corruptly administered.
Among their findings are that:
There was no objective, judicious process for the processing of BOOST applications, and the determination of who should be awarded grants, and how much they should be granted.
Most of the recipients are politically- and filially-related to the governor, and elected republican officials.
Immediate family members of the BOOST selection panel were BOOSTed, with companies owned or registered to one of the panelists receiving grants.
Several of the companies and organizations granted public monies did not exist in the Commonwealth prior to the pandemic, and in fact some were incorporated only days and weeks prior to receiving the grants.