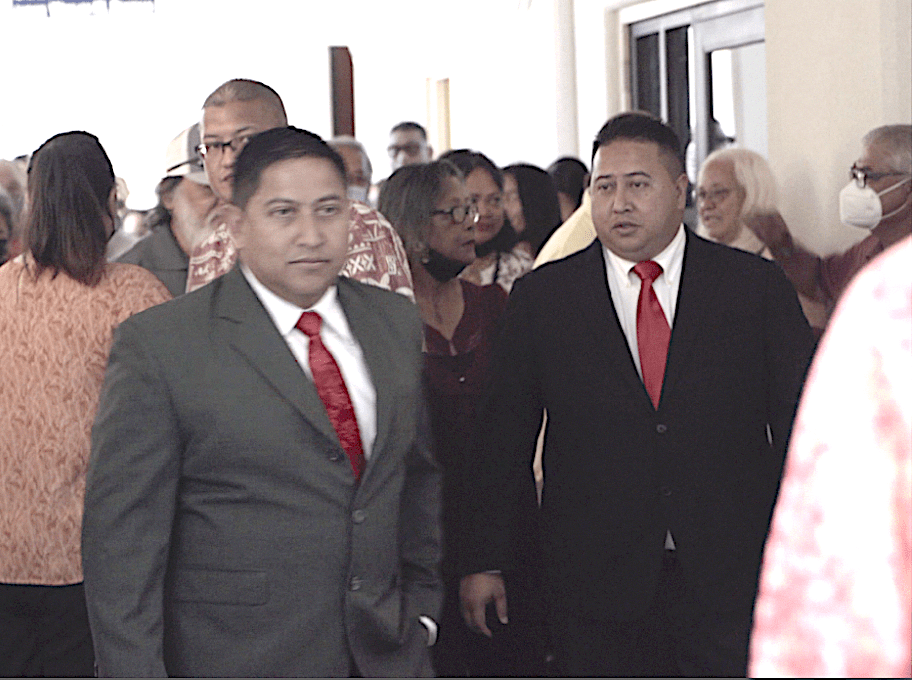 The CNMI Senate has acquitted Gov. Ralph Torres of all six articles of impeachment. Mr. Torres will remain in office at least for the remainder of his term.
"With Gov. Ralph Torres being acquitted of all six articles of impeachment, the Senate has completed these proceedings," Mr. Hofschneider announced after he and Sens. Victor Hocog, Karl King-Nabors, and Francisco Cruz banded together to block the governor's removal from office for crimes of theft, corruption, and neglect of duty. "The Senate as an impeachment tribunal has now adjourned sine die."
Rota Sens. Paul Manglona and Teresita Santos and Saipan Sen. Edith Deleon Guerrero held the line as the opposition to Mr. Torres's cronies in the Senate; all three of them voting to convict the governor on all six articles of impeachment and to thereby remove him from office.
Six votes were necessary on at least one of the articles to remove the governor.
The six articles of impeachment were for:
Theft of utilities services, a criminal felony
Theft, a criminal felony
Unlawful first-class and business-class travel, a crime of corruption
Misuse of government resources, a crime of corruption
Neglect of duty during crisis
Contempt of the legislature
Often referred to as a kangaroo court, the Senate impeachment tribunal occurred with rules the governor's attorney helped to draft, 8,000 pages of evidence excluded by the senate president, and a team of prosecutors from the House not allowed to prosecute the case.
"This was not a trial," Rep. Cristina Sablan told the Senate Monday. "This is a travesty of law."
Sen. Cruz questioned why the House did not present evidence, seemingly unaware that Mr. Hofschneider made the decision to disallow the House team from prosecuting the case, and rejecting the evidence Speaker Edmund Villagomez had transmitted prior to the trial.
The acquittal on all charges now ends the political impeachment process, which began with an exhaustive investigation into charges of corruption against Mr. Torres.
This was the first time in CNMI history its Senate has held a trial and voted on the question of removing a sitting governor. In 2013, Gov. Benigno Fitial was similarly impeached by the House of Representatives, but resigned prior to the start of his trial in the Senate, sparing senators from making such a decision.
Ironically, Mr. Torres was the senator who developed the rules under which Mr. Fitial would have faced a Senate trial.