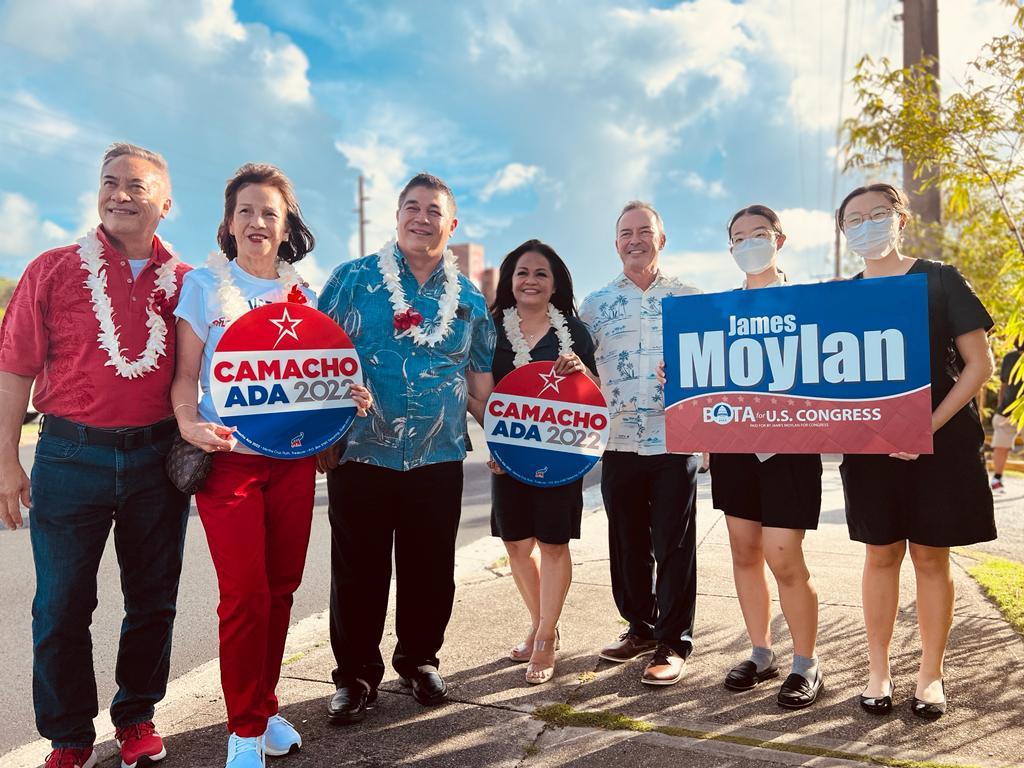 Former Gov. Felix Camacho and his gubernatorial running mate, Sen. Tony Ada, issued a statement today slamming Gov. Lou Leon Guerrero for her handling of illegal immigration into Guam lately.
According to a story by Nick Delgado in the Guam Daily Post, customs director Ike Peredo said that over the past seven months, undocumented Chinese nationals have been entering the island by boat. These boats have landed at Ritidian, Tanguisson Beach, Tumon Bay, the Hagåtña boat basin and the waters below Two Lovers Point.
According to Mr. Delgado's story, the undocumented immigrants, who came to Guam from the CNMI, were allowed conditional entry into the island; they were released into the community.
"We are offended by the Leon Guerrero Administration's appalling position and lack of action on undocumented Chinese Nationals who have entered the US Territory from beaches in Yigo, Tumon, Hagåtña and Tamuning," the statement from the Camacho Ada campaign states. "This news and the response of Guam Customs and the Leon Guerrero Administration should give every resident great pause-the lack of law enforcement at a time of great uncertainty in the Western Pacific. The lack of action is unacceptable. We need our local law enforcement to be transparent and detail to our community their work with federal partners to ensure the enforcement of local law and federal immigration laws at our ports of entry to protect the well-being of the people of Guam."
The administration has been less than transparent with Kandit on the issue. On June 20, and following news of the boat that docked at the Hagatna boat basin, Kandit asked Guam Homeland Security spokeswoman Jenna Blas whether government officials were investigating the incident and if they suspected that Chinese nationals or intelligence officers had infiltrated our shores.
"There have been no request for resources routed through GHS/OCD on the matter," Ms. Blas replied that evening. "While the [Marianas Regional Fusion Center] has been made aware, there are no additional details available at this time. Please check in with [Guam Police Department] on further inquiries regarding investigation."
Because Ms. Blas did not answer our questions, we followed up, asking "May I get a firm confirmation that GHS/OCD has not been made aware of suspicions of infiltration by Chinese or foreign intelligence/spies? And may I get firm confirmation that a suspicious boat did dock at the Hagatna marina, and that that matter is the subject of an ongoing investigation?"
She responded the following morning: "GHS/OCD and MRFC have been made aware of the abandoned vessels. Investigations as to the occupants are ongoing and neither GHS/OCD nor MRFC are at liberty to discuss other agencies' ongoing investigations. Neither GHS/OCD nor MRFC are investigative authorities. Please check in with GPD on inquiries regarding investigations."
Kandit did ask GPD about the matter, and on June 22, the department's spokeswoman released the following statement, which was void of any information regarding the Chinese nationals:
"On June 18th, 2022, at about 8:30PM, the Guam Police Department's Special Operations Division received information reporting a Distressed Vessel identifying the United States Coast Guard provided towing assistance and was en route to the docking station with the vessel.
"Special Enforcement Amphibious Section (SEAS) Personnel responded and conducted their investigation where a Boating Accident was initiated. The vessel namely Chronos is registered within CNMI. With the assistance of Homeland Security Investigations the information pertaining to the boat was vetted and confirmed.
"With regards to the Agencies that were informed, contacted, and assisted were identified; US Customs Border Patrol, Guam Customs and Quarantine, Port Authority of Guam Police, US Coast Guard Intelligence, Department of Homeland Security –HIS, and Guam EPA.
"The Guam Police Department's involvement encompassed the investigation portion of the Boating Accident. Any further development and information as result of the investigation will be forthcoming as it becomes available."