Palacios orders pay cuts, cost containments, and transparency with the public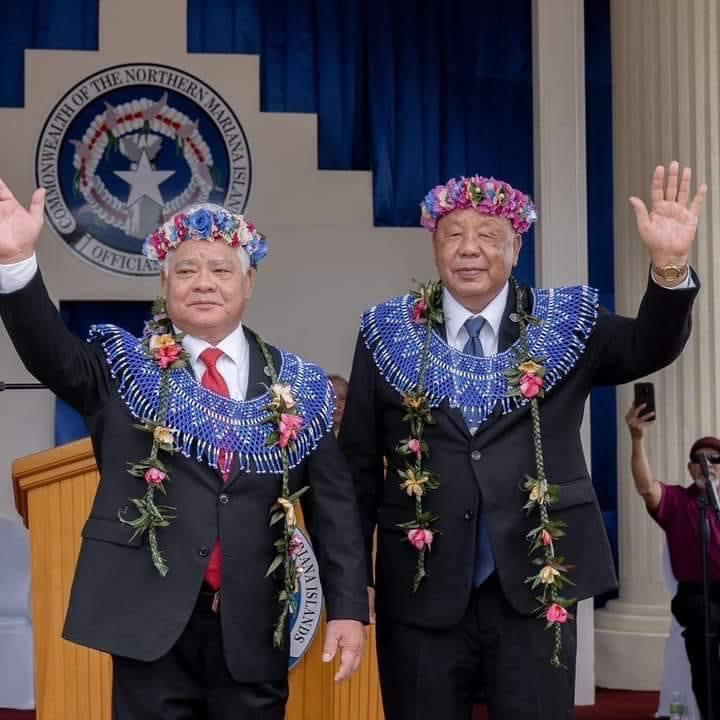 Gov. Arnold Palacios, Lt. Gov. David Apatang, and their cabinet are sharing in the austerity forced upon the Commonwealth's public employees by the former Torres administration's plunder of the CNMI.
Effective April 24, the governor, lieutenant governor, and their cabinet will take a 10 percent pay cut. On that same day, according to a directive issued Thursday from Mr. Palacios, most of their co-workers throughout the executive branch also will begin to sacrifice 10 percent of their pay until September 30, 2023, when Fiscal Year 2023 ends.
"This Directive applies to the entire Executive Branch, including departments, offices, and activities that had been funded in whole or in part by ARPA or local revenues in the current fiscal year budget," Mr. Palacios's directive states. "This Directive applies to all positions funded in whole or in part by ARPA or local revenues, including civil service, excepted service, and appointed positions. This Directive further applies to the Governor, Lieutenant Governor, and members of the cabinet."
Senior advisor Tina Sablan will be taking a 10 percent pay cut on her $0 annual salary. For the edification of some members of the Guam Legislature, who may be reading this, the product of (0 x 10%) = zero. Ms. Sablan is working for the people of the Commonwealth as Mr. Palacios's top advisor at no cost.
"The reduction in work hours does not apply to the federally-funded programs and functions of the government," Mr. Palacios wrote, "or to the Commonwealth government employees who are funded 100% by other federal funding sources, or whose federally funded salaries require a local match."
The Office of Personnel Management will implement the directive.
The reason the cuts are necessary, according to the governor and to fiscal facts, is that former Gov. Ralph Torres and his administration expended all federal pandemic funding prior to leaving office. In fact, the governor over-obligated the funds by more than $80 million. A portion of that funding, according to the budget law, was supposed to pay for 20 percent of most employees's paychecks throughout the current fiscal year. With that money gone, the administration has no choice but to cut salaries and implement other cost containment measures if a shutdown and payless payday are to be avoided.
"We must now rely almost entirely on local revenues to keep the government functioning for the rest of the fiscal year," the governor stated in his directive. "With respect to local revenues, the Acting Secretary of Finance has advised me of a modest projected increase in local revenue collections by approximately 11% or $11.8 million. These projected revenues must be stretched to cover essential services and operations of the government, including a portion of personnel costs that were previously covered by ARPA."
Governor orders government offices to open during lunch; shut down every other Monday
Mr. Palacios has directed that, beginning April 24, government offices will shut down every other Monday. He also is ordering offices to reopen during the lunch hour, with the work day starting at 7:30 a.m., and ending at 4:30 p.m. He also is directing the cross training of staff in order to enhance operational flexibility and efficiency.
The governor is encouraging his cabinet and division heads to be creative, and to submit plans for reducing operational costs by an additional 10 percent. Among ideas are to shift locally-funded or ARPA-funded employees to federally-funded accounts, and to assign flexible work schedules.
Restrictions on overtime, personnel actions, and travel
There will be no overtime in the executive branch unless it's for law enforcement, fire protection, emergency management, or health services. The governor may authorize otherwise.
The cabinet also must submit to the governor a list of all locally-funded vacancies for either the chopping block, or at least suspension of funding for the fiscal year. The governor also is suspending within-grade increases and any other personnel action, such as reclassifications or reallocations, for which no funding source has been identified.
The governor "strictly" is limiting locally-funded travel for "essential purposes." Those include travel critical to business that will yield benefits for public health and welfare, safety, fiscal recovery, and critical infrastructure needs of the Commonwealth.
Terminations of contracts, leases, cars, and other matters
"All heads of Executive Branch departments, offices, and activities are directed to identify and terminate all nonessential, locally-funded office contracts, subscriptions, and leases, including vehicle leases under their control, and submit a report of the cost savings realized thereby to the Office of the Governor within 30 days of the date of this directive," the governor ordered. "No new or renewed, locally-funded office contracts, subscriptions, or leases may be executed unless advanced approval is obtained from the Office of the Governor."
Proactive transparency
In a total about-face from the policies of the Torres administration, Gov. Palacios is directing his cabinet to communicate effectively and earnestly with their employees and with the public about the cost containment measures, and progress and snags with their implementation.
The directive contains several other orders.