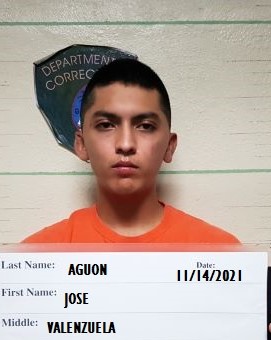 (NOTE: This story was updated at 4:32 p.m. Monday, November 15, 2021, to include a statement from Chief of Police Stephen Ignacio)
Police officer Jose Valenzuela Aguon, 24, was arrested for assaulting two medics, who were helping him. The cop was involved in the Sunday morning car crash near Polaris Point that sent four people, including two children, to the hospital.
According to chief prosecutor Basil O'Mallan's declaration of probable cause seeking a felony charge against Mr. Aguon, the cop assaulted two Guam Fire Department medics, who placed a C-spine collar on his neck and situated him on a backboard, while he was being transferred into the ambulance. GFD medics are classified as peace officers. If it a felony to assault a peace officer, according to Guam law. In this case, it was medics Darren Torres and Wayne Matanane who tried to help Mr. Aguon and who were reportedly assaulted by him.
"[Aguon] kicked Torres in the groin and slapped Matanane in the face several times with both hands," Mr. O'Mallan's declaration states. "The medic personnel were able to restrain the defendant, but during transport to GMH he managed to kick Victim 2 in the groin again and struck Victim 1 in the face."
The police report, the chief prosecutor noted, "indicates that it was believed that the defendant was under the influence of alcohol."
"The report indicates that the defendant was interviewed and he told officers that he was unconscious and when he regained consciousness, he thought he was being attacked. However, as soon as he recognized he was being assisted by medics he became compliant, but then blacked out again." – excerpt from Mr. O'Mallan's declaration of probable cause
Chief of Police Stephen Ignacio released the following statement about the case:
About 1145 am Sunday November 14, 2021 Officers from Agat Precinct command were dispatched to a car crash involving two vehicles on Route 1 near Polaris Point Piti. Thru their investigation they determined that a Silver Toyota Tacoma was traveling North at a high rate of speed and when attempting to switch lanes from the outer to inner lane had struck another vehicle in the outer lane. As a result, the Tacoma flipped several times before coming to a rest and the other vehicle had lost control spun around and struck a concrete utility pole.

Medic personnel were dispatched and both vehicle operators were subsequently transported to GMH for treatment. While at the scene being treated and also while enroute to GMH the operator of the Tacoma truck had assaulted the medics. He had slapped one of the medic's multiple times and kicked him in the groin area. The second assault victim (Medic) was shoved. An Assault complaint was filed by both medic personnel against the operator of the Tacoma Truck who is identified to be an off-duty officer of the Guam Police Department.

After being treated and released the off-duty officer was brought for questioning and subsequently arrested. He is identified as:

Jose Valenzuela Aguon

M/24 yrs old/ Dededo

He was charged with "two Counts of Assault on a Peace Officer". Aguon was subsequently booked and confined at the Department of Corrections.

The traffic crash investigation is open and has been forwarded to the Highway Patrol Division for a follow up and interviews of the parties involved.

The Chief of Police is aware of the arrest of Police Officer Trainee Aguon and placed him on Administrative Leave and the Internal Affairs Investigation is ongoing.