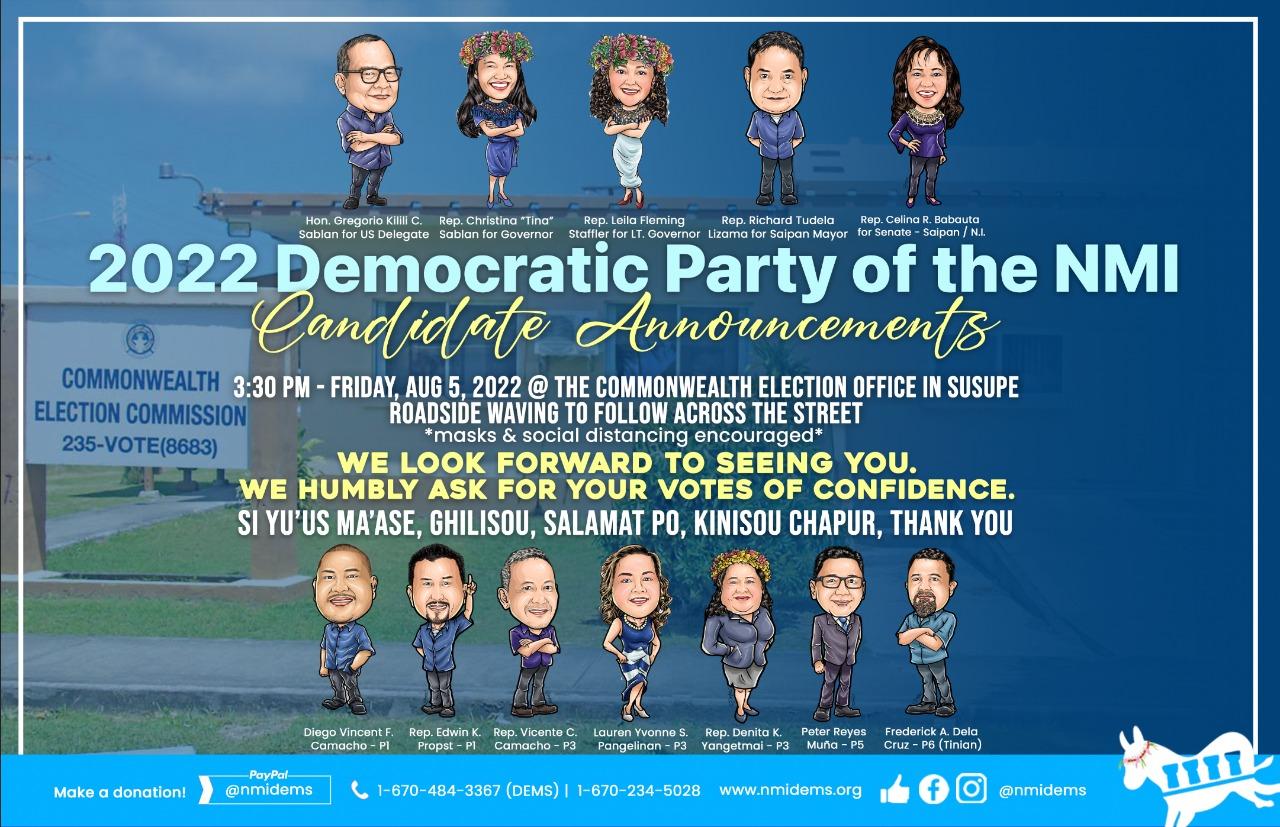 The following is a news release from the Democratic Party of the CNMI:
The Democratic Party of the Northern Mariana Islands invites supporters to join incumbents and new candidates on Friday, August 5, 2022, beginning at 3:30 p.m., as they submit their nominating petitions at the Commonwealth Election Commission. After all the petitions have been submitted, the Party will host a celebratory wave across the street.
The Democratic Party's candidates understand that the time for reforms has passed: they are committed to transforming our government, so that we can work together to build a safe, healthy, beautiful, and sustainable Northern Marianas.
Congressman Gregorio Kilili C. Sablan, in reflecting on the importance of this election, said this: "I ask our people to join me in voting for Democrats, so that we might have a future free of embarrassment, corruption, and malfeasance. Vote for Tina and Leila and all the candidates of the Democratic Party. Let's make history in November!"
Reps. Tina Sablan and Leila Staffler have championed good governance for years, and if elected to the executive branch, they will ensure that theirs is an "open and honest government that empowers its citizens and adheres to the highest ethical standards."
Rep. Celina Roberto Babauta, who filed her candidacy on July 20, is running to represent Saipn and the Northern Islands in the Senate. She stated the following: "I have stood in the face of adversity, but I never wavered in fighting for the people I represented. My colleagues and I will continue fighting for a Commonwealth that works and serves all of us."
Rep. Denita Kaipat Yangetmai, for her part, is seeking re-election, so she may continue working to address the challenges we all face in our communities. She, too, filed her candidacy on July 20, and had this to say: "My democratic colleagues and I will work for the people, so we might build a more formidable future."
Voting blue in November means voting against corruption and voting for Democratic integrity. Voting blue in November means voting against intransigence and voting for Democratic solutions. Voting blue in November means voting against obstruction and voting for Democratic transparency. Voting blue in November means voting against excuses and voting for Democratic accountability.
The Blue Wave of 2020 continues in 2022, and the Democratic Party's candidates stand ready to continue the work of collaboration, transparency, accountability, responsibility, vision, and ethics.