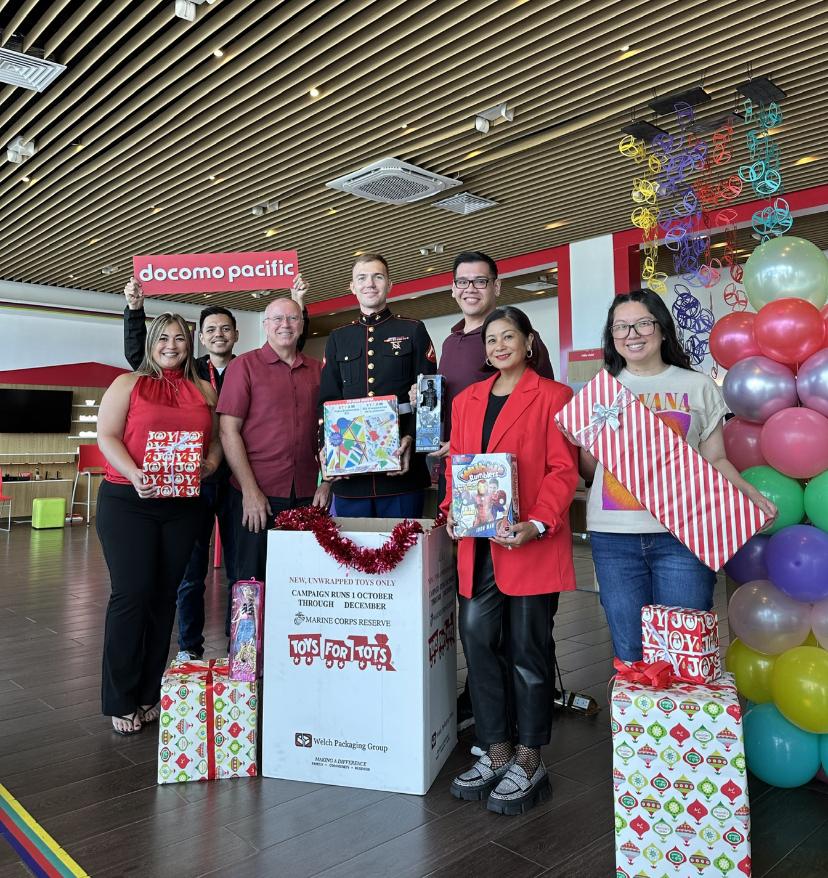 (DOCOMO PACIFIC) DOCOMO PACIFIC, the regional leader in innovation, telecommunications, and entertainment, partners with Toys for Tots this holiday season to spread joy and hope for our island's children.
U.S. Marine Corps Base Camp Blaz is proud to announce the start of the 14th Toys for Tots campaign in Guam and seventh in the CNMI. This campaign's goal each holiday season is to provide the gift of a new toy for a child in need. Last year, 11,075 toys were distributed throughout the islands of Guam, Saipan, Tinian, and Rota.
DOCOMO PACIFIC is here to help support this fantastic community activity this year by offering our Tamuning HQ and Micronesia Mall store locations as toy drop-off locations. Our CNMI drop-off location will open in the coming weeks. To participate and donate to Toys for Tots, bring a newly purchased, unwrapped toy to one of our locations from now through December 4, 2023.
In Photo (from left): Connie Cruz, Director of Operations, Enterprise Business Unit, DOCOMO PACIFIC; Jared Roberto, Public Relations Manager, DOCOMO PACIFIC; Roderick Boss, Chief Executive Officer, DOCOMO PACIFIC; Garrett, U.S. Marine Corps Base Camp Blaz Representative; Tito Castro, Executive Vice President, DOCOMO PACIFIC; Eloisa Hudson, Director of Marketing, Enterprise Business Unit, DOCOMO PACIFIC; and Bria Manglona, Business Service Representative, DOCOMO PACIFIC