Gov. Lou Leon Guerrero's sights have been set on leasing 102 acres of Navy lands on and around Eagles Field on the back road to Andersen for a medical campus. It's been two years since she first announced her plans to build a new hospital. And all that's changed has been her announced sense of urgency to build this campus to the new announcement that it will take two years before ground is broken.
Has the governor forgotten about the results of an Army Corp of Engineers 136 page report tilted "Facilities Condition Assessment Guam Memorial Hospital Tamuning, Guam," dated April 8, 2020? The governor herself initiated the process that resulted in this now-more-than-two-year-old assessment.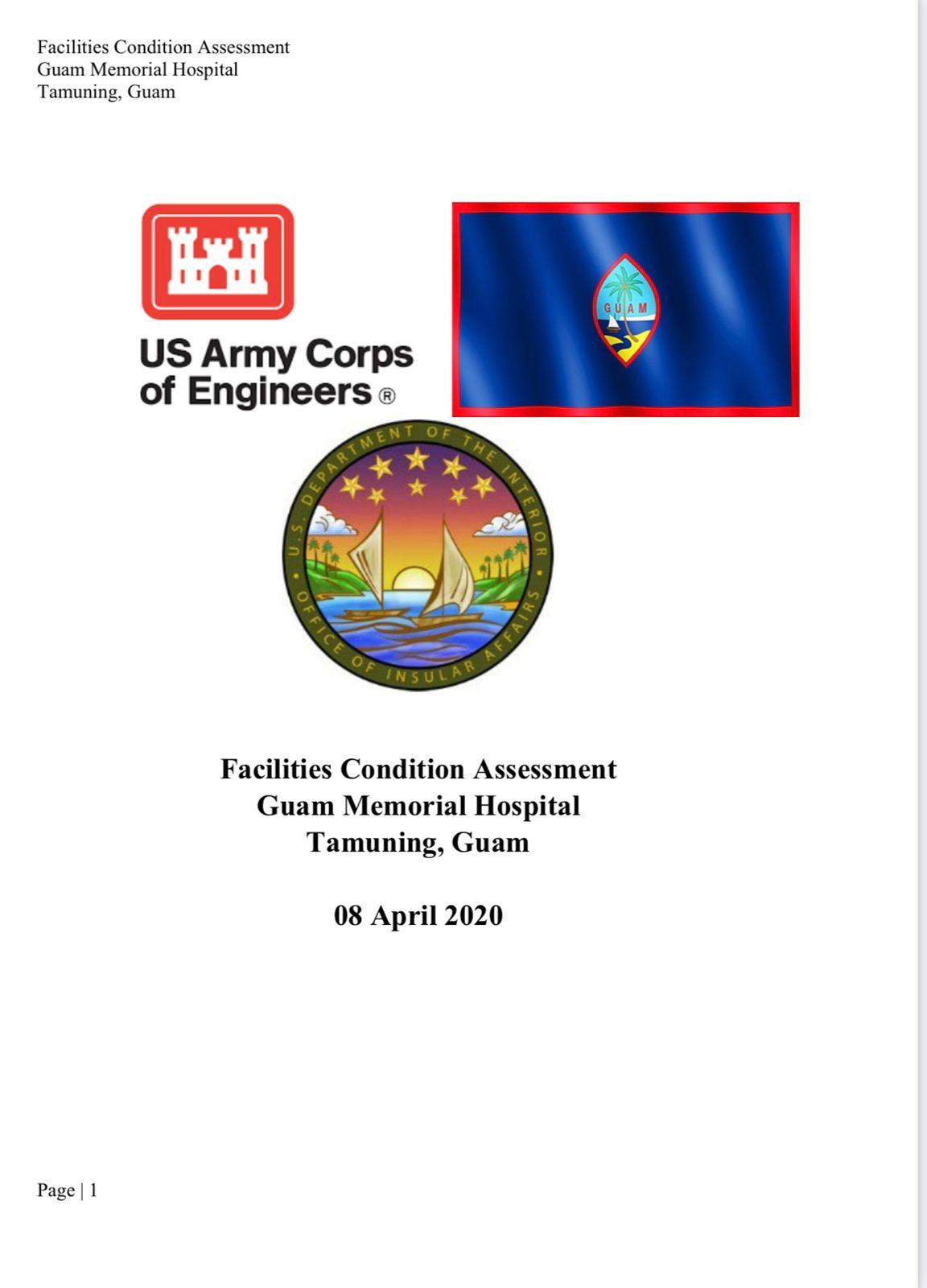 Soon after this assessment was released and posted on-line, the U.S. Army Corp of Engineers ("USACE") presented their findings to the governor, Guam Memorial Hospital management, and certain members of her cabinet. At the time, this assessment was touted as a major accomplishment.
"Structurally failed and unsafe"
Take a look at the pictures in this story, taken Friday of the hospital's Z-wing. Then, read the following excerpts taken directly from the Executive Summary of this assessment that appears on pages 2 and 3:
"On 18-22 November 2019, architects and engineers from USACE Honolulu District, Huntsville Engineering Center Medical Facilities Center of Expertise and Standardization, USACE Walls Walla District Cost Estimation Branch, and USACE Japan District Structural Engineering Branch conducted the faculties infrastructure assessment survey."
"The following major items of infrastructure concern are listed below:

-Failure of the roof and exterior window assemblies
-Z wing has structurally failed and is unsafe, A and B wings need structural analyses
-Noncompliant aged electrical distribution system
-Incomplete fire sprinkler protection throughout the facility
– Incomplete firewall barriers and fire zone separation
-Corrosive failure of mechanical and distribution systems
-Improper air pressurization of the facility
-Inadequate sizing of inpatient rooms, ADA Noncompliant, lack of medical air and emergency power outlets
-Medical equipment is antiquated and in need of repair or replacement
-Lack of parking for patients and visitors, parking lot needs to be expanded

Urgency is needed
Also contained on page 3 of the assessment's Executive Summary is a paragraph that, considered alone, should have had the governor act with a sense of urgency more than two years ago:
"The current infrastructure of the GMH facility is in an overall state of failure due to age, environmental exposure, lack of financial resources to support pre-planned capital infrastructure replacements, and lack of previous facilities design adherence to building codes. Extensive repair and / or replacement of all GMH facility sections is required to ensure renewed compliance with hospital accreditation standards and to protect the life, health and safety of staff, patients and visitors."
The pictures included here were taken in plain view– with no fence or barriers, not even any warning signs or tape to keep people away from this wing. The USACE stated it is unsafe, should be demolished, and may fail during an earthquake.
These exterior photographs of the Z wing are consistent with the dangerous conditions contained in the USACE assessment. Not only were cracks and rotting exposed rebar visible, pigeons were flying in and out of broken wood ceiling panels. What else is going on throughout the rest of the facility? Indeed, none of this discussion includes what USACE has stated about the life-safety issues throughout the rest of GMH.
Instead of doubling down on and waiting for land on the back road to Andersen, the governor should bring GMH up to code and make it safe and operable as we wait for the opening of a new facility.
This is part of continuing coverage.