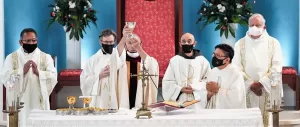 The following is a news release from the Archdiocese of Agana:
The Archdiocese of Agaña announces that four more Catholic school students have tested positive for COVID-19 bringing the total to 19.
Notre Dame High School reports that two students have tested positive for the virus. Bishop Baumgartner Memorial School has one new positive and Saint Anthony Catholic School reported its first case.
The number of Catholic school students who have tested positive for COVID-19 was 15 until today.
DPHSS is working with the Catholic schools on contact tracing and testing of all who may have been exposed to the positive persons. School administrators are following protocols to ensure the safety of their students and adults.
Students who have tested positive are isolating at home and those with possible exposure are receiving guidance regarding testing and quarantine.
COVID-19 testing for the affected students and their families using the Abbott BinaxNOW rapid test has been made available to students and families of the affected Catholic schools at Father Duenas Memorial School in Mangilao.
Here is the total number of positive cases by schools as of 5 p.m. August 25: Bishop Baumgartner – 7; Academy of Our Lady – 3; Notre Dame – 3; Father Duenas Memorial School – 2; Dominican Catholic School (Yigo) – 1; Saint Anthony – 1; San Vicente – 1; Saint Francis – 1. TOTAL 19
Archbishop Michael Byrnes and the respective school administrators ask everyone to join in prayer for the affected students and their families and all who have contracted the virus. Thank you.