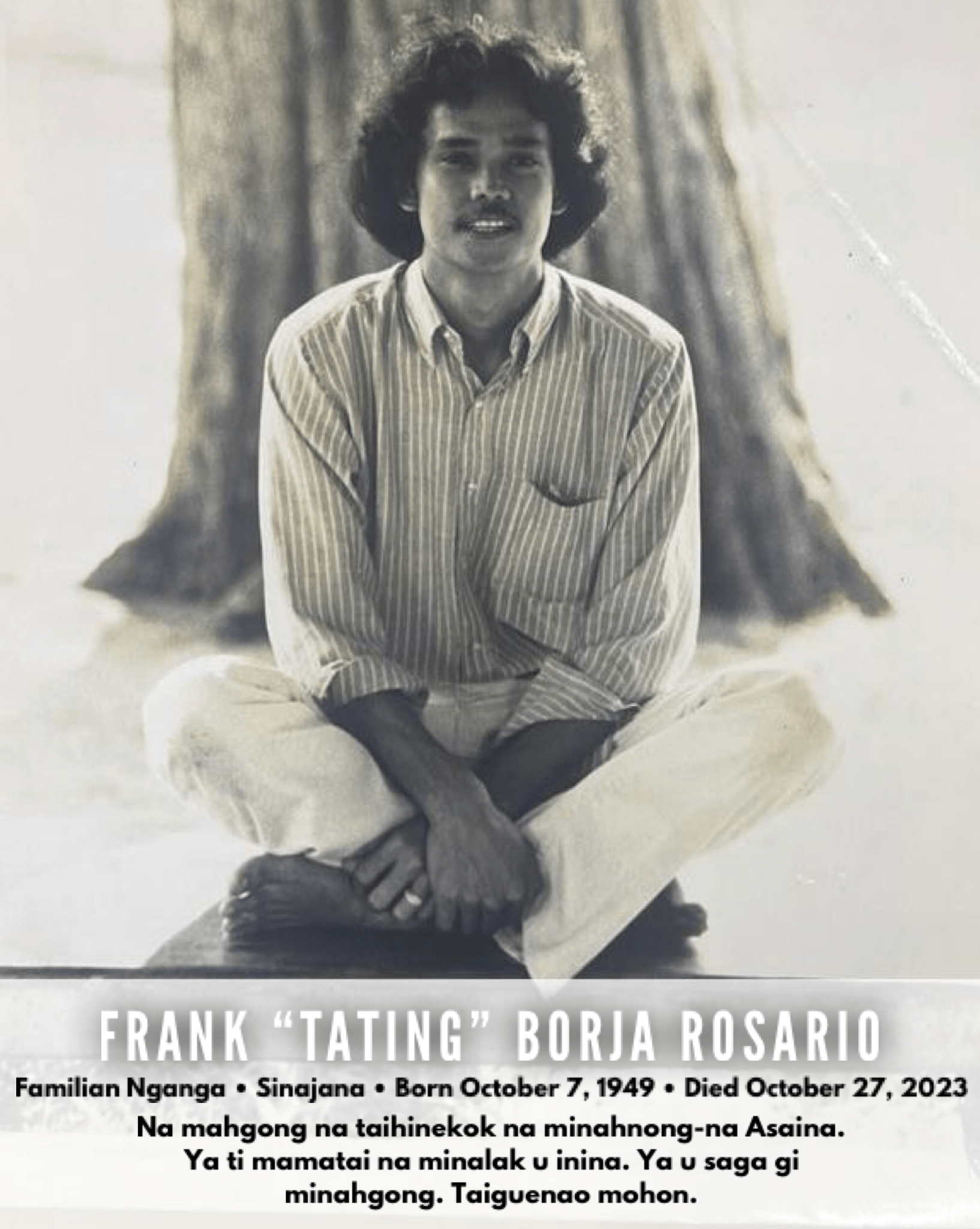 This is Frank "Tating" Borja Rosario. We have been praying for his eternal rest since he left this world on October 27. The finak'pu (final day of Mass of intention) is Sunday, November 5, 2023, at St. Jude Catholic Church in Sinajana, from where he and his familian Nganga came. His funeral will be on November 22 at 11 a.m. at St. Jude.
Uncle Tat, as he fondly was known, was – hands down – the nicest and most generous man of my lifetime. He is (Kandit's) Johnnie and Eric Rosario's uncle. Their fathers are Uncle Tat's brothers. Johnnie and Eric bragged about their Uncle Tat almost daily from the first days of our friendships.
He took them and the other naughty kids in their family into his home with his wife, Auntie Gyongyi, and their two daughters Pika and Lola. He defended them to their parents when they got into trouble. And when no one else in the world was willing to put up with the mistakes they made, there was Uncle Tat and Auntie Gyongyi with their hugs and their love.
They weren't the only ones, though. Uncle Tat may be more familiar to the average reader of this story as the man who built up and ran GMHP, which many years later fell victim to intense politics between democrats and republicans in office at the turn of the century.
Before GMHP was screwed by politics, it was the gold standard of medical insurance on Guam, helping to save countless lives of Guamanians who didn't stand a chance without GMHP. No company has ever been able to replicate what GMHP did. And that's because no company has an Uncle Tat with all his genius and love rolled into one angel sent to this earth to help so many people.
Over the past few days, stories from complete strangers and friends alike have been pouring in about Uncle Tat's compassion, and how his work and the efforts of his staff saved so many lives and gave hope to families who were desperate for care. "I don't think that man knew just how much he was loved," one of the testimonies read.
"I will never forget how much he cared for us," another stated.
Please attend Uncle Tat's finak'pu at the 8:30 a.m. Mass at St. Jude in Sinajana, tomorrow, Sunday, November 5, if you'd like to pay your respects and most especially to pray for the repose of his soul.

Public Viewing for ✝️Frank Rosario is from 8-10:30 a.m., on November 22, at Ada's Mortuary. St. Jude Church doors open at 10 a.m. and Mass of Christian Burial is at 11 a.m.
Na måhgong na taihinekok na minahnong-ña Asaina. Ya ti mamatai na minalak u inina. Ya u såga gi minahgong. Taiguenao mohon.