On November 18, 2023, former-retired Guam Power Authority employees from GPA's Executive, Engineering, Strategic Planning and Operations Research Division (SPORD), Power Systems Control Center, Generation, Transmission & Distribution, Warehouse, Safety, Communications, Facilities, Fleet Support Services, Finance-Accounting, Planning & Regulatory, Procurement, Cabras Maintenance, Water Systems Diesel, Cabras Lab, Human Resources, Supply, and Information Technology Services sections contributed and gathered with family and friends at the Munoz Ranch in NCS, Dededo, for fellowship and to celebrate Thanksgiving. Fifty-four retirees, coordinated through the efforts of Jose C. Quinata were present.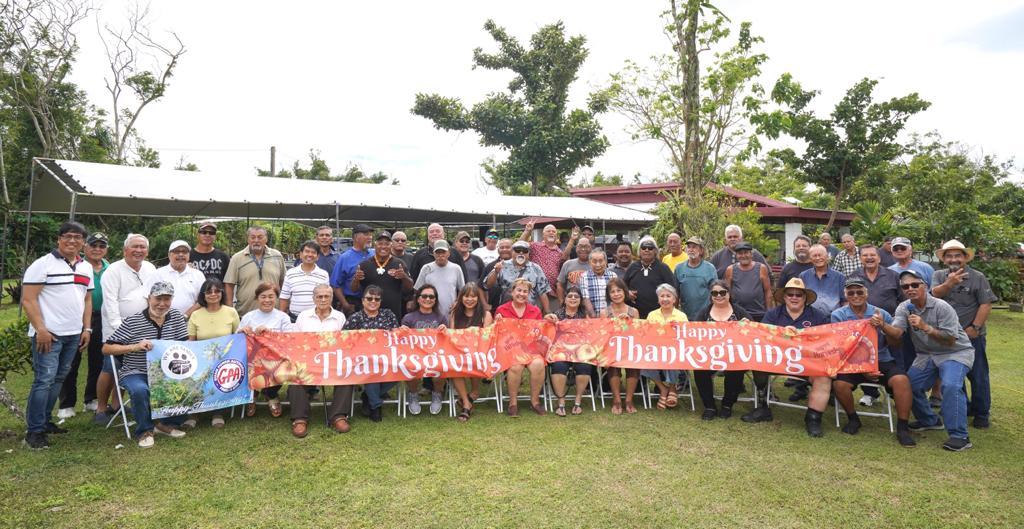 Sitting L-R:
Fred Fabila, Tessie Fabila, Luz Burgos, Eloy Hara, Sandi Perez, Monica Fernandez, Robyn Masnayon, Patti Diego, Patty Sablan, Bea Davis, Eileen Gimeno, Greta Duenas, Art Perez, George Perez, and Frank Obina.
Standing L-R:
Johnny Quinto, John Taitano, Perry Paladoc, Nick Ramos, Joe Cruz, Joe Sanchez, Remy Burgos, Ben
Concepcion, George Arriola, Tony Cruz, Jason Faculo, Joe Flores, John Leon Guerrero, Ben Francisco, Mike Cruz, Joe Toves, JR Howser, Tony Espirito, Erwin Fernandez, Rick Quidachay, Joe San Nicolas, Ted Concepcion, Ben Quinata, Joe Francisco, Gilbert Chaco, Gene Morrison, Richard Iriarte, Frank Wusstig, Bill Quichocho, Sr., Bill Quichocho, Jr., John Munoz, Kin San Nicolas, Dave Aguon, and Earl Garrido. Not shown are Jimmy
Pangelinan, Rose Cruz, and Jose "Cocker" Quinata.
Future events are planned and all GPA retirees are welcome. Contact Joe "Cocker" Quinata at (671) 727-9655.