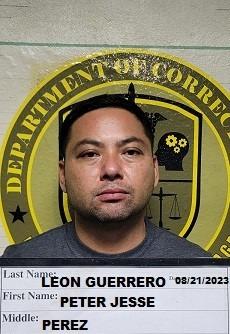 A July 31, 2023 Tumon beachside disturbance led to the arrest of Guam Police Department officer Peter J. Leon Guerrero for aggravated assault, and disorderly conduct. Two other me, Jesse Leon Guerrero and Frederico Santiago, were arrested as well. The two other men were arrested for assault mutual combat and disorderly conduct.
According to a news release from the GPD Monday night, police responded to the beach area behind Nana's Cafe, determined that a fight had occurred involving three men, and found one man, who was taken to a hospital for his injuries. The other two had fled, according to the news release.
The three men – Leon Guerrero, Leon Guerrero, and Santiago – were arrested today.
"Numerous witnesses had to be located and interviewed, and evidence needed to be confiscated," police spokeswoman Berlyn Savella said, answering why police waited three weeks to arrest the men.
"Following this incident, the Criminal Investigations Division assumed the investigation and conducted a thorough follow-up, which successfully resulted in the apprehension of those involved," the GPD news release states.
The news release goes on to address Officer Leon Guerrero's arrest and the corresponding internal affairs investigation into his conduct:
"Peter J. Leon Guerrero, a uniformed officer with our department was subsequently confined at the Department of Corrections. The case is Closed and forwarded to the Attorney General's Office for their information.

"In light of these serious allegations, an Internal Affairs Investigation has been promptly launched and ordered by our Chief of Police, Chief Ignacio. The officer was placed on administrative leave as the Internal Affairs Investigation continues.

"Chief Ignacio wants to assure the community of our commitment to transparency and accountability. We hold our officers to the highest standards, and any alleged misconduct will be thoroughly investigated."