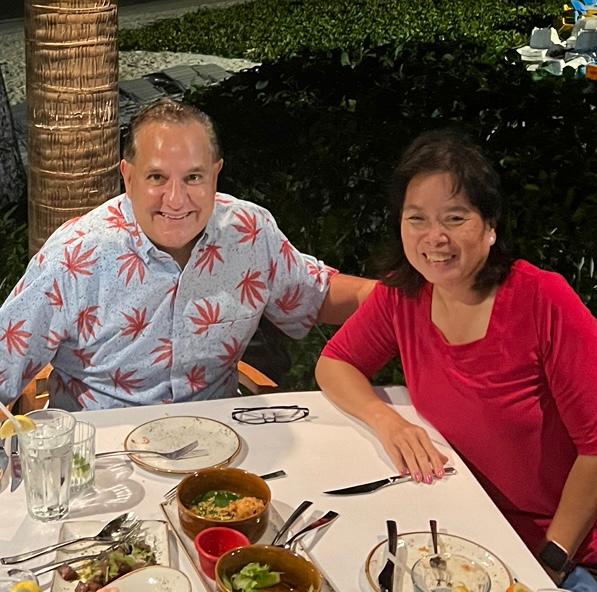 Dr. Margaret Hattori-Uchima, Dean of the University of Guam School of Health, died Monday afternoon. Mass intentions are being said Monday, Tuesday, Wednesday, and Friday at 5 p.m, Saturday at 5:30 p.m., and Sunday at 6:30 a.m. and 10 a.m. at Our Lady of Peace and Safe Journey Catholic Church in Chalan Pago.
(Editor's note: Attorney Peter R. Sgro, Jr. has been a close friend of Dr. Margaret Hattori-Uchima until her death Monday afternoon following a drowning incident. He wrote the following tribute and short biography in her honor)
"I am lost for words–saddened–I miss my friend Margaret Hattori-Uchima.
"For close to 20 years Margaret was not just a friend to me. She was a genuine friend and she was my mentor too. She was a friend and mentor to thousands. I have been so incredibly blessed that she was a part of my life for all these years.

"Margaret taught me and thousands of others values not written in books. In fact, Margaret often did not have to write or say much about her set of values because she lived them every day of her life.

"She always had an infectious humble–compassionate–friendly smile and just got so much done without anything expected in return. I do not recall in the close to the 20 years I have known her, ever hearing her complain about anything.
"It's time for you to rest my friend. You have done more than enough for all of us here. I miss you Margaret."
The late Margaret Hattori-Uchima, RN, MSN, Ph.D, lived a daily life of compassion, kindness, passion and honesty while continuously dedicated to advancing high standards of healthcare for the people of Guam and the region.
Dr Hattori-Uchima was Dean of the University of Guam's School of Health. She served as a faculty member at the university since 2001 and has held key roles as chairperson of the Nursing Curriculum Committee and Nursing Program Evaluation Committee.
Dr. Hattori-Uchima received her Associate of Science in Nursing and Bachelor of Science in Nursing from the University of Hawaii. She received her Masters of Science in Nursing from the University of Phoenix and her Ph.D in Nursing from Villanova University.
Dr Hattori-Uchima's leadership and service extended beyond the university setting. On November 1, 2020, Dr. Hattori-Uchima achieved a career milestone as the first nurse on Guam inducted into the American Academy of Nursing, 2020 class of fellows. Her selection was based on her contributions towards advancing healthcare and public health. The 2020 Class of Fellows at the American Academy of Nursing represents 39 states and 13 countries as well as Guam and Washington, D.C. New fellows joined a body of 2,700 nursing leaders within the American Academy of Nursing who are experts in policy, research, administration, practice,\ and academia.
Dr. Hattori-Uchima dedicated years of her as a member, board member and volunteer of the Guam Homeless Coalition where she once held the position of chairperson. Dr. Hattori-Uchima's tireless and quiet dedication to the island's homeless has resulted in thousands of our homeless being fed, clothed and provided needed healthcare.
Dr. Hattori-Uchima also served as a board member for five years on the the "Guam Healthcare and Hospital Development Foundation," a Guam non-profit whose primary purposes included the development of a private hospital on Guam. Dr.Hatorri Uchima served on the Foundation's "Hospital Staffing and Recruitment Committee and it's "Healthcare Education Committee."