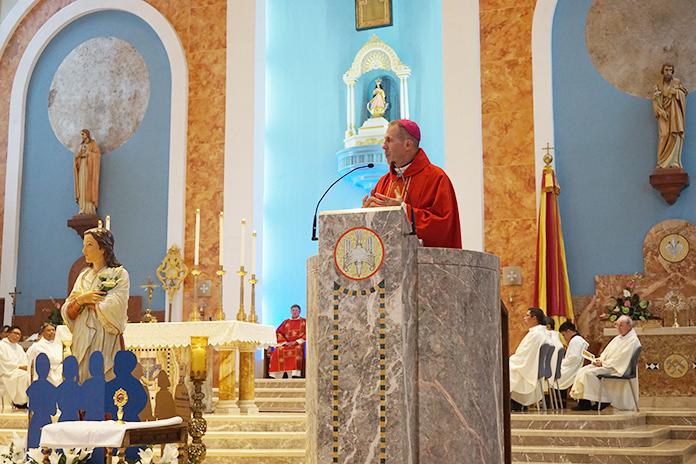 At the sanctuary of the Dulce Nombre de Maria Cathedral Basilica is a chair no one has sat on for months. It's the Archbishop's chair, where only he sits at Masses, where he presides.
Archbishop Michael Byrnes has been noticeably absent from Guam for months; his last public appearances believed to be during the recent round of Catholic school graduations.
For about a year now, several sources within the Catholic community have told Kandit the archbishop's health has become an issue. Yesterday, the Archdiocese of Agana's spokesman, Tony Diaz, attributed the archbishop's absence from Guam to medical issues.
"Archbishop Byrnes is off-island on medical leave," Mr. Diaz replied to Kandit in response to our questions:
"Where is Archbishop Michael Byrnes? Is he okay? Is it true he is retiring soon? If that is unknown, is it the case that he will not be returning to Guam any time soon?"
Mr. Diaz did not provide any direct answers to these questions, though he did say of the archbishop's health and leadership, "We hope to receive an update."
JungleWatch, the online Guam-based blog read by millions throughout the world, has made several references to the archbishop's absences, and an alleged power struggle that has formed within the archdiocese as a result of the vacuum in leadership and power. Reliable sources have alleged the de facto head of the church on Guam, Vicar General Father Romeo Convocar, is being pulled by factions already competing to replace the archbishop.
"They are like vultures waiting for the injured animal to become a carcass," one source said, referring to at least one priest and a controversial faction of the Catholic church.
Archbishop Byrnes, who turned 64 on August 23 this year, became the Archbishop of Agana by right of succession on March 16, 2018. He became the Metropolitan Archbishop of Agana on April 4, 2019, replacing disgraced former archbishop Anthony Apuron, whom Pope Francis exiled from Guam for life.
The archbishop was ordained a priest in 1996 at the Cathedral of the Most Blessed Sacrament in Detroit by then-Archbishop Cardinal Adam Maida.
Since coming to Guam, Archbishop Byrnes has presided over a church in bankruptcy that has lost many parishioners in the wake of the scandals that embroiled his predecessor, Apuron. Those scandals included the multi-decade coverup of the sexual of children at the hands of clergy and Catholic laypeople, to include allegations against Apuron himself. The scandals also include gross financial mismanagement of the archdiocese, and the abrupt and very public mistreatment of Father Paul Gofigan and Monsignor James Benavente. Both priests eventually were restored to their full faculties, when Apuron fled the island and an interim administrator – Archbishop Savio Hon – reversed Apuron's peculiar orders.
"I don't think Archbishop Byrnes was told about or prepared for the mess that he inherited here," the source told Kandit. "I feel bad for him. I hope it wasn't the problems here that made him sick."
Kandit prays for Archbishop Byrnes's health, recovery, and comfort.