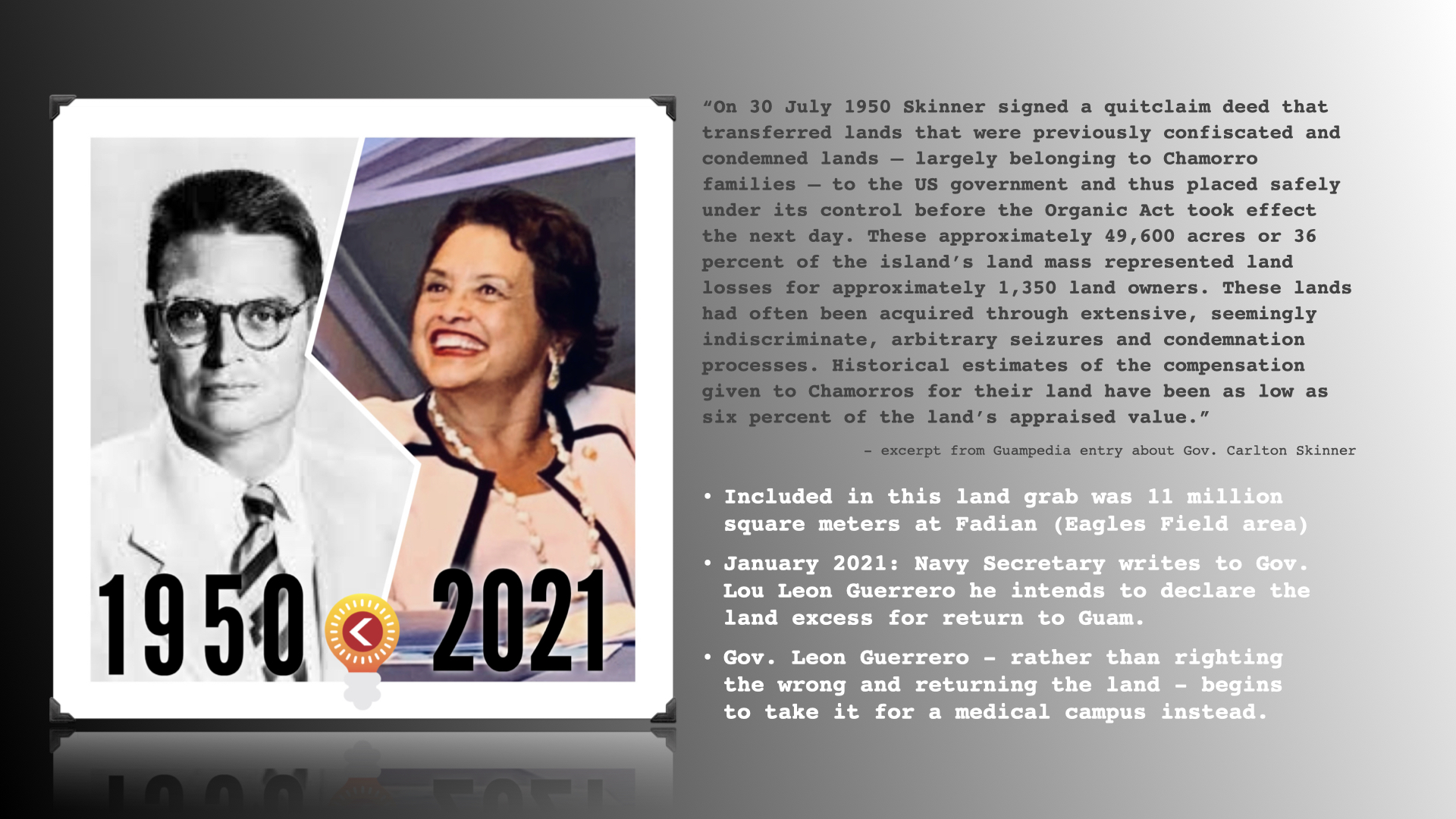 Kandit has been investigating Gov. Lou Leon Guerrero's plans to take land at Fadian (at and surrounding Eagles Field, Mangilao) to build a $1 billion medical campus, to include the new hospital.
She intends to enter the government of Guam into a 100-year lease for that land from the U.S. Navy, which reportedly has a claim to the land. That land was condemned by the U.S. government after World War II from 18 original land owners. They were not justly compensated for the land, though the governor claimed they were to at least one news outlet. The Secretary of the Navy in January this year wrote to the governor telling her he intended to declare the land as excess to the Navy's needs. Rather than allow for the return of lands to the ancestral land owners, as Guam law requires, the governor has instead begun a process to lease the land from the Navy, circumventing Guam law.
As part of our look into this issue, Kandit also has found that GovGuam's claim to at least one of the 18 lots from this former Andersen Base Annex (Barrigada) – Lot 2517 – was extinguished, when the Guam Ancestral Lands Commission and former Gov. Eddie Calvo quitclaimed the land to the original land owners in 2013. The quitclaim was done under the authority of Public Law 31-134, authored by the late Speaker Ben Pangelinan.
The Guam Department of Land Management recently disclosed hundreds of pages of historical documents that show:
The land the governor wants to use encompasses more than 11,825,263 square meters in area
Gov. Carlton Skinner, two days before the Organic Act of Guam went into effect and while the Naval Government of Guam existed, quitclaimed the lands following condemnation
The total amount the Naval Government paid the original landowners was $270,000 for all 11.8 million square meters of land, or well below fair market value
Earlier this year, GovGuam and the NavFac secretly entered into an agreement granting GovGuam the right to enter the properties to survey it for the governor's $1 billion Guam Medical Complex
Here are some of the documents: