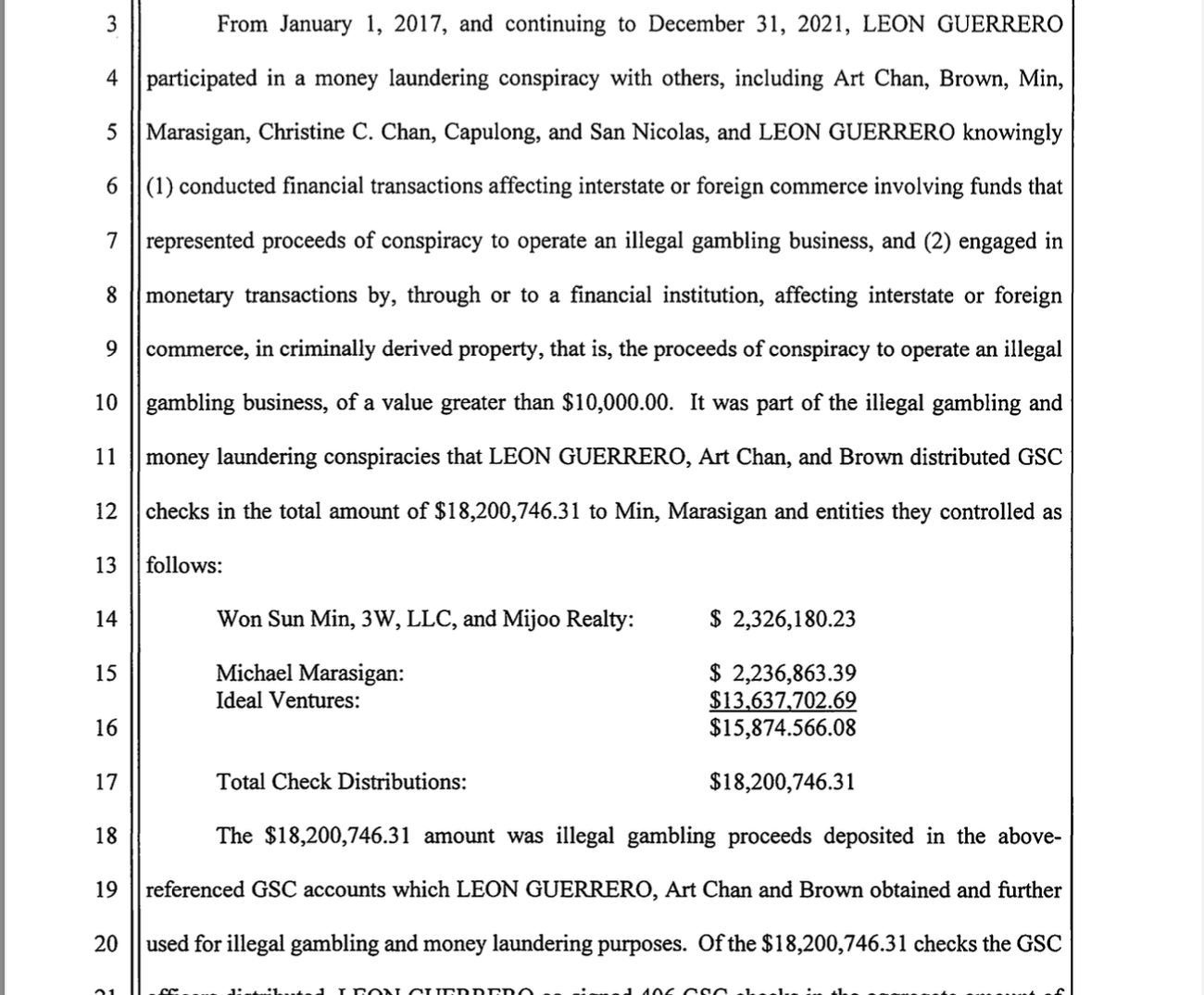 The second plea deal in the illegal bingo and money laundering case in Guam federal court was filed two weeks ago, shedding new light on the alleged $34 million conspiracy that benefitted people who were supposed to donate that money to children in medical need.
Alfredo Leon Guerrero, the former president of the Guam Shrine Club and one of seven people indicted in federal court for an alleged illegal gambling and money laundering conspiracy, signed a plea deal with the U.S. Attorney's Office on October 19, according to a recently-unsealed court document.
The plea agreement tightens the legal noose around his six former co-defendants – including his girlfriend – against whom he has agreed to cooperate with the U.S. Attorney's office and to testify at trial. Those six co-defendants include Michael Marasigan, Art Chan, Christine Chan, Richard Brown, Minda San Nicolas, and Juanita Capulong. Ms. Capulong is his girlfriend.
The seven were indicted in May this year after another co-conspirator, Won Sun Min, pleaded out in a separately filed federal criminal case based on the same crimes. Ms. Min agreed to cooperate and testify against her co-conspirators.
The federal government, after a years-long investigation by the Federal Bureau of Investigation, has accused Mr. Marasigan and Ms. Min of conspiring with Mr. Leon Guerrero and others of scheming to make substantial profits off a bingo operation illegally made to look legitimate. They are accused of laundering those funds through a series of bank accounts and transactions in order to conceal the illegal activity.
Guam law allows qualified tax-exempt non-profit organizations to operate bingo games in order to raise funds for the stated purposes of the organization. The law states the organization's officers and members must be the operators of the bingo games.
According to the federal government, Mr. Leon Guerrero, Mr. Chan, and Mr. Brown used their positions as officers of the (now former) non profit Guam Shrine Club to cooperate in a scheme with Mr. Marasigan and Ms. Min to have their businesses operate the bingo games. The FBI gathered evidence from various banking accounts showing funds from the bingo operation were divvied up and kicked back between 2015 and December 2021. More than 90 percent of the estimated $34 million in earnings did not benefit Guam Shrine Club. Its stated purpose is to use funds raised to pay for the travel costs of children needing medical care at the Shriners Hospital in Honolulu.
"In fact, Leon Guerrero, Art Chan, Brown, Marasigan, Min, Christine C. Chan, Capulong and San Nicolas, knew that not all of the bingo proceeds from the bingo games were used for the benefit of GSC as required under Guam law," Mr. Leon Guerrero's plea agreement states. "Only minimal profits went to charity."
Mr. Leon Guerrero, Mr. Chan, Mr. Brown, Ms. Min, and Mr. Marasigan, the plea agreement states, "were aware that the GSC received at most 10% of bingo proceeds.
According to Mr. Leon Guerrero's plea agreement, he, Mr. Chan, and Mr. Brown wrote Guam Shrine Club checks between 2017 and 2021 totaling $18,200,746.31 to Ms. Min, Mr. Marasigan, and the companies they owned.
Ms. Min and two of her companies, including Mijoo Realty, allegedly received $2,326,180.23 in laundered funds.
Mr. Marasigan and his Ideal Ventures allegedly received $15,874,566.08 in laundered funds.
According to Mr. Leon Guerrero's plea agreement, Mr. Marasigan distributed illegal gambling proceeds to Ms. Chan, Ms. Capulong, and Ms. San Nicolas. Ms. Capulong, according to the document, received $637,680.47 from Mr. Marasigan and deposited some of that amount in joint bank accounts with Mr. Leon Guerrero.
The federal government has yet to disclose in any publicly available documents the disposition of the balance from the $34 million conspiracy.
The forfeiture section of his plea agreement makes another disclosure to which Mr. Leon Guerrero has agreed: That he laundered $4,170,689.26 through the scheme. He has agreed to forfeit that cash immediately to the federal government.
Mr. Leon Guerrero pleaded guilty to Count 2 of the indictment, a money laundering charge which carries with it a possible prison term of up to 20 years. The federal government has agreed to recommend downward departures in his sentencing if he provides the federal government "substantial assistance" against his co-defendants.