(PHOTOS NOTES: The pictures below are from Peter Richard Sgro, Jr.'s testimony packet on Bill No. 121-36, and depicts what a new public hospital may look like if one ever is constructed, and it is constructed correctly.)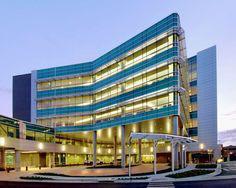 Peter Richard Sgro, Jr., the Guam businessman and philanthropist, who led the planning and development of what is now Guam Regional Medical City, said the pricetag for building a replacement for Guam Memorial Hospital gets more expensive as time goes by.
The government of Guam has been discussing the need to replace GMH since 2014. Several financing proposals have emerged before the Guam Legislature since then, but none have ever materialized beyond short term financing for minor repair work at the current GMH facility.
"I truly believe it is accurate to say that for every year that the ground breaking of the hospital is delayed, there will be about a 15% increase in construction cost alone," Mr. Sgro told Kandit. "It is commonly known in the finance industry that signs of inflation are already being realized with the expectation that new GNP numbers will show increases in prices. This also will have a direct cost on the hospital project since whenever there is inflation, there always is an increase in interest rates for the financing of basically anything. So continued delays will also result in increases in the cost of funds from a financing standpoint."
Gov. Lou Leon Guerrero has committed $300 million out of the $600 million in federal discretionary direct aid funding Congressman Michael San Nicolas secured for her as a down payment for a new hospital. Administration officials have estimated the hospital may cost upward of three-quarters-of-a-billion dollars to develop and equip.
Mr. San Nicolas is pushing language in the federal budget reconciliation act that, if passed, will secure $335 million in infrastructure funding for Guam that ostensibly can be used as the down payment. The congressman will prefer this happens so the governor can use the $600 million pot of money to more directly help struggling families through the economic malaise the pandemic has caused.
To fund the rest of the hospital development, the current Guam Legislature is considering Bill No. 121-36, which will authorize the financing.
The Legislature held a public hearing on the bill July 30 while Mr. Sgro was off island. He submitted written testimony generally in favor of the legislation. You may read his testimony in its entirety, and view depictions of what a new and modern GMH can look like below the excerpts we have chosen below from the testimony:

Regarding the design and development of GRMC:
"In the case of GRMC, it took just over 12 months just for the design. I was involved in various phases of the design including the organization of local focus groups to meet with architects since for various reasons, including financial sustainability reasons, the design had to incorporate the unique chronic disease profile of our community. For example, the start of the design of the operating rooms involved sessions between six local surgeons and architects. In designing the Oncology Department local focus groups included cancer patients, cancer survivors, families that lost a loved one to cancer and the likes of the University of Guam Cancer Research Center.

"So the design phase was extremely detailed which resulted in hundreds of pages of architectural drawings that also required the need to retain Medicare and Joint Commission consultants to insure that design met both Medicare and Joint Commission standards. I would be more than happy to speak to any one of you about all the work and experience I had in developing what is now the Guam Regional Medical City."
On the urgency to retire the old GMH facility:
"We all know that the Guam Memorial Hospital is over 11 years past its useful life. I have to pose one question. Would any of us have our homes pass its useful life with deficiencies as cited in the USACE Report? Would any hotel owners of owners of commercial buildings have these assets past their useful lives with deficiencies as cited in the USACE Report? Of course we know we would not so why would we chose not to take immediate steps to pass Bill 121? The standards of use of our homes, commercial buildings, hotels and other structures should never go beyond the standards of a hospital that services the healthcare needs of our community."
On how much it might cost:
"With respect to financial impacts that would result from delays, the cost of constructing a hospital on Guam and healthcare facilities on Guam will continue to rise. Years ago when GRMC was at the financing stage, the investment required amounted to approximately $400,000,000. I believe it would now take at at least $600,000,000 to finance, design, construct, procure furnishings-fixtures-equipment-supplies, cover insurance expenses etc. if the identical structure was to start being developed today."

"For a 150 acute care bed hospital with 350,000,000 square feet, a conceptual cost estimate of $590,000,000 is reasonable. If we followed this conceptual cost estimate, then annual lease rents would be approximately $38,000,000 annually and not $70,000,000. Again, this number is based on a conceptual cost estimate but it does factor in real costs for such items as equipment alone that will cost upwards to $100,000,000."
On the rising costs:
"Current bond market conditions are "Hot" as one bond underwriter explained to me just two days ago. Bond financings at this time are resulting in very attractive terms. However, commonly known in the financial markets and also explained to me by this bond underwriter, that the "chatter of inflation is starting to happen in the market." That's all it would take is the issuance of a new Consumer Price Index that even suggests or projects inflation to affect the bond market. If such an index is issued, then the result would likewise be an increase in interest rates on most all financings. Bill 121 provides the financing mechanism to fund the development of the new hospital, the new public health facility and the new behavioral and wellness facility at very attractive terms."
On building a new hospital that meets future needs
"Allowing for flexibility in the development of a hospital is extremely important since it is a development that requires under its useful life, 24-7 operations for at least 40 years. Short term and long term considerations must be made especially during the design phase since also the type of equipment to be procured is also dependent on design. In addition, unlike all other developments, a hospital is where life and death decisions are made constantly."