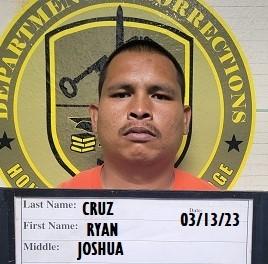 A foster father charged in court today of molesting a boy in his care in February, was charged twice before on allegations he molested little boys.
The Office of the Attorney General of Guam today charged Ryan Joshua Cruz with first degree criminal sexual conduct, and three counts of second degree criminal sexual conduct. The charges stem from the report by a 12-year-old boy that Mr. Cruz allegedly played with the boy's penis while the boy was sleeping in the defendant's home. The molestations allegedly occurred on three separate occasions in February. On February 26, 2023, Mr. Cruz allegedly performed fellatio on the boy's penis.
"The victim also indicated that the defendant would ask if he and the victim could shower together," prosecutor Christine Santos Tenorio wrote in the declaration of probable cause justifying the charges.
Kandit has asked director of public health and social services Arthur San Agustin why his agency licensed Mr. Cruz to be a foster parent considering public charges brought against the defendant for the same exact violations of law just five months ago.
On September 1, 2022, the local court charged Mr. Cruz with one count of first degree CSC, and three counts of second degree CSC.
"On or about August 31, 2022, police interviewed a minor identified as K.T.Q. (who now is 19)," according to prosecutor Renaida San Nicolas. "K.T.Q. told police that a male known to him as RJ Leon Guerrero, later identified by police as Ryan Joshua Cruz (Defendant), used to live in his family's home. K.T.Q. explained that when he was four or five years old, Defendant woke K.T.Q. up from sleeping and brought him to the bathroom where Delendant rubbed K.T.Q.'s penis and also made K.T.Q.'s lips touch defendant's penis. K.T.Q. wrote that Defendant made him 'suck it.'
"K.T.Q. stated that Defendant touched K.T.Q. inappropriately until he was thirteen years old. K.T.Q. said that 'after' he turned thirteen, all the touching had stopped. K.T.Q. said there were multiple times Defendant would try to touch his penis. K.T.Q. told police that the incidents still make him upset and angry and that he does not want to attend school and even thought about taking drugs.
"Police interviewed Defendant who said that K.T.Q.'s family calls him a molester and are jealous of him. Defendant denied the allegations."
Mr. San Agustin, whose agency regulates foster homes, has not responded to Kandit's inquiry.
According to a story by Dana Williams in the Pacific Daily News on March 2, 2018, a Ryan Joshua Cruz was charged with criminal sexual conduct. The age of the defendant in that case matches that of the Mr. Cruz charged today, and in September 2022.