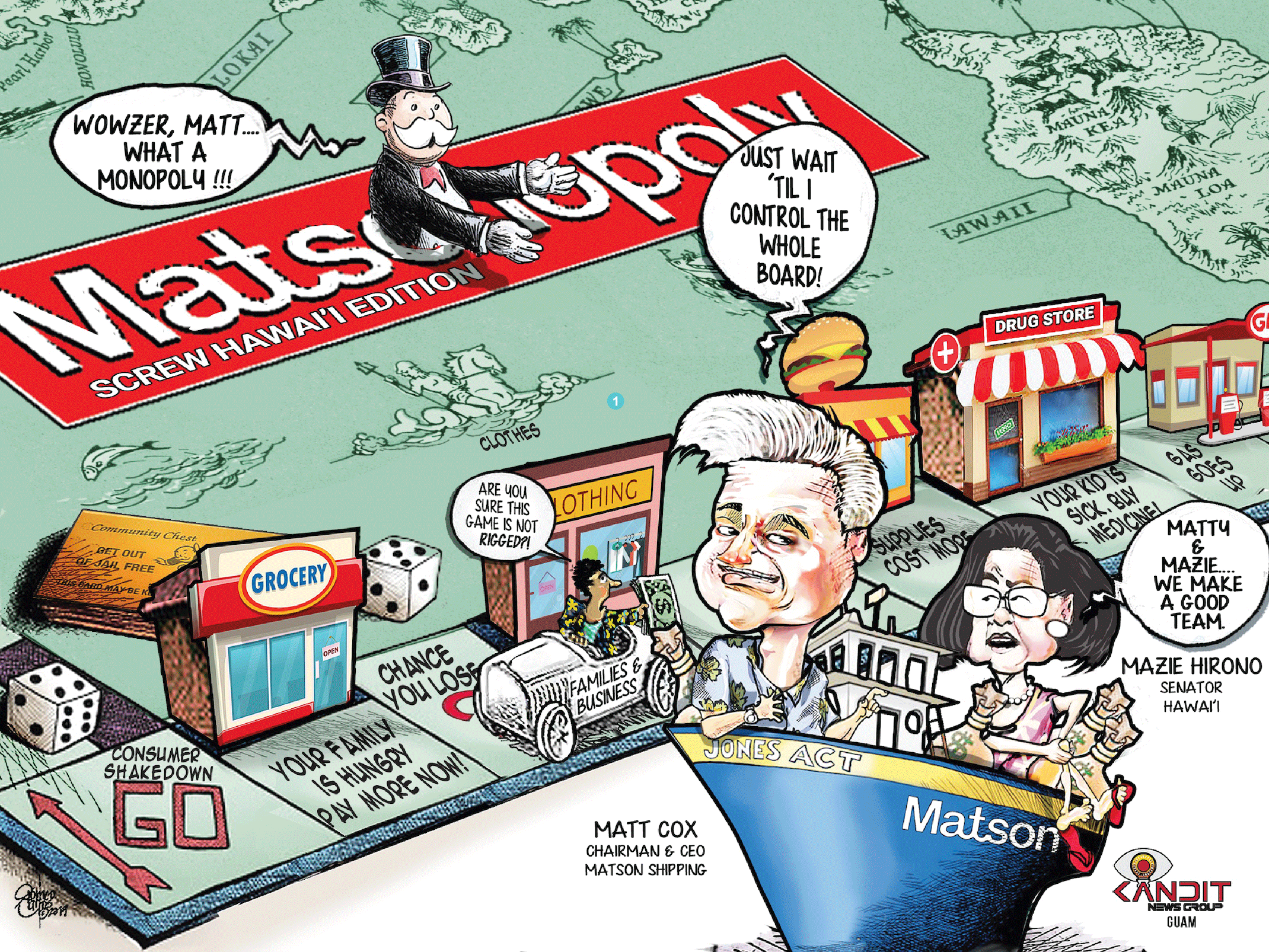 If you thought the price of gas was becoming outrageous, you're not going to like what we have to report about Matson.
Effective April 10, 2022, Matson – the shipping company fighting hard to regain a monopoly in the Marianas Islands – is raising its rates; again. And the heavily-profitable Hawaii corporation isn't planning a meager jump. According to its latest announcement, Matson is increasing its fuel surcharge to 47 percent of the price of its ocean freight for Guam and the CNMI.
It's even worse for the other islands of Micronesia. Matson will charge them 51 percent – more than half – the price of ocean freight. For example, if it would cost $2,000 for a company in Palau to freight a container of eggs, milk, and chicken, Matson will add a 51 percent fuel surcharge, increasing the cost to $3,020. Guess how much more expensive those eggs, milk, and chicken will become in Palau after April 10.
The situation will be similar in Guam and the CNMI. That same container of eggs, milk, and chicken will increase by 47 percent (the increase previously was 39.5 percent). If that container's freight cost was $2,000, then the final price Matson will charge will be $2,940.
Interestingly, the distance ships sail already is factored into the cost of freight. So, it is curious why Matson would charge more for fuel to the rest of Micronesia than it would to Guam and CNMI. Actually, Matson charges Hawaii even less than Guam and the CNMI. It's as if the fuel pumping into the ships to the Mariana Islands is from the mid-grade pump; and the fuel for the other-Micronesia cargo from the premium nozzle.
APL lowers rates
Matson may claim it simply is raising the fuel surcharge because of the nationwide increase in the cost of fuel. However, its regional competitor – APL – has actually decreased its rates this year.
Despite years of evidence of both the competitive prices APL has forced and Matson's multiple attempts on multiple fronts to kick APL out of this region, both the governments of Guam and the CNMI have done absolutely nothing to help the situation.
And with all markets about to price most families out of their livelihoods, it truly is a wonder why our elected representatives of our legislatures, our governors, and our attorneys general won't raise so much as a peep about Matson's practices. Perhaps the answer to our wonder lies in the campaign contributions elected officials receive every two to four years.