The two men originally indicted for shooting Brian Mendiola in the leg the evening of October 15, 2020, faced each other on different sides of the courtroom Monday afternoon. Only one of those men – Nicholas Moore – sat at the defense table and faces decades in prison if convicted of the aggravated assault, terrorizing, and special allegation charges against him. The other man – Navy mineman Eric Salone – already won his freedom, so long as he testifies and cooperates truthfully against Mr. Moore.
Prosecutor Grant Olan called Mr. Salone to the stand today, and for more than an hour asked him questions that revealed his story to the jury who will decide his former friend's fate. Throughout most of the testimony, both men could not look at each other. Mr. Salone was fixated on the prosecutor, while Mr. Moore stared into the jury box, or at the floor.
The men met at the beach near Jimmy Dee's in Tamuning and carried on a light friendship, Mr. Salone described for the jury. It was around 8- or 9 p.m. on October 15, 2020, when Moore showed up to Salone's Tamuning home, the witness said.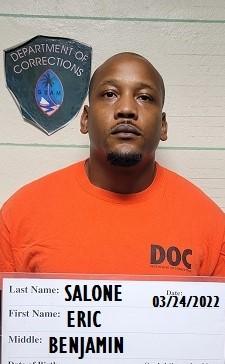 "He asked if I could ride with him to pick up some pills," Mr. Salone told jurors, explaining he did not know who Moore would be meeting, but that they parked at the Agana Heights gymnasium minutes after Salone rode with Moore in Moore's black Ford F-150 truck.
"When we arrived at the gym, he said what he was going to do and I told him I didn't want anything to do with it, and I got out," Mr. Salone told jurors. "He said he was going to rob this individual; he used the word 'jack.'"
Asked by Mr. Olan who the individual was, Mr. Salone responded, "He said whoever he was picking up the pills from."
It was at that point, Mr. Salone said, that he saw Mr. Moore brandish a silver revolver, a 38-caliber gun. The distinction is important; it was a 38-caliber bullet that allegedly was pulled out of Mr. Mendiola's leg at Guam Regional Medical City the day after he was shot.
That's when Mr. Salone got out of the truck, and walked to a bus stop between 100 and 200 feet away, he said.
"I saw an individual approach Moore," he said. "Moore got out of the truck. The individual approached and then turned and ran down the street. I could hear some yelling."
"'Yeah, run, bitch, this is a real gun,'" Salone quoted Moore as yelling while the 'individual' ran.
"Did you see a gun at this point," Mr. Olan asked. "I did not," Salone responded.
Mr. Moore "hopped" into his truck, and that's when Mr. Salone ran toward the truck and got back in, he said.
Salone said Moore drove throughout Agana Heights for about 10 minutes trying to find the individual, who had run.
"I asked him what happened, and he said, 'That's the guy who jacked me,'" Salone said of his initial conversation with Moore, when Salone got back into the truck. "He said, 'I'm gonna get this motherfucker.' I said, 'Oh shit. drop it. Let's just go home. Drop me off. He started driving through the streets searching for this individual. I told him multiple times to drop it, let it go. We didn't get anything."
Mr. Salone said there was a pistol case on the floor of the front passenger side of the truck, right at his feet. He said that while Mr. Moore was driving around, he did not see him holding the 38-caliber gun.
"We arrived at a residence," Salone said, explaining that Moore executed a U-turn at the driveway of a home, then parked so that it was the passenger side of the truck that faced a group of three or four males standing about 50 feet away down a dark driveway.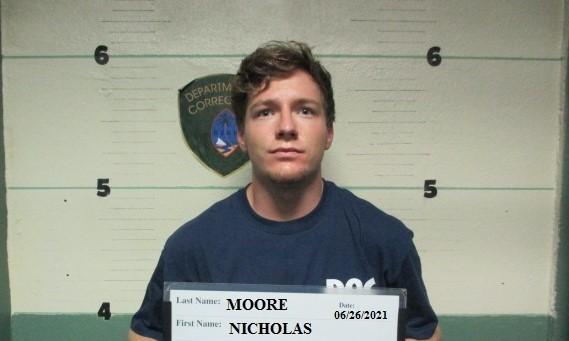 "Nick rolled down the window and started shouting, 'Curtis! Curtis! Curtis!," he said. "The individuals approached, carrying what I believed to be pipes or machetes. They were shouting back and forth. Someone was saying, 'What are you gonna do? Shoot my homeboy?"
[NOTE: Curtis Garrido is the man the prosecution believes was the target of the alleged shooting. We was supposed to testify on the first day of the prosecution's case in chief, but did not show up to court. Judge Alberto Tolentino issued a warrant for his arrest. Authorities still have not located Mr. Garrido. According to the defense's opening statement, Mr. Garrido identified the shooter as Eric Salone, not Nicholas Moore.]
When Mr. Salone saw the men approaching the truck, he decided to arm himself with the gun that was in the case at his feet. He said it was a 45-caliber gun, but that he didn't know whether it had any bullets in it.
"Nick leveled his revolver right in front of my face and shot once," Salone said. Then, under questioning, Salone admitted he also fired the gun he picked up once. In a reenactment before the jury, Salone indicated Moore, with one hand on the steering wheel, and the other hand holding a gun pointed straight out the passenger side window, fired toward the men. Salone also reenacted his shooting, indicating he shot out the passenger side, but toward the front of the truck and without looking at the men.
"I know it was a 45-caliber semi automatic," Mr. Salone told the jury. "It was gray with a dark handle," he said. The distinction from the 38-caliber gun is critical in the case.
Salone said he didn't see whether anyone was shot, and recalled the scene became quiet after the shooting. Moore, he said, peeled out and sped away seconds after Salone fired his shot.
"He kind of howled," Mr. Salone said of Mr. Moore's reaction as he sped away. "He seemed happy."
"I said, 'What the fuck! Get me out of here!" he recalled. "I told him I should have never came, and I wasn't here. He said I was an OG. He thought it was cool what had just happened. He looked excited, happy."
The witness testified he and Moore spoke about the incident the following day, after Salone received a text message from Moore's mother asking Salone to call her.
"He said he shot the wrong guy and the people there were calling his family's business to get money," he said. Mr. Moore's father owns Unitek Environmental Guam. It is important to note that after Mr. Mendiola allegedly was shot around 10 p.m. October 15, 2020, his neighbor, Anthony Celis, testified he dropped him at the sentry gate of Naval Hospital. According to opening statements, while Mr. Mendiola sought treatment at Naval Hospital that night, he refused to have the bullet removed from his leg. Mr. Mendiola allegedly did not seek medical care to remove the bullet until the following day, in the afternoon, at GRMC.
"Do you know what happened to the 38-caliber gun?" Mr. Olan asked Mr. Salone.
"He gave it to one of his friends," Mr. Salone said. "We met him at the Days Inn on Ypao Road."
Police have never been able to find the gun.
The trial continues Tuesday at 9 a.m., where defense attorney David Lujan is expected to cross examine Mr. Salone. Mr. Moore's chief defense is that Salone, not Moore, was the actual shooter, and that the attorney general let the wrong man go.