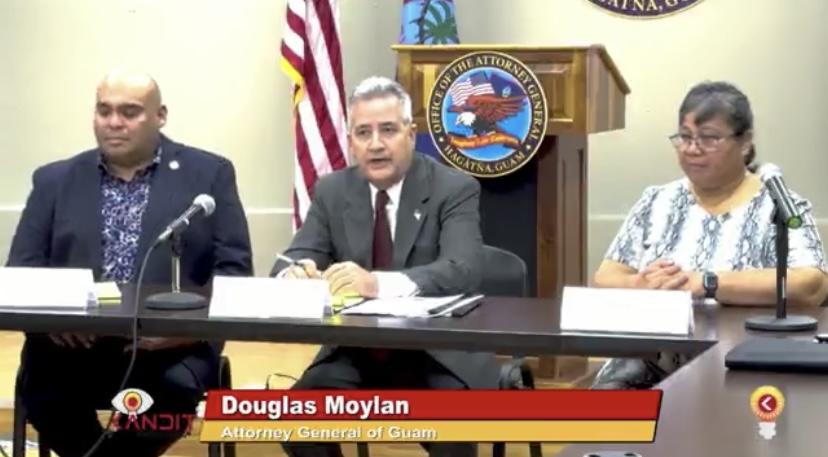 Attorney General Douglas Moylan is lending his legal team to resolve the homelessness problem through a combination of enforcement of property, public drunkenness, drugs, and assault laws, relocation of homeless people from camps, and treatment services in prison.
Mr. Moylan, flanked by homeless council leader Lt. Gov. Joshua Tenorio, and Dededo Mayor Melissa Savares Friday addressed the public in a news conference about the growing problem of violence and drug abuse in homeless encampments that spills into dangerous panhandling, and outbursts of crime.
"The program initiative is to relocate the homeless people from these camps throughout the island to alternate locations and to receive the help they need in order to get back on their feet," Mr. Moylan said.
Mr. Moylan said the Office of the Attorney General of Guam has reviewed the matter of relocating homeless people from camps to allow Mr. Tenorio's effort to intervene and to offer services as well. In fact, earlier this week, officials sent written notice to the people occupying an encampment across the Micronesia Mall to vacate the premises.
"Being homeless is not a crime, but our efforts are to try to identify folks so that they have proper shelter," Mr. Tenorio said. "We also have a responsibility to make sure that everybody, all of us, are responsible for following the law."
The site across the mall, and others – mainly from Dededo through Hagatna – are known centers of violent and drug activity.
Mr. Tenorio said his team has reached out to many of the homeless from this particular camp numerous times, providing shelter and other services. They find their way back to the camp, though.
"This is, of course, a complicated situation we're dealing with, this kind of human service," Mr. Tenorio said. "This effort is to try to get them to avail of these services from the government and the non profit community."
The attorney general has brought together the administration and its relevant agencies with the mayors and his the OAG to focus on solutions together, a truly unprecedented partnership to end homelessness and address the mental health and drug issues that persist in that community.