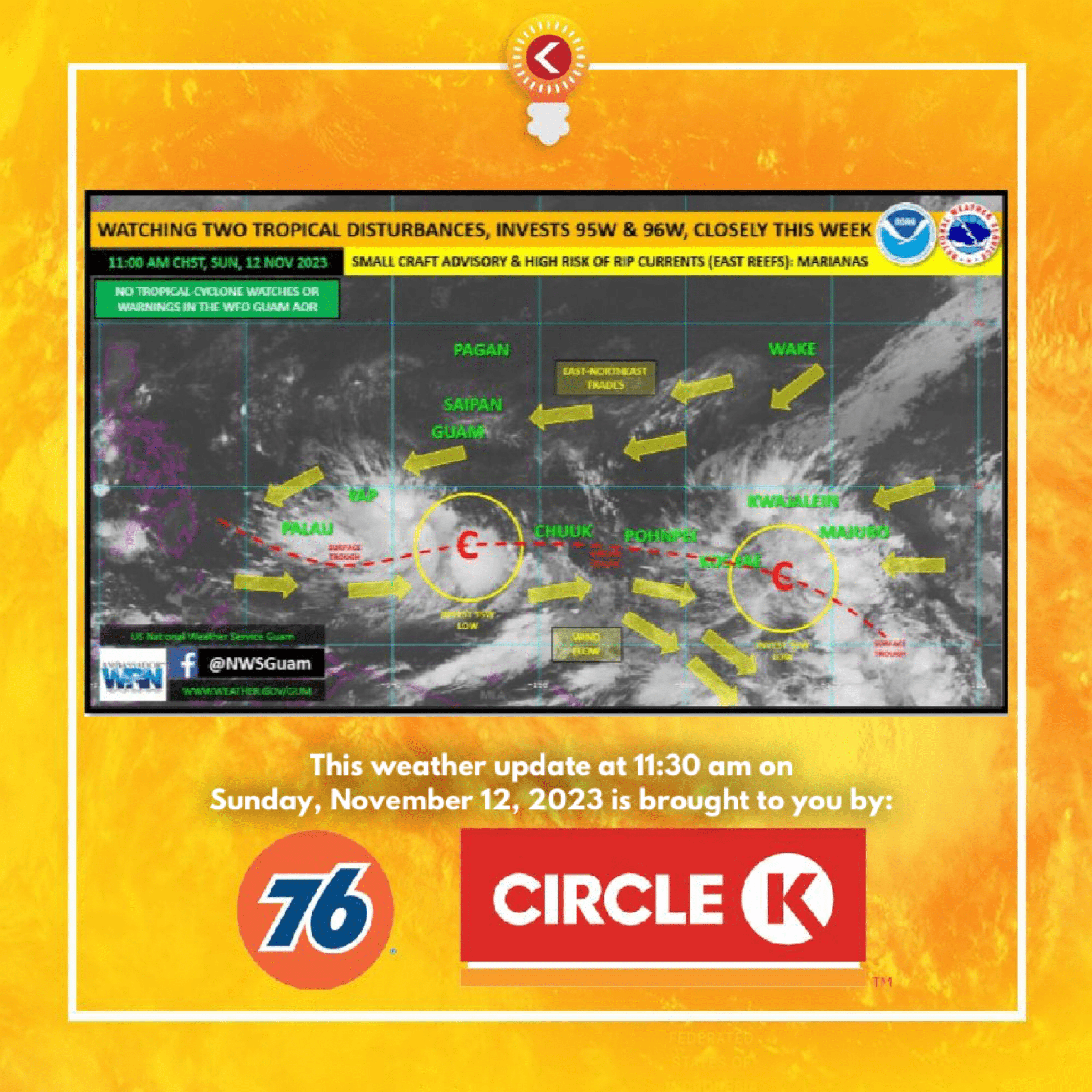 (National Weather Service)—REGIONAL OVERVIEW: The weather pattern across the larger Micronesia region is becoming more active, now with two tropical disturbances, Invests 95W (in western Micronesia) and 96W (in eastern Micronesia). Both tropical disturbances are rated "LOW" for development by the Joint Typhoon Warning Center. This means that the potential for development of a significant tropical cyclone (tropical depression) is unlikely within the next 24 hours. Please read below for more detailed information on 95W and 96W. Residents across Micronesia and the Marianas should keep up to date on official weather forecasts and conditions from NWS Guam as things evolve in the coming week.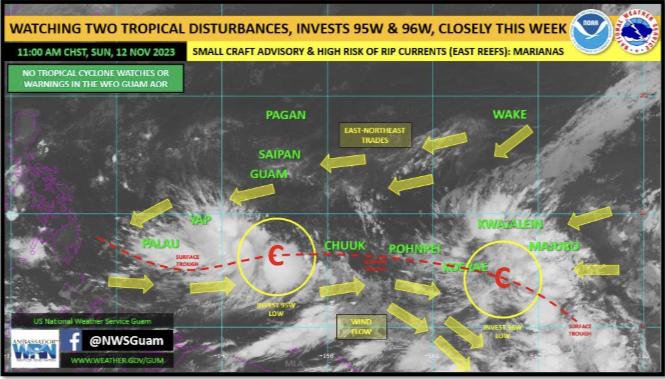 INVEST 95W: REPUBLIC OF PALAU AND YAP STATE: 95W is centered south of Guam near 6.4N 147.0E. It has been nearly stationary, and is expected to remain so for another day or two. 95W is in a favorable environment for development and may slowly develop as it eventually tracks west-northwestward toward Yap Proper and Palau by mid to late week. Showers, locally heavy rainfall and gusty winds are present across much of this region now, particularly the outer islands of Yap State. Yap and Palau should expect a multi-day event with this developing quasi-stationary disturbance as it remains in the vicinity, maintaining the showers, thunderstorms and gusty winds.
INVEST 96W: REPUBLIC OF THE MARSHALL ISLANDS, KOSRAE AND POHNPEI STATES: 96W is centered east of Kosrae near 4.6N 166.4E. Despite being in a favorable area of development, short-term intensification will be mitigated by moderate to high vertical wind shear. Another tropical disturbance in the southern hemisphere, 91P, may be a factor in any short-term development as 91P will compete with available energy. A lot of uncertainty currently surrounds the development and future track of 96W. However, showers, locally heavy rainfall and gusty winds prevail across Kosrae State and the Marshall Islands. Residents across this region, and Pohnpei State, should monitor weather forecasts closely and for information from local Weather Service Offices & Emergency Managers in Majuro, Kosrae and Pohnpei.