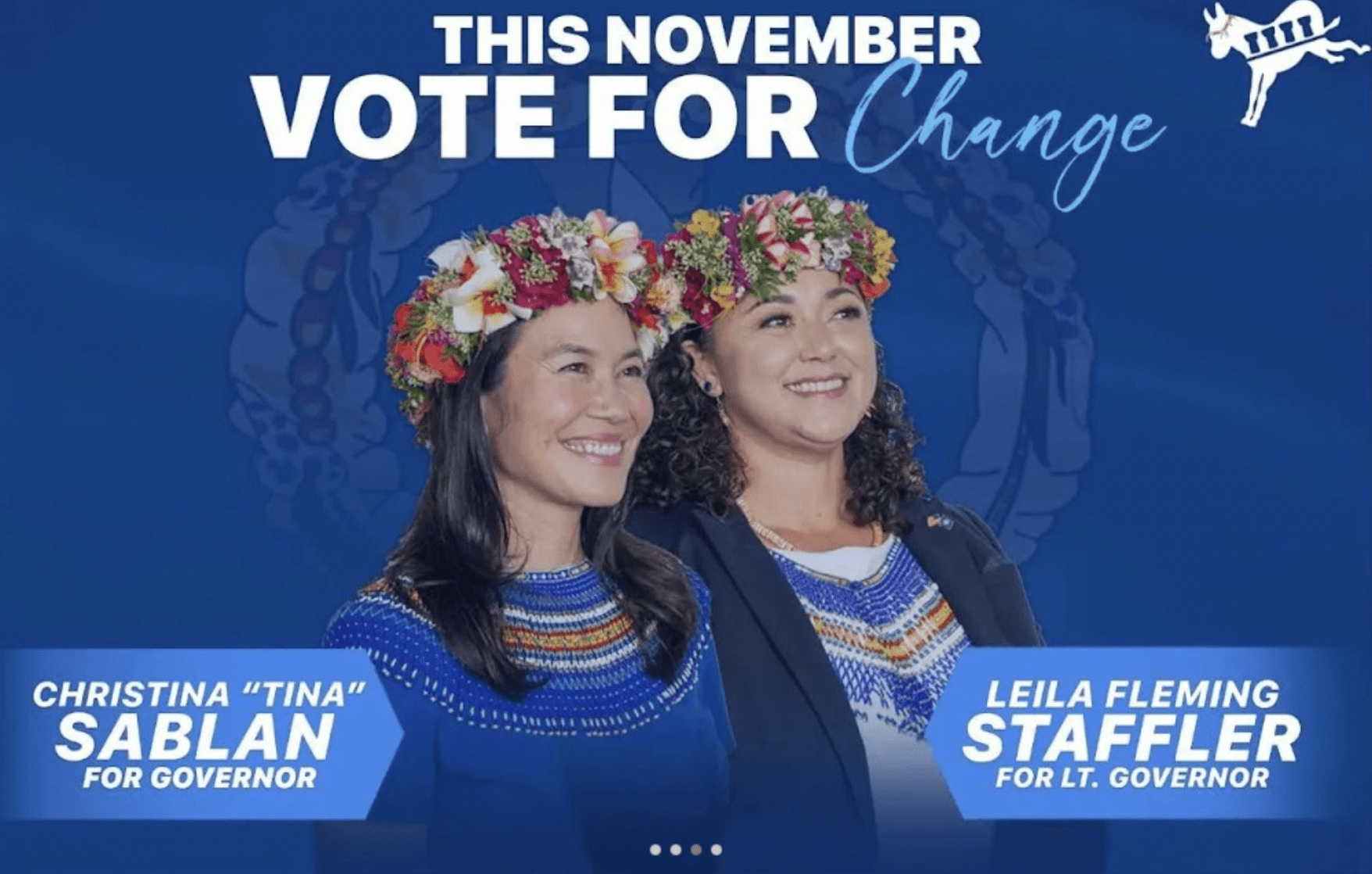 By Tina Sablan and Leila Fleming Staffler
This November, voters have critical decisions to make about the leadership and future of our commonwealth. Under the current administration, we have all suffered from wasted resources, inexcusable delays in public services and projects, and abuses of trust by the highest officials in the land. The people of the Marianas deserve so much better, and the time for change is now.
We are running to be your next governor and lieutenant governor to deliver the change that our commonwealth needs. Together, we bring 40 years of public service experience, and plans laid out in our platform at sablanstaffler.com for a future that is safe, healthy, beautiful, and just, and a commonwealth that we can be proud of.
As governor and lieutenant governor, we promise to serve and lead the people of the Marianas by the values of good governance: with fairness, honesty, and fiscal responsibility, and care for the wellbeing of present and future generations. And unlike the current administration, we will lead by example. In a Sablan-Staffler administration, you can count on us to:
Ensure that public funds are spent only on public purposes. Under the current administration, public funds have been used to cover numerous personal and lavish expenses, including hunting gear, electronics, personal gifts, and extravagant meals. NOT ON OUR WATCH.

Pay for our own utilities. During the current administration, massive utility bills for multiple household accounts and a commercial piggery have been charged to taxpayers. NOT ON OUR WATCH.

Follow the law on government travel. The current administration has racked up over half a million dollars in government-paid travel expenses, including costly and illegal first-class trips and political campaign stops. NOT ON OUR WATCH.

Drive our own cars. The current administration has used government employees to drive them around in gas-guzzling luxury vehicles purchased or leased at government expense. NOT ON OUR WATCH.

Safeguard public safety resources for public safety purposes. The current administration has treated police officers like personal servants, and police search and rescue boats have been abused for fishing and recreational trips. NOT ON OUR WATCH.

Promote fairness and transparency in government spending. In the current administration, cronyism is the name of the game. Tens of millions of federal and local tax dollars have been squandered in questionable contracts that were awarded without a fair bidding process. Millions more have been doled out in illegal overtime, double pay, and bonuses to favored officials. NOT ON OUR WATCH.

Protect the constitutional and due process rights of all public servants. No one should be afraid of their government. Under the current administration, political intimidation and retaliation run rampant, and political firings and furloughs have violated the rights of hundreds of government employees. NOT ON OUR WATCH.
In leading by example, we will begin to change the culture of our government to one that is truly centered on public service, and puts people first above politics and special interests. This is our promise to the people of the Marianas: good governance will be our guiding light in a Sablan-Staffler administration. Change will come to the Marianas when you vote for it.
Your vote is your voice – make it count in this November's decisive and historic election. Early voting begins November 1, and General Election Day is November 8. Please be sure to vote, and encourage your family and friends to vote too. And please vote Democrat, up and down the ballot! Biba Marianas!
Christina "Tina" Sablan and Leila Fleming Staffler are the democratic candidates for governor and lieutenant governor of the CNMI.