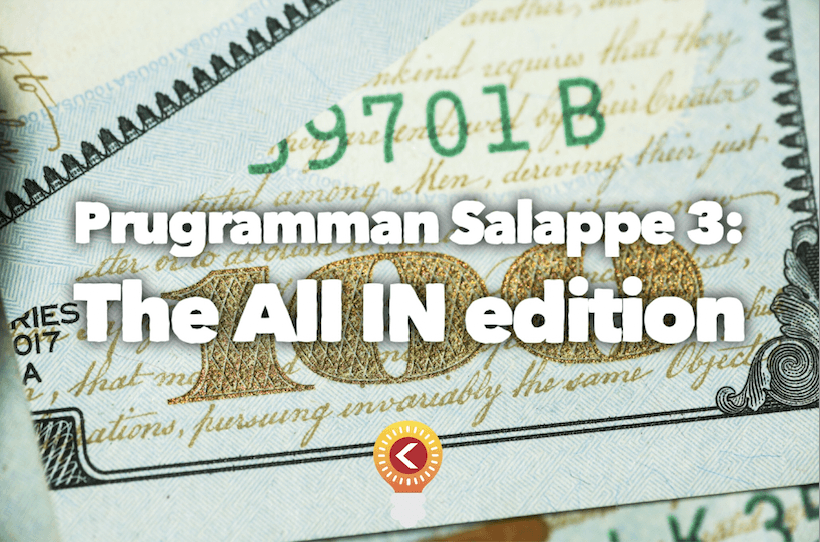 No, it's not public money that will be paid to you… unless you're All IN.
Gov. Lou Leon Guerrero and Lt. Gov. Joshua Tenorio issued retroactive pay raises to their staff and at least some members of their cabinet as far back as January, and kept the raises a secret. Tonight, the governor's office released a statement defending the pay raises, but not addressing why the governor failed to disclose the raises while simultaneously taking the government's decade-old online staffing pattern offline.
New information released by the administration (forced by a Freedom of Information Act request by Kandit) shows two more high-paid administration officials received nearly-$20,000 pay raises each. Director of administration Ed Birn, and budget director Lester Carlson, Jr., who each were paid $102,407 a year as of December 31, 2022, now make $121,874.68 a year, according to the forced disclosures of their personnel actions.
Both notifications of personnel action were requested on February 24, 2023, nearly two months after the effective date of January 1, 2023.
This news follows the discovery of five-digit pay raises given on the same day – January 1, 2023 – to the governor's chief of staff, director of communications, and personal assistant. All the raises were requested 24 days after they went into effect.
The administration took the government's online staffing portal offline around the same time the raises went into effect.
It is unclear whether more raises have been issued, as the governor's office is not providing this information.
No statutory 22 percent pay raises have been paid to the members of the General Pay Plan.
Employees owed merit bonuses have yet to be paid.
Increments reportedly are owed to several employees.
Guam Memorial Hospital continues to have cash flow problems.
And public schools are in worsening disrepair.
The governor's office, however, is defending the pay raises, and issued the following statement:
Results speak louder than rhetoric. The Leon Guerrero-Tenorio administration is the first administration to completely eliminate the deficit without borrowing. Not only has this administration's fiscal policies resulted in eliminating the deficit in 2021 during the worst public health and economic crisis of our lifetime, it has also resulted in creating multiple surpluses at the end of fiscal years 2019, 2020 and 2021. For fiscal year 2022, there was a significant excess of collections over revenue projections and the legislature has amended the budget for FY 2023 in only the second quarter of this fiscal year to adopt higher revenue levels and to increase appropriations. Out of these increased appropriations an additional $20 million has been given to the Department of Education to fix its facilities. All of this $20 million is a result of sound fiscal policy.

Two of the Governor's directors who are at the center of political attacks by lawmakers are responsible for executing the governor's fiscal policy and managing cash on a daily basis. This cash management has resulted in the payment of tax refunds faster than any prior administration.

In other administrations and legislatures, governors and senators have given raises to unclassified employees. The difference now is Governor Leon Guerrero is giving raises during a time of unprecedented fiscal strength within the government. The difference is Governor Leon Guerrero also adopted a General Pay Plan to ensure that employees across the board get the pay that they deserve—pay that is warranted by results.

In its first term, our administration promised to eliminate our deficit, pay tax refunds in days not months, and give raises to nurses, teachers, and law enforcement. Despite a global pandemic, we delivered on these promises and achieved annual surpluses long before federal pandemic aid was received. This success now means that employees under the General Pay Plan will see significant raises for the first time in nearly a decade this Friday.

That took a team effort. And keeping that momentum for the next four years means that we will pay competitive wages as required by statute.

We can always do better. And there will always be urgent problems that demand our attention, but if serving our government means you can't ever get a raise, no matter what you accomplish, then we are truly making this about politics rather than performance.

Like our sister branch of government–the legislature, adjusting salaries or separating personnel between terms is both commonplace and expected. We wonder how often individual raises or contract increases are announced by the Committee on Rules or its leadership.

Adelup pay adjustments were funded by the Office of the Governor's Fiscal Year 2023 budget and required no additional appropriation.
______
Despite the governor's repeated claims of financial prowess, the deficit was eliminated because of the unprecedented influx of federal pandemic funds, and the increased funding of Medicaid and new earned income credit reimbursements, thanks to former Congressman Michael San Nicolas and his colleagues in the U.S. Congress.
The budget surpluses also are attributed to the Guam Legislature's annual conservative estimation of anticipated revenues under the leadership of Sen. Joe San Agustin.