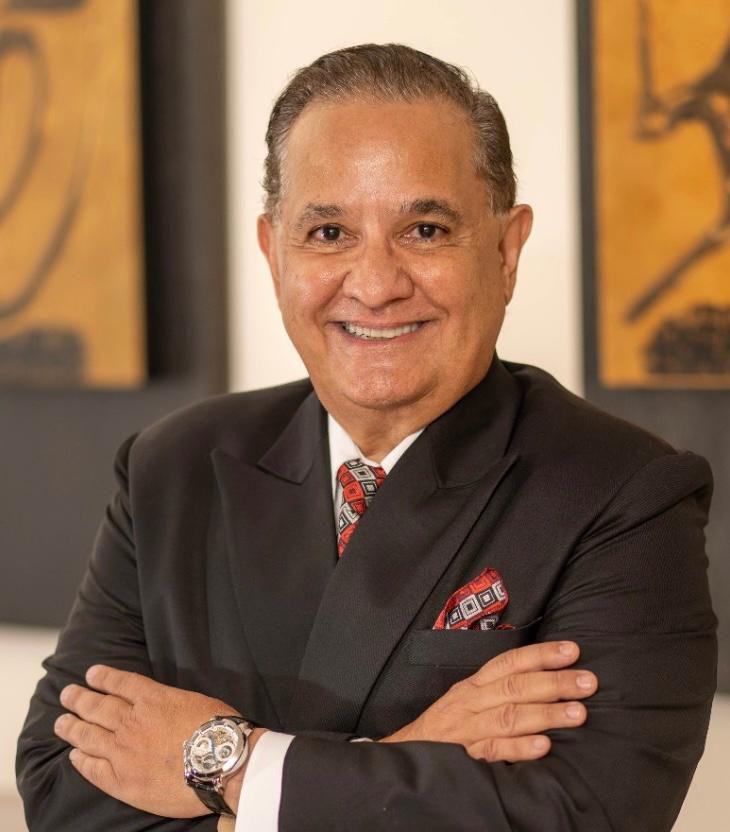 (Author's note: Rear Admiral Benjamin Nicholson was the keynote speaker at the September 28, 2022 Guam Chamber of Commerce monthly membership meeting. Mr. Nicholson provided insight on the military buildup, the military's investment on Guam and the region to foster national security, and he discussed ongoing and planned construction projects.
Halfway through the Rear Admiral's speech he started to talk about the the military's continued investment on Guam after all construction projects are completed. Addressing the business community, he described various services the military would need to be offered by the private sector since his focus was protecting Guam and the region from threats already underway by China and North Korea. At the conclusion of his speech the Rear Admiral asked if anyone had questions. There seemed to be a reluctance at first for anyone to ask questions. Attorney and businessman Peter Sgro, Jr. asked the first question, which covered healthcare issues.
I caught up with Mr. Sgro and provided him with a list of questions. I wanted our subscribers and our community to know what he thought about the Rear Admiral's speech, any underlining message Mr. Sgro understood, why healthcare is important to national defense, why there seems to be significant federal interest that Guam improve its healthcare system, and based on attorney Sgro's personal experiences whether Guam could ever have healthcare be a broader part of Guam's economy.)
Here was our Q & A:
Q: You were in the audience when Rear Admiral Nicholson spoke. He covered many topics. But what did you appreciate the most about his speech?
A: Transparency. I felt Rear Admiral Nicholson's speech was informative, detailed and I appreciated him reaching out to our local businesses for support so that he and those around him can focus on mission readiness. I was especially pleased with his candor relative to healthcare.
Q: It sounded like you've been aware for some time about the military's interest in our local system of medical and healthcare. When did you first realize there was a federal interest in improving Guam's healthcare system?
A: Back in 2009 I received a letter from then Secretary of the Department of Interior Dirk Kempthorne. The letter was an invitation to attend a healthcare summit in Honolulu hosted by the Department of Interior. The summit was titled "The Future of Healthcare In the Insular Areas." It was a two day healthcare summit with close to 200 people from all the insular areas and several federal officials. The summit was organized with periodic break out sessions. I was fortunate to be one of the speakers in a breakout session and provided an update on the progress of my foundation in advancing the development of a privately owned and managed hospital on Guam. I was also fortunate to meet Tom Lorentzen and David Chu. Tom was Regional Director of Healthcare Policy and Regional Director of Region IX for the United States Department of Health and Human Services. David was Undersecretary of Defense for Personnel and Readiness. Tom and I became close friends and frequently met when I was in San Francisco. Tom is Director of Healthcare Policy for my business International Group, Inc.
Q. What is that level of federal interest today?
A: I feel the federal interest for Guam to improve its healthcare system is significantly more now compared to any time in the past. There are several geo-political factors that are unique to Guam and the region that are not factors anywhere in the United States. I once met with representatives of Navy Medicine in Washington DC. Navy Medicine is responsible for providing medical support to the Navy globally to ensure mission readiness both at peace and at war. So I was not surprised during Rear Admiral Nicholson's speech that he used the term "Mission Ready" several times during his speech. China developed an intermediate range ballistic missile specifically to place Guam at risk. North Korea's medium and long range missiles can easily reach Guam. Unless Guam improves its healthcare system, mission readiness is compromised.
Q. For decades the federal government has designated Guam as a Medically Underserved Area and a Health Professional Shortage Area. What do these designations mean to the people of Guam?
A. I personally feel that both designations mean that our people do not have access to various healthcare services they should have readily available to them. These two federal designations for Guam were arrived at by considering various facts specific to Guam. Such as our geography, our total population, our total population broken down into age groups with emphasis given to our people that have low incomes, are at or below the poverty level and those experiencing homelessness. There are ratios the federal government uses to conclude that our people are faced with a healthcare system with a shortage of primary health services, behavioural health services and dental services.
Q: It was surprising to me to learn that Hawaii's healthcare system is consistently ranked number one in the entire nation by the likes of U.S. News and World Report and Bloomberg. What are the reasons for this?
A: The primary reason is that in the 70's Hawaii adopted near-universal health insurance. The foundation of this program is the requirement that all employers provide health insurance for all employees who work at least 20 hours a week. The current population of Hawaii is estimated at approximately 1,500,000 people. Up to 95% of the state's population are insured. The program has proven successful for the people of Hawaii with high ratings of patient satisfaction and positive health outcomes. The transition of the delivery of hospital care in Hawaii from government owned and managed hospitals to privately owned and managed hospitals is another factor that makes Hawaii's healthcare system so positive. In 2015 the passage of a law authorized a private operator to manage three state owned and managed Maui hospitals. An RFP was issued with Kaiser Permanente of Hawaii chosen to begin operating and managing the three Maui hospitals. Kaiser spent about $47,000,000 just for new technology systems for the three hospitals. Previously, the three hospitals were losing a total of upwards of $43,000,000 annually with taxpayers making up the difference. This transition resulted in the government saving millions of dollars annually with better health services and better patient outcomes. The biggest savings to the government was in labor costs.
Q: How can healthcare contribute to economic prosperity here on Guam?
A: There is a direct correlation between the development and growth of healthcare services on Guam to economic development. A good healthcare system ensures a good economy. The healthcare industry in the United States has grown significantly over the past forty years. Forty years ago healthcare in the United States was about 8% of the nation's gross domestic product. As of June of this year healthcare is at about 18%.To get a better idea of what this means, this roughly 18% is larger than the entire economies of all countries in the world outside of China, Japan and Germany. Healthcare has become a huge part of the United State's economy.
Q: What benefits would the people of Guam enjoy and experience if healthcare was a large part of Guam's economy?
A: Economic opportunities will motivate and allow our people to invest in their health. Healthier people will have longer lives and they will naturally save more money for their future financial needs. Millions of healthcare dollars are spent outside of Guam annually. If healthcare became a large part of our economy, these millions of healthcare dollars benefiting economies outside of Guam would remain on our island and used to invest in better healthcare facilities on Guam.
Q: It is no secret that Guam's level of several chronic diseases are higher per capita than most states. You mentioned that healthier people contribute to a healthier economy. So does this mean that an unhealthy community causes economic losses?
A: Absolutely. It is a sad reality for our people that a large percentage of our population suffer from life threatening illnesses. Some of the primary causes of deaths and disabilities on Guam are a result of stroke, heart disease, diabetes, kidney disease, liver failure and cancer. On May 24, 2010, the Pacific Islands Health Officers Association adopted a board resolution "Declaring a Regional State of Health Emergency Due to the Epidemic of Non-Communicable Diseases in the United States Affiliated Pacific Islands." The signatories to this emergency declaration included health officers from Palau, the FSM, American Samoa, the CNMI, Marshall Islands and Guam. An unhealthy community causes a drop in productivity, loss of income and loss of out of pocket resources to invest in their healthcare. In March of 2022, the American Action Forum issued an analysis that estimated the cost of obesity, heart disease, type 2 diabetes and cancers totalled $16 Trillion between 2011 to 2022 in the United States.
Q: With all these limitations, do you feel that our people will ever enjoy and experience the benefits of an economy with healthcare being a large part of Guam's economy?
A: I do. But at the outset of making this impossibility possible, we need to immediately stop the mindset that off-island consultants are better than we are and that we must jump and follow their conclusions. I feel that right here at home we have some of the most intelligent, competent, dedicated and creative people that I consider experts in the various fields necessary to develop a vibrant and prosperous Guam healthcare industry. Healthcare is a very complex system with multiple moving parts and Guam's healthcare system is unique and vastly different compared to any state. The analysis and research must be done with a clear understanding of the geo-political factors that are unique to Guam. And also with a clear understanding of how "Mission Readiness" applies specifically to Guam. In July of 2006 I organized and chaired a group of 25 Guam residents that were all part of what was then the "Guam Hospital Development Forum." The Forum was a private venture whose primary purpose was to create a business plan for the development of a privately owned and managed hospital which today is located in Dededo, Guam.
Q: Who were the people of Guam that served on the Forum? How did you structure the Forum? What changes would you make to its composition if today you lead a team of Guam residents to develop an economy with healthcare being a large part of the Guam economy?
A: Forum members included Guam doctors that specialized in Internal Medicine, Nephrology, Family Practice, General Surgery and an Orthopedic Surgeon. The other members included a registered nurse who was the Director of the University of Guam Nursing Program, a registered nurse with a masters degree in nursing that owned and managed a Medicare Certified and Joint Commission Accredited Home Healthcare business, an Architect, Civil Engineer, Mechanical Engineer, a Captive Insurance expert, the President of the Guam Insurance Association, health plan administrators of two Guam health insurance companies, the Area Director of the Western Pacific Region of USDA, the Manager of Sagua Managu, representatives of the Guam Chamber of Commerce and Guam Hotel and Restaurant Association, an attorney who was the senior partner and founder of his law firm, the District Director of Congresswomen Madeleine Bordallo's office, the Administrator of the Guam Economic Development Authority, the Publishers of two Guam print media organizations and the Program Director of Guam's largest radio broadcasting organization. The Forum had five committees: Medical Center Finance and Investor Relations Committee, Medical Center Recruitment and Retention Committee, Medical Center Location and Physical Facilities Committee, Medical Center Ownership / Management Structure Committee and Health, Malpractice and Captive Insurance Committee. If I were tasked to undertake a new initiative to have healthcare be a large part of Guam's economy, I would add: the President of the Mayors Council of Guam, the Director of Finance of the Guam Economic Development Authority, the Dean of the University of Guam School of Health, GCC's Administrator of Nursing and Allied Health, a representative of GHURA primarily responsible for administering HUD financings, the Department of Public Health and Social Services representative with significant knowledge of MIP, Medicaid and Medicare, Guam's Public Auditor, the primary responsible party of the census at the Bureau of Statistics and Plans, the designee of Rear Admiral Nicholson knowledgeable with the military build-up, a commander of Navy Medicine, Medical Director of U.S. Veteran's Affairs, nursing supervisors at GMH and GRMC, management level representatives of GTA, ITE and DOCOMO, a private sector real estate appraiser and an economic's professor at the University of Guam with a background in healthcare economics.