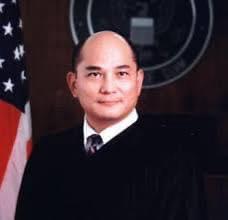 Nightly rosary and Masses for the late Judge John Unpingco will be held at the Cathedral-Basilica beginning Monday, October 16 to Thursday, October 26. The Holy Rosary will be said at 5:30 p.m., followed by Mass at 6 p.m. (Saturday, rosary after 5 p.m. Mass, Sunday, rosary after 7:30 a.m. Mass).
Viewing is set for Friday, October 27, from 8 a.m. to 11:30 a.m. at the Chapel of St. Therese. Mass of Christian Burial, same day, 12 p.m., Main Church.
Statement from Chief Justice Robert Torres:
The Judiciary of Guam extends its condolences to the family and loved ones of the late District Judge John Sablan Unpingco.  
 A public servant of the highest order, Judge Unpingco's career is hallmarked by his exceptional service to our island. His legal acumen and experience as a trial attorney and international law practitioner with the U.S. Armed Forces earned him a nomination as Judge for the District Court of Guam in 1992, where he faithfully served for over 12 years. Judge Unpingco's commitment to the principles of justice, fairness, and impartiality were evident throughout his tenure, continuing through his advocacy for Guam's veterans as the former administrator of the local Office of Veterans Affairs. His family's dedication to the legal profession is a tradition carried on by his brother, the Honorable Steven S. Unpingco, who formerly served as a Judge for the Superior Court of Guam.
 On behalf of a grateful judicial system, I send my deepest condolences to Judge Unpingco's wife Annie, his children, his brother Steve, and the entire Unpingco family. He shall be sorely missed but long remembered for how he lived: a defender of justice and a dedicated public servant for the People of Guam.
 In his honor, the Judiciary has lowered its flags to half-staff and will continue to do so until October 23, 2023. 
No proclamation of state of mourning from the governor as of Sunday
Kandit has been asking the governor's office since the day following Mr. Unpingco's death whether the acting governor has issued a proclamation declaring a state of mourning for the former U.S. District Court of Guam judge. No such proclamation has been publicly released as of the publication of this story.
It is unclear whether Adelup will honor Mr. Unpingco's public contributions with a state of mourning proclamation and an order to lower flags to half staff at public facilities just as the Judiciary of Guam is doing.
If not, this will be the second time the administration of Lou Leon Guerrero will have refused to honor the memory of a republican leader who has died; the first following the death of Roseanne Ada, the First Lady of Guam from 1987 to 1995.
Ms. Leon Guerrero recently declared a state of mourning and ordered the flags of Guam and the United States to be flown at half staff for the late U.S. Senator Diann Feinstein of California.
Adelup did release a statement from acting Governor Joshua Tenorio:
"I join the Judiciary of Guam and the People of Guam in remembrance of the late Judge John Unpingco. Judge Unpingco devoted his life to our island's community. As Director of the Guam Office of Veterans Affairs after retiring from the judiciary, he fought to improve the grounds of the Veterans Cemetery, enlarge assistance for the Veterans Clinic, and develop an accurate count of veterans on Guam," said Acting Governor Joshua Tenorio. "I recognize his distinguished military service, contributions to the federal judiciary, advocacy for veterans services, and academic contributions to the University of Guam. My prayers are with his wife, Annie, and his family on his sudden passing."