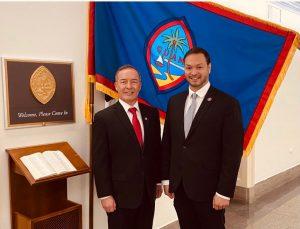 Republican Sen. Jim Moylan recently was in Washington, D.C. and met up with Guam Congressman Michael San Nicolas, a Democrat.
The two have enjoyed a cordial working relationship, despite their political party differences.
One is rumored to be a contender for governor, though he has insisted his efforts are spent working for the people's interests in the nation's Capitol.
The other is thought to be seeking Mr. San Nicolas's seat in Congress, should the delegate opt to run for Adelup in 2022.
This isn't their first picture together, which limits the theory of coincidence that, in politics, is nearly non-existent with these things.
What is going on in the world of politics in Guam? This is sure to be an exciting election year coming up.