Senators in session recently asked Leon Guerrero administration officials where a sizable sum of money meant for Guam Memorial Hospital is.
The legislature two-and-a-half years ago appropriated $10 million from the Hospital Capital Improvement Fund – an actual and real funding source – to GMH so it could undertake one or all of three projects:
To repair or replace the hospital's deteriorating electrical panel and generator;
to repair the roof;
and to procure and electronic health records system.
Gov. Lou Leon Guerrero allowed the appropriation to lapse into law. In her letter transmitting the law to the legislature, she wrote "No one wants GMHA to wait 1 day longer than necessary and we all want to help our hospital the right way."
Two-and-a-half years later, Sen. Telo Taitague in session asked the governor's cash director, Ed Birn, "Have you provided that money, that $10 million, yet?"
Mr. Birn replied, "No we haven't; and had we done so, we would have broken Sen. (Chris) Duenas's rule and spend money we didn't have."
Why the administration does not have that money, is a question that is baffling senators considering the funding source was legitimate, the administration has been boasting about a budget surplus, and the island has been flooded with federal funds to offset any shortfalls. According to Mr. Birn, honoring the appropriation would have led to deficit spending that fiscal year.
"As I said in the sound byte, this provision of the FY2020 budget act would have increased the accumulated deficit at the end of FY2019," Mr. Birn said. "There was then still an accumulated deficit and if paid would have been deficit spending, the very thing Sens. Chris Duenas and Therese Terlaje said was wrong. The provision expired with the FY2020 financial year."
In her transmittal letter, the governor did inform the legislature she would be tasking the Guam Economic Development Authority to "immediately consider financing options" for the projects.
According to GMH spokeswoman Cindy Hanson, two of the three projects are underway: the roof repair, and the implementation of an electronic health records system.
Guam Memorial Hospital has not replaced its electrical distribution panel system five years and two engineering reports after local officials were warned to do so.
In a July 11, 2018 GMH news release, GMH administrators warned of a "potential electrical distribution panel failure because it is more than 43 years old — almost three times it's useful life."
"Regarding the electrical panel, we are aggressively pursuing a grant for funds to remove and replace the main and sup-panels and procure a 1.6-megawatt emergency generator," Ms. Hanson wrote in a statement. "Currently, GPA conducts annual assessments of the electrical panel to look for "hot spots." If they find hot spots, GMHA purchases the parts and GPA does the installation. GPA has been helping GMHA sustain the existing main and sub-panels for the last three years."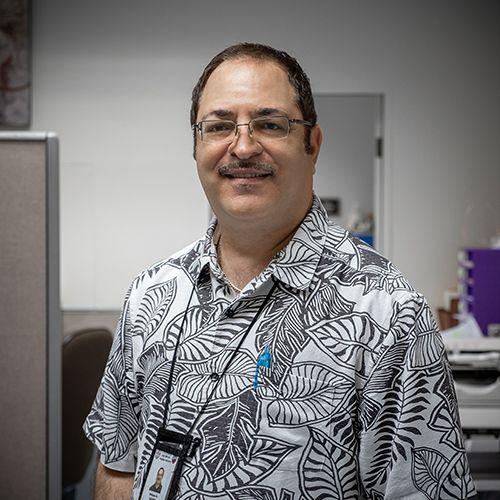 In August of 2018, then-GMH chief planner William Kando the hospital's electrical distribution panels must be replaced. He said it was urgent. Kando was quoted in an August 1, 2018 Guam Daily Post article as saying that "replacing the electrical distribution system is now GMH's top priority."
On April 8, 2020, the U.S. Army Corps of Engineers published a facilities condition assessment citing serious life safety concerns about the electrical distribution system. Here are pertinent excerpts from that report:
"Main Distribution Equipment In Poor Condition and Inadequate for Hospital."
"Age-The fundamental components of the electrical distribution system are far beyond their reasonable life span. The Main Switchboard 'MS' and much of the other electrical equipment in the Power Plant area are over 40 years old."
"Code Violations-In the Power Plant area in numerous locations, old electrical equipment no longer in use is still utilized for routing feeders to new equipment…Many of these installations violate electrical code, and they could be overloading the equipment to which they are connected."
That includes equipment used in the medical and life-saving care of patients.
"Eminent danger that can be life threatening for patients"
In a July 11, 2018, EMCE Consulting Engineers statement signed by its Senior Principal and Professional Engineer Vic Reyes Jr., he wrote in part the following:
"Given the current conditions of GMH's electrical system, they have been lucky that no major disasters have occurred, but danger is imminent. The Main Electrical Distribution Panel Replacement Project will address the hospital master plan, modernize the electrical system to be compliant with current code, increase system reliability, eliminate the eminent danger that can be life threatening for patients, and allow the hospital to continue to grow to meet our community's needs."