The Joint Typhoon Warning Center believes a brewing weather system more than 300 miles east-southeast of Guam has strong potential to develop into a storm within the next 24 hours.
The JTWC says global models show the impending storm (Invest 99W) is moving toward the Mariana Islands, but disagree on whether the storm will bring intense weather or be a #nothingburger by the time it reaches the Marianas, according to a statement it issued today (the JTWC did not use the term #nothingburger; we did).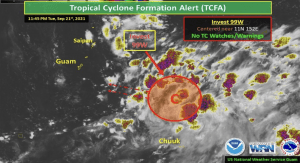 "Environmental analysis indicates a favorable environment for development," the JTWC statement reads. "Global models are good in agreement that Invest 99W will continue tracking northwestward over the next 24-48 hours however, they are split on the degree of development."
Two models, considered by JTWC to be the more aggressive of the global models, show the storm intensifying quickly over the next 48 hours, reaching up to tropical storm strength before it reaches the Mariana Islands. Other models show the system intensifying only after it is well west of the Marianas.
Landon Aydlett, meteorologist at the National Weather Service Guam office told Kandit Live's audience Monday afternoon that one model his office is tracking brings the storm closer to Tinian and Saipan between Thursday and Friday. As for its intensity and track, it was far too early for weather experts to predict.
Mr. Aydlett joins us on Kandit Live at 1:30 p.m. Tuesday for the latest on the impending storm.