Judge Maria Cenzon, after determining that suspended and imprisoned attorney John Bell's initial diagnosis of psychosis and bipolar disorder had changed under the care and treatment of Behavioral health experts, said Bell was competent to answer for four out of five violations of his probationary release from jail. He is awaiting trial to determine if he's guilty of holding his employees hostage and assaulting one of them.
The fifth probation violation – a positive test result for meth – will be addressed after laboratory results return from off island.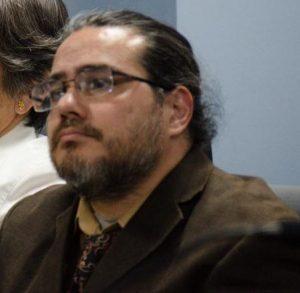 In a hearing that lasted longer than two hours, Mr. Bell rambled about unnamed people hacking his phone, stealing his laptop, and cyber attacking his home. He discussed these matters, as well as the need to buy a new motorcycle, buy office supplies, and check his trust account, as reasons he left his home in violation of his court-ordered house arrest on several occasions.
Judge Cenzon often sounded annoyed by Mr. Bell's answers to her questions, and had to remind him of answers he gave her to previous questions that conflicted with other answers.
Psychosis and competency
Bell, the attorney who spent years attacking Sen. Mary Torres, workers compensation administrator Joannalynn Fullerton, and seven seaport workers found innocent of his claims after a report he issued on them nearly ruined them, was arrested July 30 by Guam police officers. Three of his employees accused him of becoming irate when they arrived at work that morning, then holding them against their will in his home office, threatening their lives, and bashing one of their heads on a table when she reached for her phone to call police.
Prior to that incident, Mr. Bell had taken to social media, posting long and often incoherent rants laced with seemingly veiled threats of violence. One of the rants was against Ms. Torres and her husband, Justice Robert Torres.
Asked whether the Guam Police Department was investigating the alleged threats Mr. Bell made against a Supreme Court justice, Sgt. Paul Tapao responded that no such matter was being investigated. GPD has arrested residents in the past for making threats against the governor.
The day prior to his arrest, Mr. Bell went on the radio with K57's morning host, Patti Arroyo, and rambled about conspiracies against him and his law practice.
After his arrest, and while he was on house arrest, Mr. Bell again took to social media. His probation officer reported to the court that Bell violated conditions of his release by harassing people online.
"Is there any issues regarding Mr. Bell's competency," Ms. Cenzon asked Guam Behavioral Health and Wellness Center social worker James Smits.
"Our psychiatrist doesn't evaluate for competency, that would be Dr. Rapadas. It would conflict with their treatment evaluation," Mr. Smits replied. "When clients are admitted to us, Mr. Bell was in thee annex, the GBH annex at DOC, it is just for treatment, for recommendation of counseling. Right now, he's only on medication for sleep aid, and he's still currently connected with a counselor, Dr. Butler. So, right now, it would be mainly counseling, and not the medication."
The answers Mr. Smits gave pertained to his latest evaluation after his probationary release was revoked September 1. Mr. Bell, however, was evaluated prior to that incident by psychiatrists following his initial arrest.
Asked by Ms. Cenzon about an August 10 evaluation from Dr. Victor Perez, Mr. Smits said, "At that point they did discuss medications and a provisional diagnosis of bipolar with psychosis."
Judge Cenzon asked about the medications that would be recommended. Among them was an antipsychotic, and a minor tranquilizer.
By an August 13 evaluation with Dr. Ariel Ismael, the Bell notes state: "Zoloft mentioned as an outpatient."
At the time of the August evaluations, Mr. Bell was on house arrest, with very few and ordinary exceptions permitting his leave from his residence. His probation officer reported to the court several incidences, when Bell left his home for reasons other than the court has allowed.
It was after the fifth violation – a presumptive positive test result for meth use – that the court revoked Mr. Bell's house arrest and had him incarcerated at the Department of Corrections's Post 7. "He's being monitored 24 hours a day," Mr. Smits said of Bell's condition in the prison's psychiatric ward.
Smits read from a September 1 note from Dr. Perez: "Patient not needing medication except something for sleep; will just continue Zoloft and Seroquel:"
"The diagnosis is evolving," Mr. Smish told the judge. "The longer they see a patient, the diagnosis will change. The recommendations will change."
"The court finds there's no issue with competency," Ms. Cenzon then declared.
Violations of house arrest and positive meth test
The remainder of the hearing focused on Mr. Bell's answers to the probation office's reports that he violated the conditions of his pre-trial release five times. The fifth violation, a presumptive positive test for meth, was what triggered the bench warrant for his arrest and remand to the custody of the DOC pending further orders from the court. That matter will be disposed of after confirmatory results arrive from an off island laboratory.
For more than an hour after that, Mr. Bell often engaged in a diatribe of excuses for why he was not home on several days during his house arrest, which encompassed the first, second, and fourth violations.
A night-time trip to Kmart 'for work'
The first violation was reported to the court on August 11, stating that the night before,  at 9:29 p.m., Mr. Bell left home and went to Kmart. Bell said he went there because he was being cyber attacked at home. He also said his phone was being tapped.
"You're saying you left your home, where you work, to got to KMart at night, because your phone was hacked, and that's related to work?" Cenzon asked Bell.
Bell argued his trip to Kmart was work related, and that his probation officer did not understand the situation.
"You were constantly counseled by probation that, 'this is a violation, this is a violation,'" Ms. Cenzon lectured him. "If you needed clarification about anything, and you keep saying you're an officer of the court, why didn't you ask for a status hearing? Probation is trained in telling you, these are standard conditions of release. If you have a question about it, come before the court!"
Bell stayed at the Days Inn, feeling attacked after his internet went down
On August 16, his probation officer again reported an alleged violation to the court. The judge read the report aloud, asking if he did stay at the Days Inn hotel, as his probation officer heard him say on a local radio show.
"Under oath, that was the day or the night before I got so scared," Bell began to answer. "And I don't want to sound skittish, but that was the day my entire internet went down… My employees were caught stealing from my home. My personal laptop. They took my personal laptop. And it has credit card information, medical records, I don't know… I'm always being attacked, hacked. I'm always being cyber attacked."
"So, did you work while at Days Inn?" Cenzon asked him.
"I was calling federal agents like crazy," Bell said.
"Isn't that a public server?" the judge asked him. "I mean, you left home where there's a private server because you feared you were being hacked, and then you conduct this business on a public server?"
"Let me stop you right there!" the judge said, interrupting his answer. "You're talking out of both sides of your mouth right now!"
"You admit to going to Kmart after hours, you admit to telling your probation officer it's for employment, your probation officer says it's a violation," Ms. Cenzon recounts. "You again are told on August 12 it's a violation. You continue to go on your own volition, despite your understanding of the court order, and you continue to do what you're gonna do."
The motorcycle he bought for the job he didn't have
On several dates on August 10, 11, 19, and 21 "You went to several ATMs, Yamaha, Navy Fed, I think you even bought a motorcycle," Ms. Cenzon said. "How is that related to employment? What did you need a motorcycle for?"
"I've been a motorcycle rider for 20 years," Mr. Bell answered. "I literally rode a motorcycle to law school every day. My motorcycle broke down. I literally had no transportation at all. I even told my probation officer."
The judge, who began to sound more agitated by Bell's responses, asked a series of questions. We provide those below along with Bell's answers:
CENZON: Did you go to Coast 360?

BELL: I did

CENZON:Various ATM machines?

BELL: I did

CENZON: Yamaha?

BELL: I did

CENZON: Navy Fed?

BELL: I did

CENZON: How are those visits related to employment?

BELL: I hope the court agrees I need some form of transportation.

CENZON: No, I'm not answering to these violations, you are.

BELL: I needed office supplies.

CENZON: How often do you need to refill office supplies?
Chief prosecutor Basil O'Mallan, who represented the prosecutor's office in the case, reminded the court that Bell had no need of transportation for work because, 1) his home is his office, and 2) the Supreme Court suspended his license to practice law.
"With respect to buying a motorcycle for transportation, you don't need transportation on house arrest," Mr. O'Mallan told the court. "With respect to the Supreme Court order suspending his license, that occurred August 13, so he had no need to leave for work after that."
"I cannot stop working," Mr. Bell retorted. "Even if I were barred for life right now, I still have an obligation to my clients."
Court to schedule revocation hearing
"The court finds the admission indicated that he was aware of these factors, that he was informed by probation that these factors constitute violation of order and release, the court finds that these violations of this order of release by an officer of the court… despite those admonishments clearly to act in defiance of these orders. The court finds that violations of house arrest orders has occurred.

"If the court determines that revocation of pre-trial release is required, the court will hold a separate hearing for revocation." – Judge Maria Cenzon following a nearly two-and-a-half hour hearing